Did you already think about the impact you could have in your research field on policy-making and you want to learn how to achieve this? Are you enthusiastic to learn about new tools and competencies for successful engagement and communication at the science and policy interface? If yes, join the PhD Program in Science and Policy of ETH Zurich, University of Zurich and University of Basel.
For October 6 (1-2 pm, online) we cordially invite PhD students (ETHZ (incl ETH Domain, UZH, Uni Basel), PhD candidates, PhD supervisors and science and policy enthusiasts getting to know our team, our vision, the PhD program and our alumni.
We are looking forward to talk to you and your questions.
For getting the online access, please register here.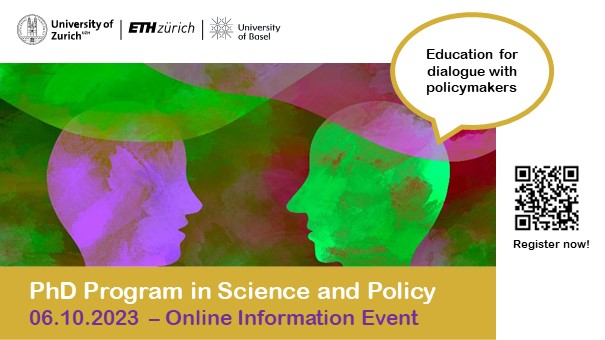 If you have questions about the event, please contact Dr. Luisa Last