Following up the summer school 2018 the PSC published proceedings: Responsible Research and Innovation (RRI) in Plant Sciences.

Zurich-Basel Plant Science Center: Proceedings of the PlantHUB Summer School 2018, Responsible Research and Innovation (RRI) in Plant Sciences.
Melanie Paschke (ed.). With contributions by: Manuela Dahinden, Gregory Grin, Melanie Paschke, Christine Rösch, Daan Schuurbiers, Foteini Zampati, Camilo Chiang, Franco Conci, Claudio Cropano, Florian Cueni, Seydina Issa Diop, Daniel Grogg, Manuel Nolte, Ina Schlathölter, Giacomo Potente and Maximilian Vogt.
New Publication in GAIA 28/3/2019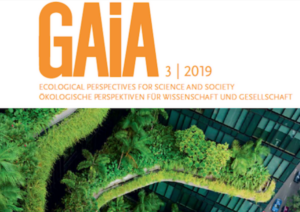 In our newest publication in GAIA (GAIA 28/3/2019) based on a Delphi study we summarized opportunities and challenges of our educational model: Real-world experience through secondments and co-creation of knowledge with policy organizations facilitates boundary crossing of research results to policymaking in their later work.
---
PSC published six workbooks

These workbooks are the firsts in a series of eight, exploring the role of scientists in the science-policy dialogue. They are addressed to students in our PhD program and to other interested readers. The workbooks offer close insight into theory, processes, and tools for evidence-based policymaking. These are core elements of our courses.
1 Evidence-based policymaking, DOI: 10.3929/ethz-b-000308533
2 Stakeholder engagement
3 Communicating science through the media, DOI: 10.3929/ethz-b-000314920
4 Risk and uncertainty communication, DOI: 10.3929/ethz-b-000340471
5 Building models & scenarios
6 Building political support, DOI: 10.3929/ethz-b-000312492
7 Generating impact chains, DOI: 10.3929/ethz-b-000315536
8 Collective inquiry, DOI: 10.3929/ethz-b-000315545
---
Following public engagement events in 2017 the PSC published a technical report

Zurich-Basel Plant Science Center (2018). Future Forums Project Report
Symposium and Workshops on Public Engagement with Science (Technical Report).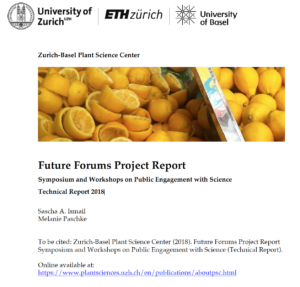 ---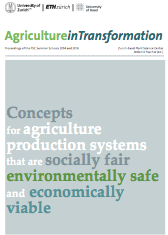 PSC has summarized the diverse field of sustainable transformation of agriculture with contribution of Philipp Aerni, Gurbir Bhullar, Allan Buckwell, Markus Frank, Marcel van der Heijden, Hans Herren, John Ingram, François Meienberg, Michael Meissle, Melanie Paschke, Martin Schmid, Franziska Stössel, Raphael Wittmer, Gunda Züllich et al.
Paschke (ed.) (2017). Agriculture in Transformation. Concepts for agriculture production systems that are socially fair environmentally safe. Proceedings of the PSC Summer Schools 2014 and 2016. For download: https://doi.org/10.3929/ethz-b-000218321
---
Newsletters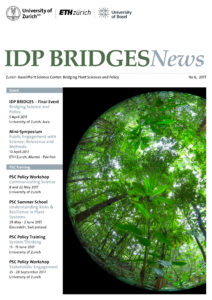 The sixth issue of the IDP BRIDGES newsletter documents – and in some ways celebrates – the research work of 13 PhD students at the interfaces of science and policy as well as science and innovation. We reflect on how the Innovative Doctoral Program program IDP BRIDGES contributes to the training of junior natural scientists.
---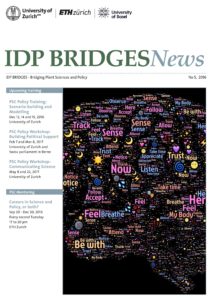 Newsletter No 5 presents the take home messages from the PSC Summer School 2016 on "Agriculture in Transformation", a summary of the plenary discussion on Innovation vs. Regulation (EUCARPIA General Congress 2016) and Secondment reports of two IDP BRIDGES fellows.
---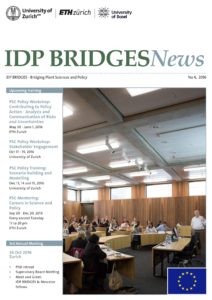 This newsletter highlights IDP BRIDGES outreach activities. For example, the public panel discussion on "Plant Sciences, Patents, and Food Security" which was moderated by three IDP BRIDGES fellows. A summary of this event as well as a personal address by panelist Prof. em. Chris Leaver, Oxford University will be presented.
---
Newsletter No 3 focuses on "wicked problems" introduced by an editorial of Prof. Chrissie Rey, University of the Witwatersrand and addressed by five summarized case study of the PSC Summer School 2015 "Tackling wicked problems". Secondment reports of three IDP BRIDGES fellows as well as outreach highlights are included.
---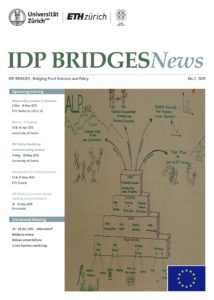 Followed by an editorial on "The challenges of communication" written by Dr. Eduardo Pérez, ETH Zurich, Institute of Agricultural Science, Newsletter No 2 presents further eight portraits of the IDP BRIDGES fellows. Upcoming training, mentoring and events are outlined.
---
After visiting the fellows in their labs and fields, the newly implemented newsletter IDP BRIDGES News presents portraits of the IDP BRIDGES fellows in their working environments. Read the first six portraits in this issue. Upcoming training, mentoring and events are outlined.