A new and improved Moodle – Coming to ETH Zurich this summer
In June of 2023, ETH Zurich Moodle will receive a significant update. Moodle has been the central learning management system (LMS) at ETH Zurich since 2010. With more than 10'000 courses it has become crucial to teaching for ETH Zurich lecturers. As an open-source LMS it enables significant customisation. With the new release, Moodle will be more user-friendly, intuitive to navigate and visually appealing, offering a range of improvements for both educators and students. In this blog post, we will explore some of the key benefits of the new Moodle version coming to our screens this summer. A full list of new features is provided on the Moodle website.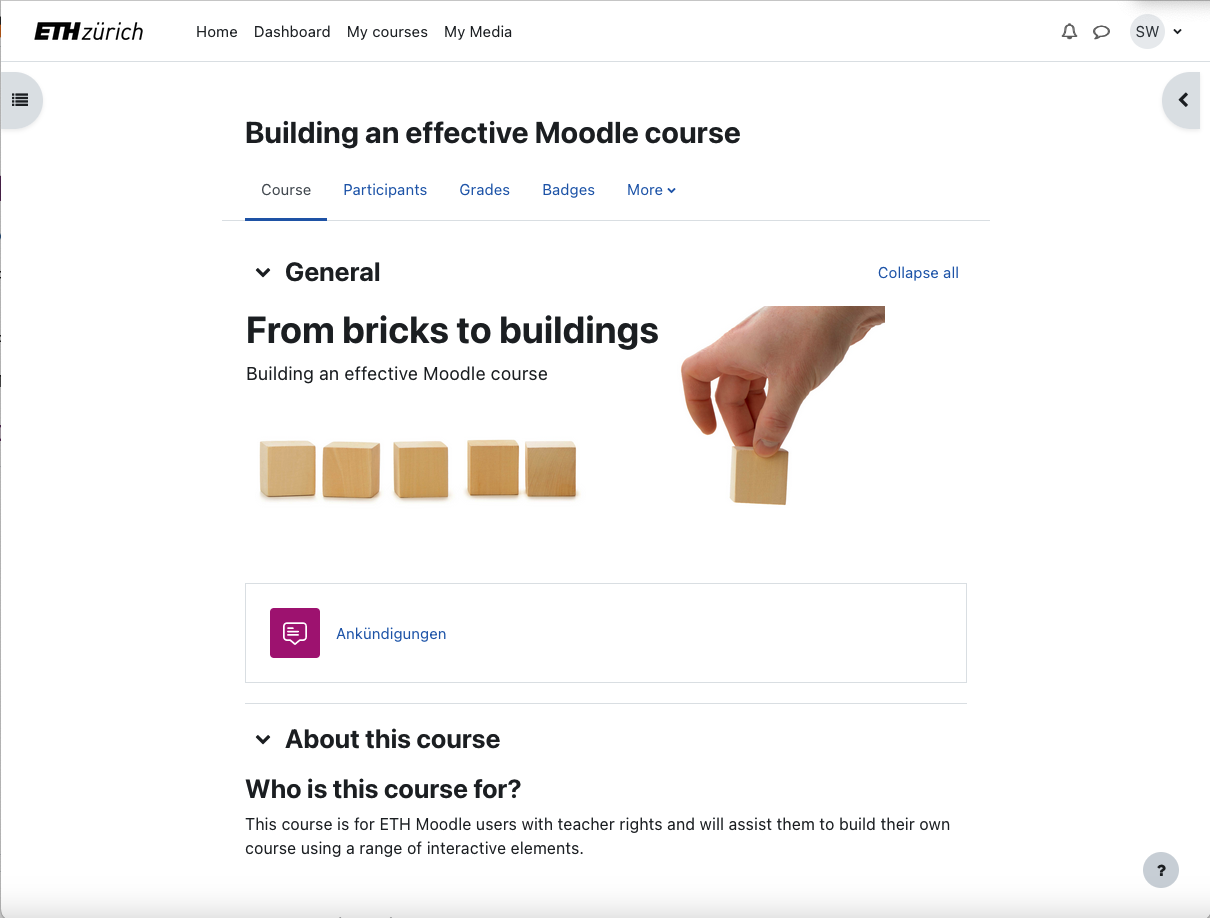 Benefits for students
Improved user experience
Improved accessibility
Self-tracking of tasks
Improved user experience.
The LMS has undergone a complete redesign, with a fresh and modern look and feel. Learners can more easily navigate the platform and find the information they need.
Improved accessibility
Moodle was officially certified as WCAG 2.1 AA compliant in December 2020. The new design includes support for screen readers, improved keyboard navigation, and better contrast, making it easier for learners with visual impairments to access content. The new accessibility features ensure that all learners can access and engage with the learning content, regardless of their ability.
Self-tracking of task
If enabled by course teachers, students will be able to see which tasks still need to be completed in the course navigation index.
Benefits for educators
Improved Course Design
Enhanced Learning Analytics
Significant improvements to handling quiz questions
(Optional) notifications on changes in course
New and improved video handling
Improved course design
The course design as been improved making it easier for educators to create and deliver engaging and effective online courses. The new course format includes an intuitive drag-and-drop interface, allowing educators to build courses quickly and easily.
Enhanced Learning Analytics
Moodle has also improved its learning analytics capabilities, making it easier for educators to track learners' progress and identify areas where they need additional support. Teachers can build customised reports in order to gain an overview of student progress.
Significant improvements to handling quiz questions
Teachers will be able to work collaboratively with other teachers to manage different versions of questions and add comments.
(Optional) notifications on changes in the course
Teachers can choose to send a push-notification to let students know when something has been changed on the course page.
New and improved video handling.
Kaltura will replace OpenCast as video management tool for Moodle. All previously uploaded videos will be automatically migrated to Kaltura. Teachers will be able to upload and manage their course videos directly over the text editor.
Timeline
A link to the preview version has been sent to all current teachers of the ETH Zurich Moodle system. It includes all content from the live system as of 3 April 2023. This is a valuable opportunity to see what existing courses look like in the new version, explore the new look and to identify important changes that may be necessary once the live system is active.
There will be no notifications on this preview system, so educators can experiment without triggering notifications for students. It will be valid until 6 June 2023 at which point the entire preview system will be deleted. This system may not be used for any actual teaching or learning activities as there may be unannounced updates and downtime.
If you already want to start preparing your HS 2023 course before 7 June, you have 2 options:
Create your course via eDoz and start working on the course on the current live 3.11 course Moodle system. Any content you prepare on the current course Moodle system before 7 June will automatically be upgraded to the new Moodle version and its new design.
If you already want to prepare content in the new Moodle 4.1 version, please use one of your already existing pre HS2023 courses on the preview server, create a mzb-backup ("course backup") before 6 June. After 7 June, create a course via eDoz on the (updated) live course Moodle and then import the backup file into your live course.
On 7 June 2023 the live system will be updated to the new Moodle version. Detailed information regarding the changes will be available at this point. Educators can then set up their HS23 courses via eDoz and make necessary adjustments to their courses prior to the semester start on 18 September 2023.
Posted on by Karin Brown
in Activities Tags: ETH Moodle