Using Polybook to create interactive lecture notes together
As a depository of digital lecture notes the Polybook has been popular among ETH teaching staff for some time. In Polybook instructors can enrich conventional lecture material with interactive elements such as quizzes and videos, and question students on particularly important material. This increases student engagement with the material and improves knowledge uptake.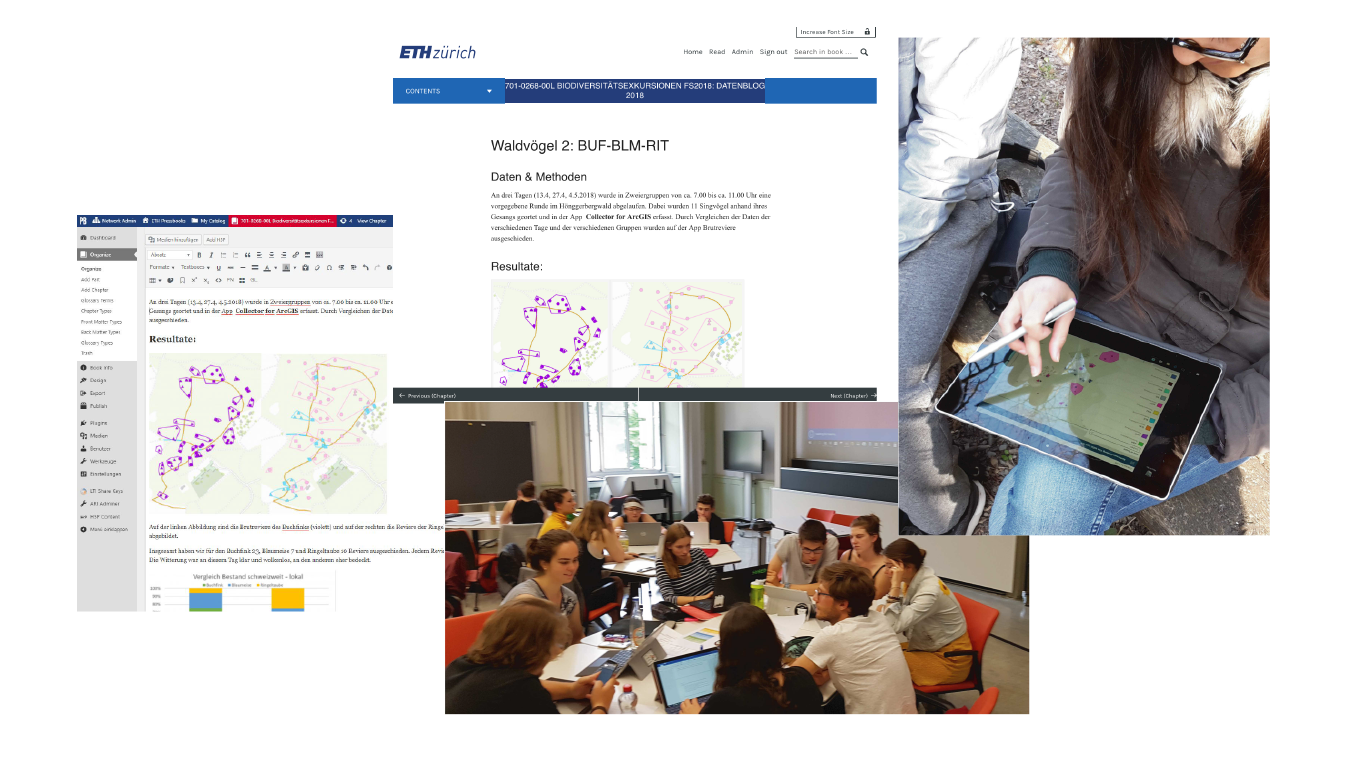 The very name "Polybook" is an indication of this tool's many functions and the large number of books and lecture notes which are stored there.
Using Polybook it is possible to work together on lecture notes or documents and to give them an ordered structure and presentation. Access to individual books is steered via a Moodle link, ensuring that all students in a course have access to its books.
The Polybook is part of LET's eCollab Service, and can be used in a number of collaborative scenarios. These include:
Author and publish texts collaboratively: In Polybook students can author texts from group or project work either alone or collaboratively, and then make them accessible to others. These texts can be augmented with images or interactive elements such as quizzes and videos. Polybook can also be deployed for preparation or wrap-up of lectures and seminars.
Peer review / peer assessment: Student or working group texts or projects can be exchanged with other student groups and assessed. The results can be used for revision purposes.
Learning journal: Learning processes can be published by students or student groups for purposes of self-reflection or the evaluation of a group process.
Interactive lecture notes: Polybook can be deployed in place of conventional lecture notes, with additional possibilities: students can use interactive elements, or create them themselves; and they can discuss the material via the comments function.
Collaborativley Designing Approptiate Health Systems


Interactive Geogebra Applet, Voting, Creating a Drag & Drop Module


Task for a Learning Journal

Do you teach at ETH? Have we sparked your interest? How to Polybook contains comprehensive instructions on how you, as teaching faculty, can set up Polybook in Moodle and take the first steps towards collaborative or interactive lecture notes. We would also be happy to provide personal guidance on implementing a collaborative scenario or using Polybook: please contact Melanie Walter, the person responsible for the eCollaboration service. We look forward to working with you.
Posted on by Julia Kehl,