Case study – Peer Review Food Chemistry Laboratory – Writing reports

As part of a series of case studies, staff at LET sat down to have a conversation with Prof. Laura Nyström and Dr. Melanie Erzinger from the Department of Health Sciences and Technology to discuss their food chemistry laboratory project.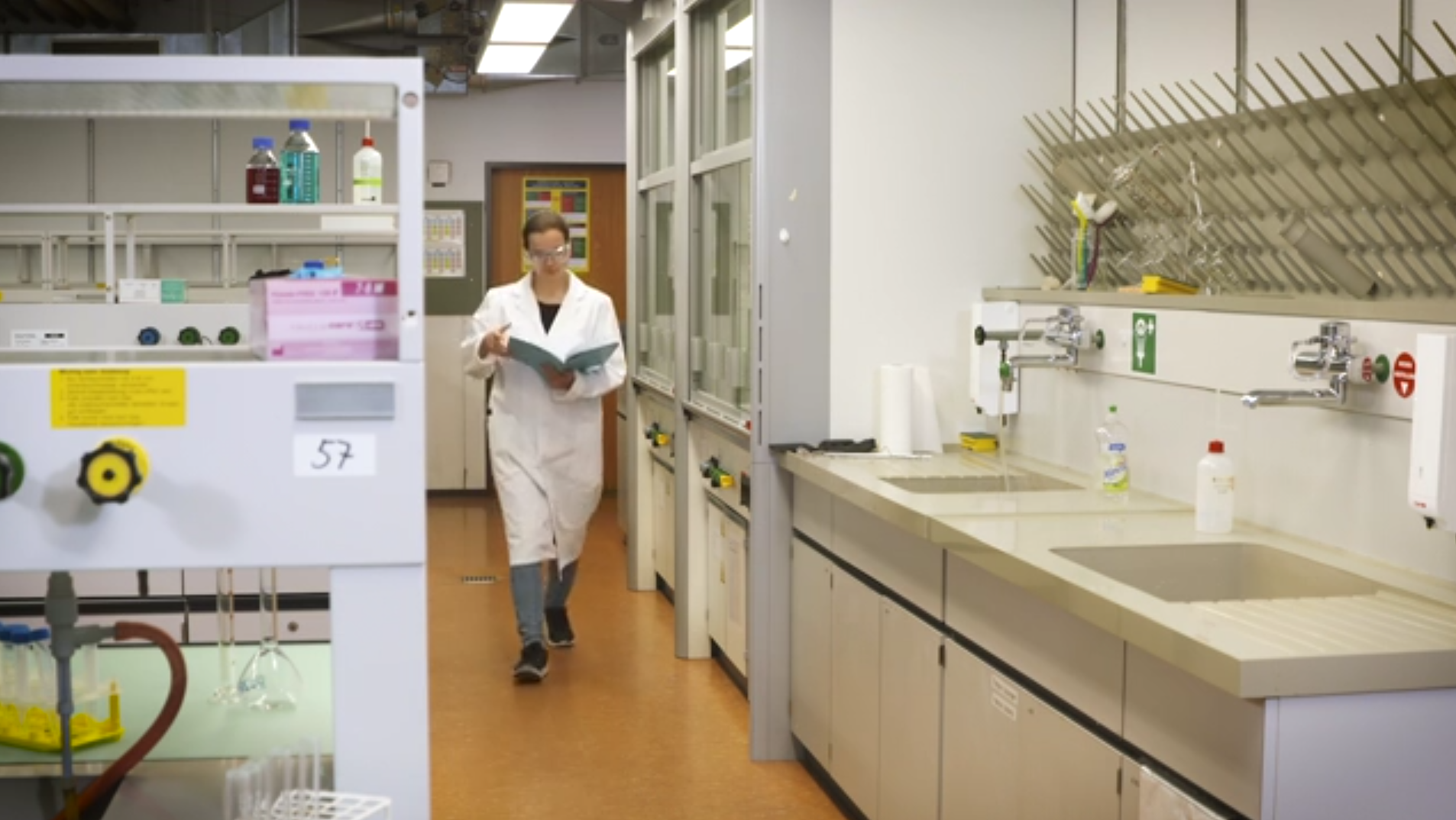 What is the project about?
We introduced a new way to write lab reports, combined with a peer review method to foster collaboration and critical thinking skills among students. In the past students did not have clear criteria as to what makes a good report. Assistants also needed too much time to read the reports and give repeated feedback. Thus we looked for a way to help assistants spend less time on the review process.
We transformed the format of our Food Chemistry Laboratory Course (Food Science, BSc level, 4th semester) from a classical lecture format with lab exercises to a blended learning format. With new videos, we can achieve better coverage of basic knowledge (i.e. security, handling of equipment).
What motivated you to initiate the project?
Student numbers have increased over the past 10 years and we have been losing too much time in covering basic knowledge repeatedly. Using concept videos, students will be able to review key topics on their own. Overall, we also wanted to make the entire course more attractive. A key intention was to develop student skills in report writing and improve report quality.
How did you do it?
We defined additional, clear quality criteria for a good report. During a first round students give each other feedback, such that final review by teaching assistants and lecturer approval involve less effort. For each experiment, every student has to review another student's report. In total, each reviews four reports over the semester.
Students don't get a grade for the peer review (semester performance in the lab course is also ungraded). They have one week for each of the four peer reviews, and must complete each by the respective set deadline. They answer various questions related to the quality of the respective report (these involve five aspects plus overall feedback; see the annex at the end of this case study). Students do not "grade" the reports, but give feedback in their own words.
Assistants are aware of what is asked in the reports and are therefore able to provide targeted and helpful feedback in the lab which addresses the quality criteria for reports.
We provide the students with online material on how to write reports (short videos, documents etc.). Previously we had a short lecture with examples. Until now, however, we did not train them in conducting proper peer reviews. We have now realised that we need to do this (especially for Bachelor's degree students), and will include peer review training with the short lecture next year.
Did you have the support you needed for the project? Is there additional support you wish you had had to help you to achieve your goals?
We learned about a module inside our LMS for administering the peer-review process ("workshop module" in Moodle). It would have been helpful to have had practical tips from others, but apparently not many lecturers have used this tool. Although the general instructions were useful, it took quite some time to learn all the aspects of the tool.
Please describe some of the key outcomes of the project.
Various things changed for the better. Students learned a lot by reading and reviewing the reports of their peers. They gained important input for their own reports. For many it was the first time they had had to give feedback in such a structured way. They also had to find a way to critique something in a good, constructive manner. Overall, students were introduced to a new way of critical thinking and took important first steps in this skill, which is important for their later careers.
We can say clearly that through the new review method we were able to improve the quality of reports and reduce the time needed by lecturers to grade them.
How did the project impact learners or the way in which you teach?
In general the peer review method was well received in the BSc course, and we used the same approach in an MSc-level course. We therefore realised that Bachelor's degree students need more help and training in peer review than Master's students.
Overall we saw that the blended learning approach and the peer review methods work to improve our courses, addressing the above-mentioned challenges of lack of student preparation and the need to constantly repeat basic knowledge. Students themselves clearly realised the value and potential of better collaboration, peer feedback and critical thinking skills.
What lessons learned do you want to share with your colleagues?
Not every cohort is the same. While things worked quite well in 2017, in 2018 fewer students adhered to the schedule and deadlines – even though everything was communicated and documented in the same way as in the previous year.
What are your future plans for this work? How do you plan to sustain what you have created through the project?
More and more assistants will become competent in providing full reviews of the already peer-reviewed reports. Currently lecturers still have to do this. Lecturers will thus gain more time to be present in the labs and to give 1:1 feedback to students in the lab and online.
We will definitely create some training material for assistants for this purpose, but it is not available yet. We also want to create a short, ready-to-use document about giving feedback in our specific context: what is constructive feedback, what are the do's and don'ts? Students, assistants and fellow instructors can use it.
We are interested in learning whether other lab courses at ETH do something similar, and how. We also need to improve the support situation with the Moodle review tool "workshop module". We will continue to work with it, but it is a bit tricky sometimes.
One additional idea is to make the videos interactive. Students will see in-built questions in the videos which they have to answer right away.
Additional notes regarding resources and tools used.
We used a programme called Labster to create virtual labs in some cases to extend the experience to experiments which were not doable in reality in our labs.
We learned from other courses and departments regarding effective feedback (ETH "Foundations of Teaching and Learning" course).
To conduct the peer review we work with the "workshop module" in Moodle.
To make the videos interactive we will work with the new Moodle "interactive video suite" plugin.
Student voices:
What is your opinion about this course and the peer review process (lab reports). How has it influenced your learning process?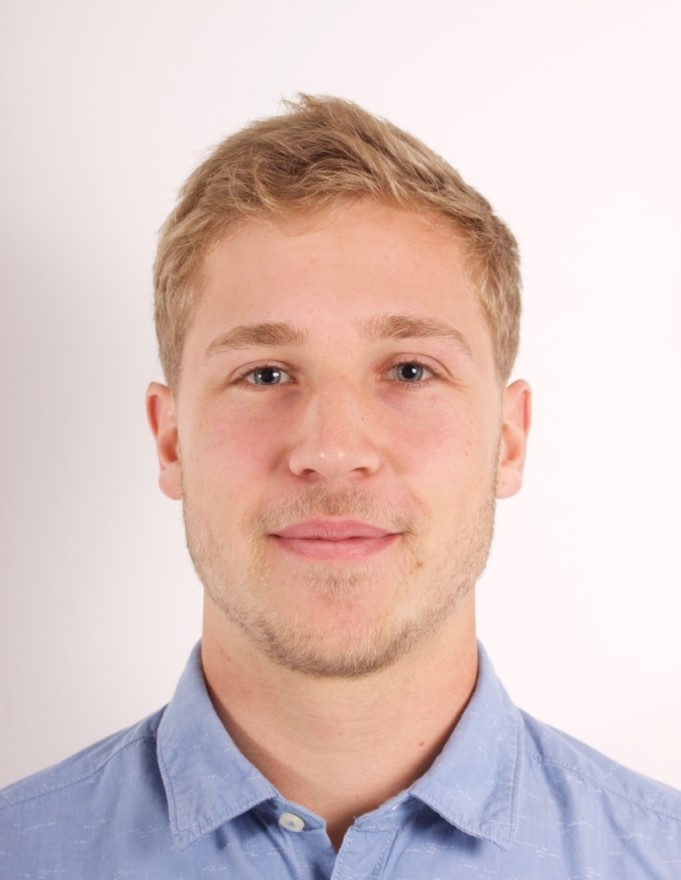 Robert Spiess: I think peer-reviewing was a great way to see other students' work. It gave me the opportunity to experience and compare different ways of writing. I could always detect things that I wanted to include in my reports. At the same time, I could see in which points my reports were better, where my advantages were.
I think this procedure is particularly useful when writing. But the reports should not be too long, because, otherwise, students have to spend too much time on their own report and neglect, as a consequence, the peer-reviewing of someone else's report. Other courses usually required longer reports. But if the reports were shortened, the method could also be applied in other laboratory courses (such as in the food processing or in the biotechnology lab course).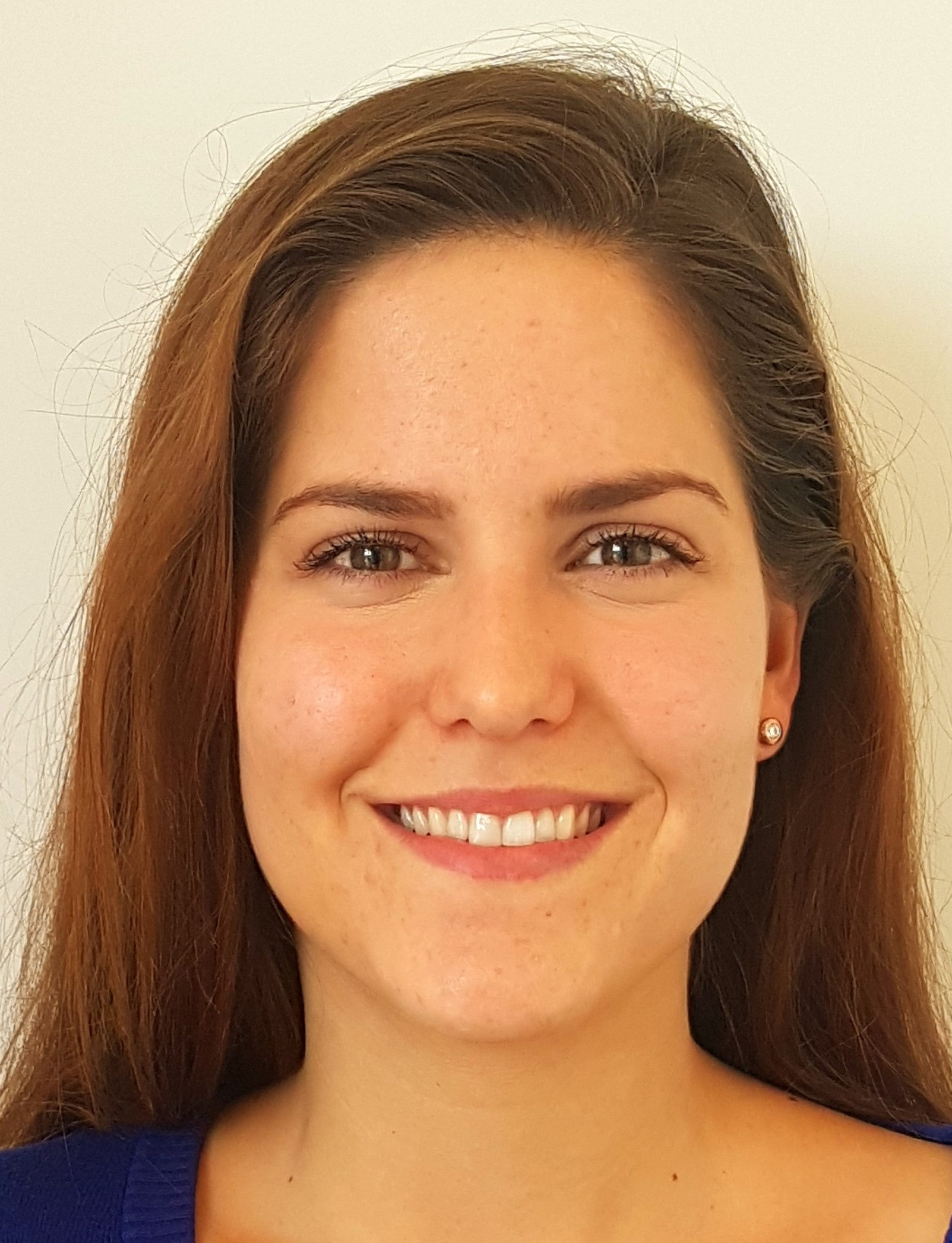 Aline Candrian: I'm glad I did the course, I think it gives students a first impression of laboratory work. The lab report writing is an essential part of the course to understand the experiment and the obtained data. The peer review approach was fine, even though nobody was eager to do them. VERY little time was invested into peer review by most groups, as far as I'm concerned. Of course, sometimes you could benefit from your peer's feedback but most of the times we didn't act on them. That's probably because it was our first time writing (semi-) real reports. We didn't really know what we were doing and you mostly think you know better than others, especially if someone reviewed your report who you rate less familiar with chemistry.
At the same time you're well aware that you know nothing about report writing, so how can you evaluate someone else's work?
Additionally, motivation was minimal since you were just glad to be done with writing your report. Having to assess another report and then correct your own report again was just another 'burden'. So, altogether, I would say report-writing was a crucial part of the course but peer review not so much since we had no experience at all. I think peer review makes more sense in the courses in our last semester.
Making the students just do a peer review on the last report might work. They'll see how it works, they'll have had written a few reports (and got more familiar with it) and might be more confident in providing feedback. But I'm not an expert, it may not work the way I envision it, what do I know 🙂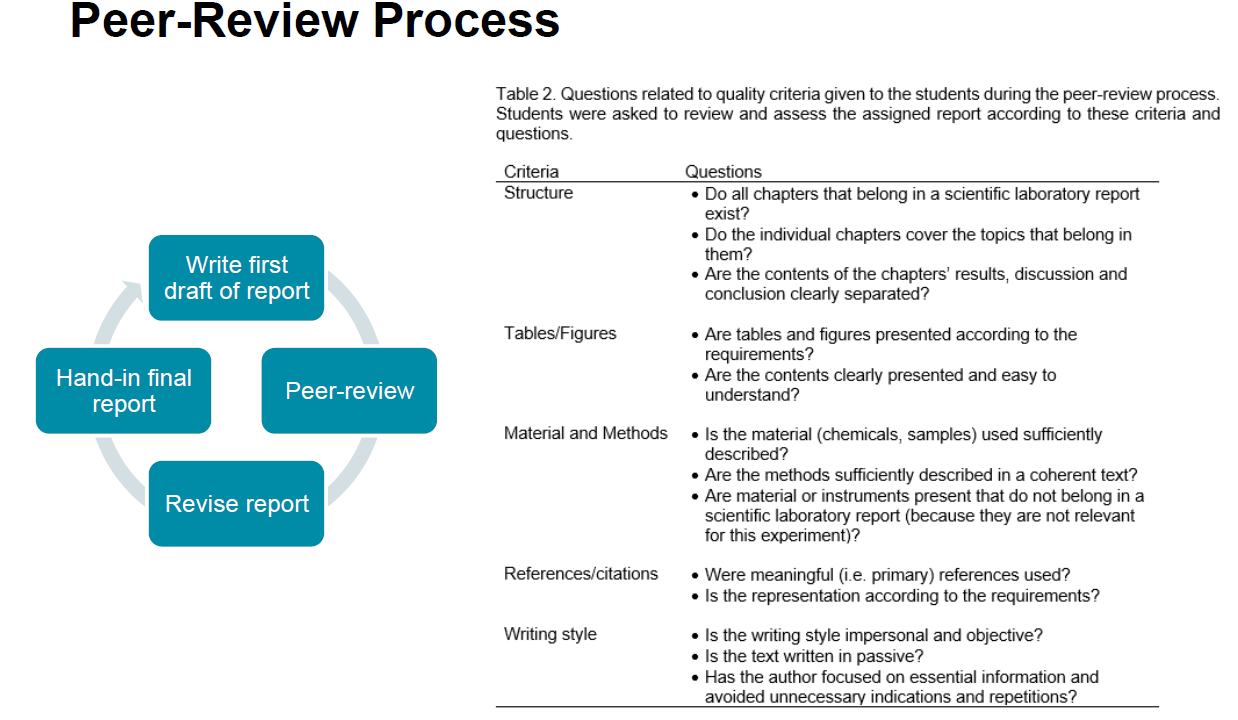 Posted on by Pascal Xavier Schmidt,