Pharmaceutical Case Studies: The Power of Moodle Quizzes
By Dominik Stämpfli, D-CHAB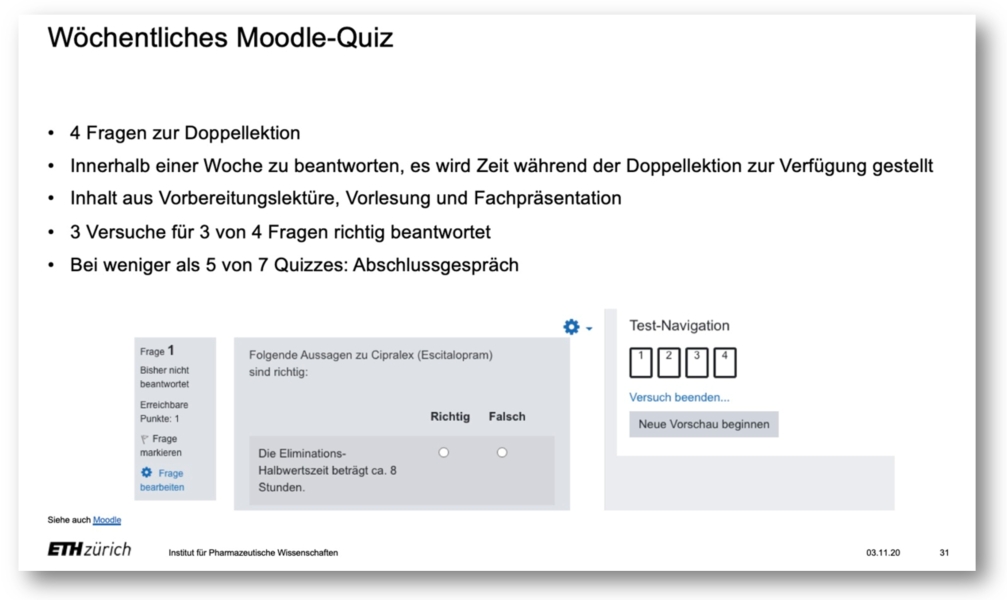 The lecture series «Pharmazeutische Fallbeispiele» [Pharmaceutical Case Studies] is a compilation of seven 2-hour sessions for around 75 students of the BSc Pharmaceutical Sciences. Surrounded by lectures and lab work on basic science and pharmacotherapy in the third year of studies, our autumn series aims to showcase the complexity of and our fascination for later pharmacy practice issues, giving the students a new perspective on all the other courses' material as well.
One of our primary learning objectives states that students should be able to analyse simple case studies from pharmacy practice and present, explain, and discuss them in plenary, based on their current pharmaceutical knowledge. To let students achieve this objective, we had already included group work and presentations, where they discuss their thoughts on a given case study with our and their own literature resources (e.g., which drug class is most appropriate for which kind of nausea).
In 2019, we realized that student participation dropped towards the end of the semester when the big exams of the other courses approached. The sessions were mainly visited by the presenting student groups, whilst their peers focused on learning for ECTS.
2020 challenged us to go digital. This simultaneously provided the opportunity to have Moodle supporting us in our different teaching elements. The Moodle group selection allowed our students to choose their own peers. Folders, surrounded by explanatory text, helped us in embedding the asynchronous learning material (i.e., preparatory reading).
Most importantly, however, we created a simple quiz with four questions for each of the seven 2-hour sessions, focusing on the day's learning objectives. We specifically aimed to include questions on the preparatory reading, our frontal inputs, the presentations by their peers, and one additional pharmacy practice issue. Moodle badges allowed for a simple gamification of the quiz. We shortened our lessons and offered the time to complete the quizzes during the two hours to not increase the overall student workload.
Student feedback was overwhelmingly positive: They appreciated our efforts concerning the Moodle course, liked the variation with peer presentations, stated having fun completing our quizzes, and were happy about the interactive segments. There were still fewer students present live towards the end of the semester, but the completed quizzes suggest a shift towards asynchronous learning by watching the recordings when taking a break from learning for ECTS.
We will most certainly keep our Moodle course even when going back to physically present teaching. The students seemed to be engaged in the course material by asking us interested follow-up questions concerning the preparatory reading and even our quizzes. The administrative work for setting up the course was hefty, but well worth it. One advise to my previous self: Cramped shoulders won't help you in troubleshooting issues in the Moodle group selector faster.
Posted on by Pascal Xavier Schmidt,