Virtual field trips enhance Production Management classes
Using factory-visit apps and affordable cardboard viewers, Professor Torbjørn Netland and his team innovate how production management can be taught.  By integrating Virtual Reality (VR) technology in the spring term course Global Operations Strategy at ETH Zurich, the teaching team provided students rare access to multiple factory sites and their inner workings. The students used VR apps in order to help them complete graded course assignments.
What triggered this experiment?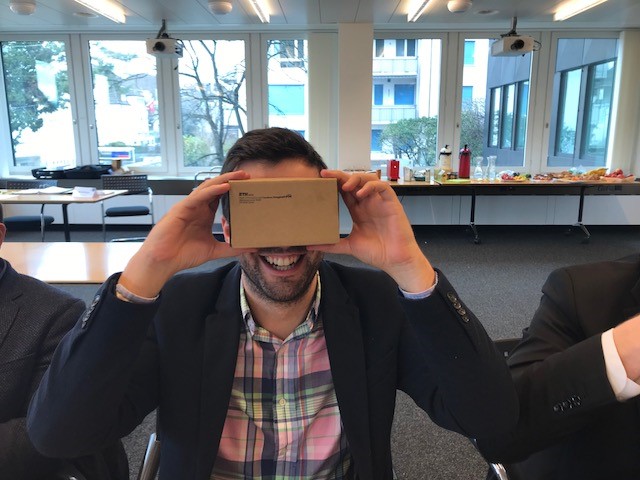 "Production and operations management is an applied field, but it is difficult to teach all the inner workings of a factory in a classroom. Because I cannot always bring students to the field, I wanted to bring the factory to the students. VR now offers unprecedented opportunities for doing so, and ABB had the app I needed. My impression is that students generally enjoyed this teaching innovation" –  Prof. Dr. Netland
In optimal class conditions, students may be able to visit one factory in order to see how the concepts they are learning in class relate to the real world. However, field trips are resource intensive to organise and they have limitations. Not all students may be able to attend and they usually rely on their memory (or written notes) to recall relevant information later.
The use of the VR app enables students not only to revisit the factory as often as they would like, it also gives them access to spaces they may not have previously been able to see, such as a close-up view of a milling machine in action, or entry to a dust-free zone. Since the apps enable students to visit multiple company sites with a minuscule time and resource investment, the value of the virtual tours becomes very clear.
What exactly did they do?
With the help of two research associates, Oliver Flaeschner and Omid Maghazei, Prof. Netland compared the learning objectives of his course to the information already contained in the virtual tour apps produced by the ABB group. By adjusting their assignment questions for their teaching case, they created alignment between the content provided in the apps and the students' assignment questions. With the help of the apps, their own smartphones and cardboard VR viewers, students navigated their way around five different factories in three countries, observed machinery and people in action and gathered information relevant to their assignments.
What were the results?
The teaching team conducted an evaluation survey, two focus groups and collected additional written feedback. The Faculty Development staff from the Educational Development and Technology unit (LET) provided support to ensure that student anonymity was preserved. The results showed that students initially found the opportunity to use VR fun and motivating. While there were some technical difficulties and temporary negative physical side-effects such as dizziness and headaches, in general students stated they enjoyed the opportunity to explore the virtual factory as often as they would like, and at their own pace and availability.
They also reported feeling a high degree of autonomy as they actively engaged with the information. The teaching team did not attempt to measure a learning gain this time, but are encouraged by this pilot project and are planning further development and evaluation of this teaching innovation.  In the meantime, the results of the research have been written up and will be presented at the EurOMA Conference in Hungary in June this year.
Should readers wish to find out more, they are welcome to contact Prof. Dr. Netland directly for more information.
Posted on by Karin Brown
in Featuring teaching Tags: Apps for learning,innovative teaching,Lehrinnovation,virtual field visits,Virtual Reality