Your mission: Build an intelligent boat
In a project-based course, students learned to apply materials knowledge and skills to the construction of a boat that could navigate an unknown terrain using artificial intelligence. We talked with the two lecturers Rafael Libanori and Henning Galinski, and the department's Educational Developer Lorenzo De Pietro to find out more about this innovative course in the Department of Material Sciences.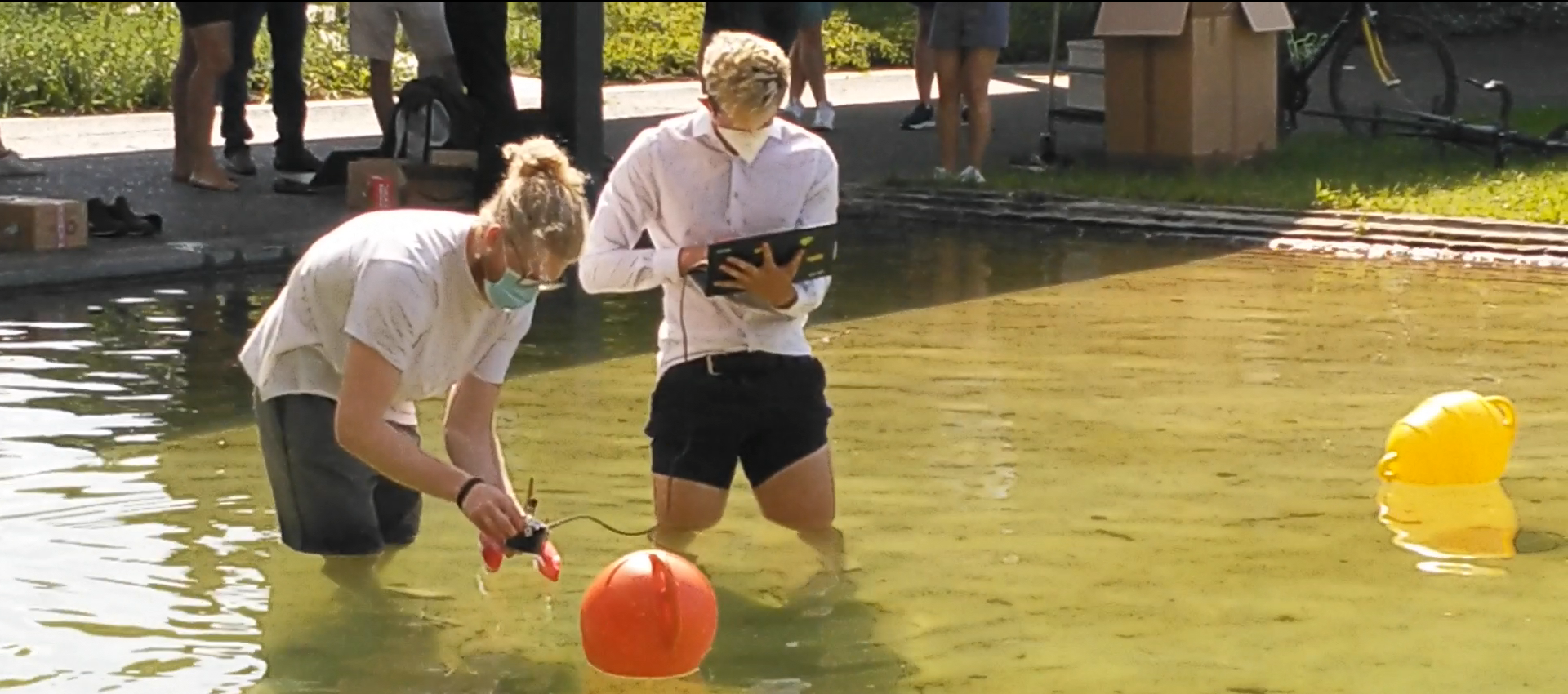 Lukas Wooley and Sebastian Gassenmeier get their boat ready.
What triggered this experiment?
Originally, we were inspired by AP50, a project and team-based introductory physics course taught at Harvard. We wanted to do more with problem-based learning at ETH Zurich and achieve a different kind of learning environment. Students tend to expect that lectures just "give the knowledge", but there is so much more to teaching. We realised it's important to teach students how to learn more efficiently and take more responsibility for their own learning. In this course, we give students scientific questions to answer themselves. We wanted them to start taking risks and to have the freedom to fail, which is what science is all about. It's not just theoretical input. Interpersonal and technical skills are just as important as academic skills.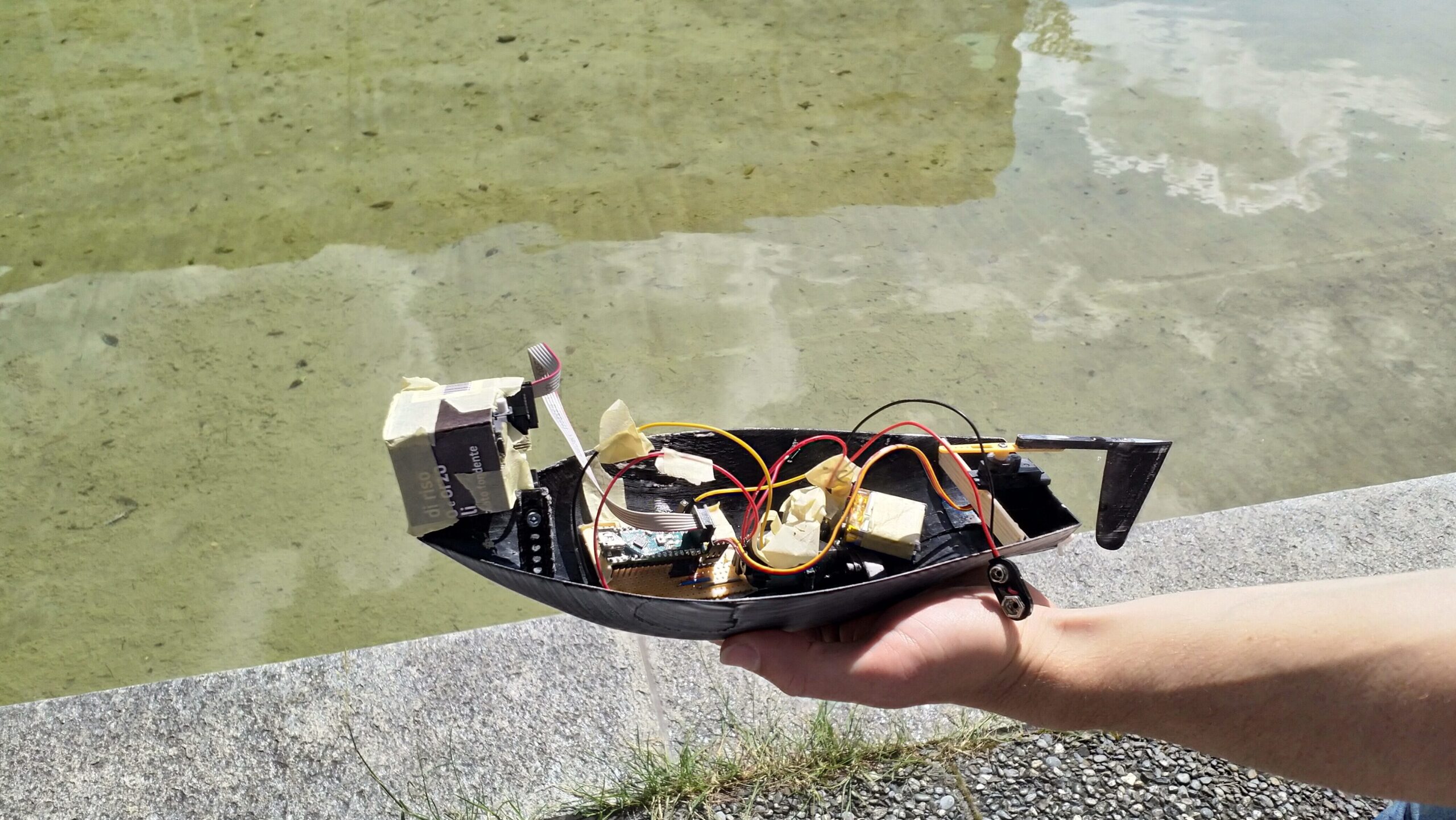 What exactly did you do? We applied for Innovedum funding and when we were successful recipients we created a course that gives the students a project that has a connection to material sciences, as well as other areas such as controlling and artificial intelligence. We receive support from Antonio Loquercio in the controlling and computer vision part. He is currently a Post-Doc at the University of Berkley, California. Without him, it would have been very difficult to achieve the computational goals of the project. Students attended 4 weeks of theoretical classes and then started working in teams. The goal is to construct a model boat which can intelligently navigate a course using the Materials Design Lab at D-MATL. We also employed PhD students as coaches to support the students.
What were the results? We had 16 students who completed the course in the spring of 2021. The challenges were big and so we were thrilled by the final outcomes. The students took it seriously and at the end of the course there were four final boats. The students displayed great creativity, such as building small experimental set-ups along the way. They were able to solve problems on their own, in groups and learn from each other.
What is the student perspective? Students were frustrated initially because we took a passive approach to communicating knowledge, but they saw the benefit of this approach at the end. We believe that learning should strain their abilities and that it is iterative. But it is wonderful that it ended on a celebratory note with the functional boats that successfully navigated the terrain.
What lessons did you learn? We realised that in the future we need to spend more time explaining our approach to teaching and clarifying expectations right from the start. We also plan to pay close attention to the gender-balance among our students as we want to maintain a good mix as the course grows.
What are your plans for the future regarding this project? Due to the current curriculum revision projects in our department, there will likely be an increase in hands-on courses like this one. So, this course represents a new way of teaching, like a prototype for the new curriculum. The results will be looked at closely and are quite important for future decision-making in the department. Teaching this way is also a development opportunity for the lecturers.
What first steps do you advise for others who are interested in doing the same? We think it is important that teaching is viewed as a design science, in other words that it benefits from careful planning and time. We recommend visiting other courses that already use this kind of approach and speaking with the course leaders to gain inspiration and practical ideas for implementing project and problem-based learning in your own course. We would be happy to share our experiences with others.
Posted on by Karin Brown
in Featuring teaching Tags: innovative teaching,Innovedum