Drawing by hand made easy in Moodle
Do you already use Moodle and have you ever wanted better options for capturing simple digital drawings as part of a quiz? An improved freehand drawing question type is now available for ETH lecturers.
This question type is called "Freehand Drawing (ETH)" and works on any computer device. Generally, touch-devices with hardware pens (styluses) work best although drawing with a mouse or a touchpad works as well.
Creating a quiz with a Freehand Drawing question
Start by creating a quiz in Moodle. Quizzes can include any number of any question types.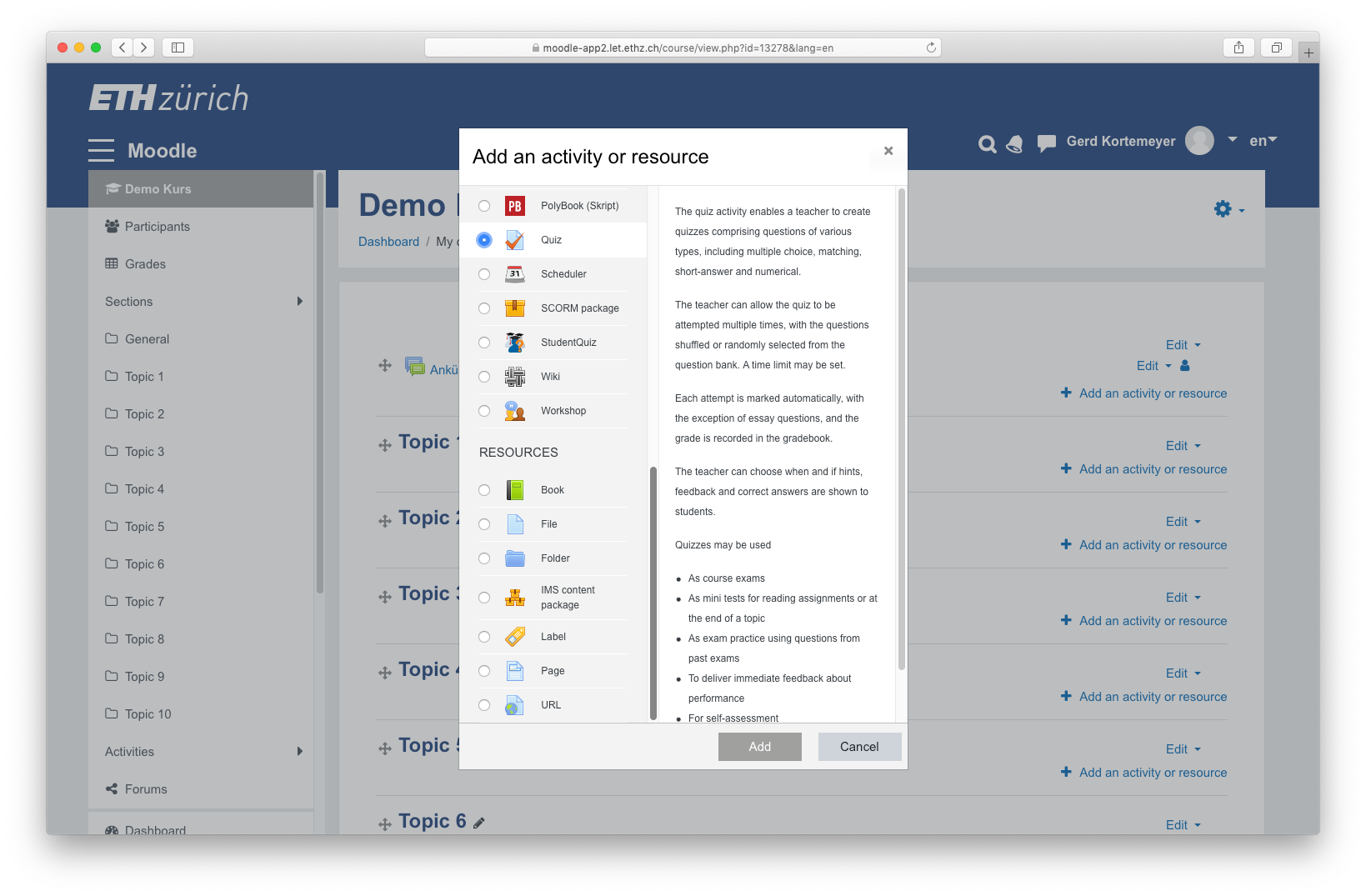 Insert your new question into the quiz, using "+ a new question."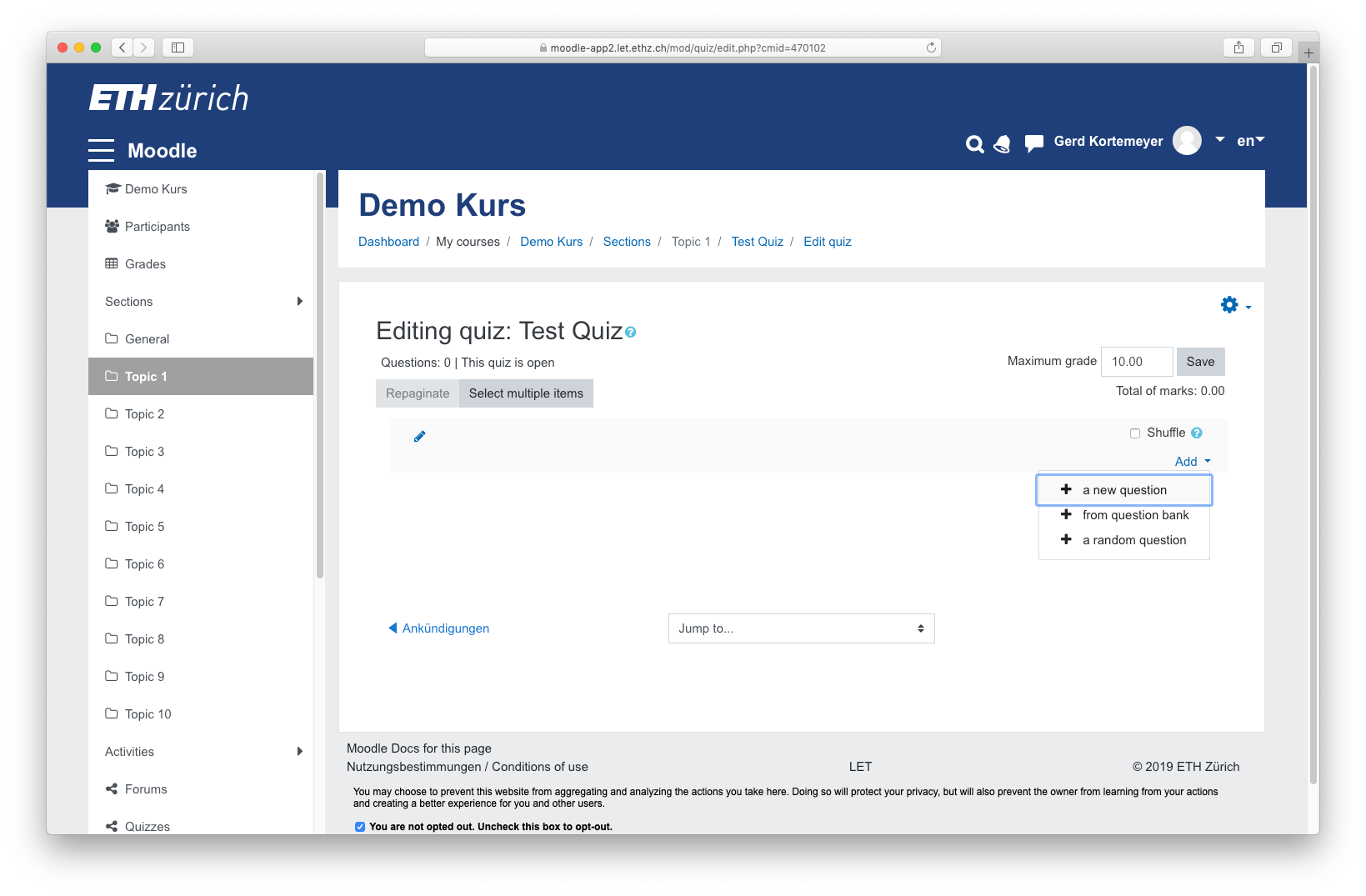 Choose the question type "Freehand drawing (ETH)".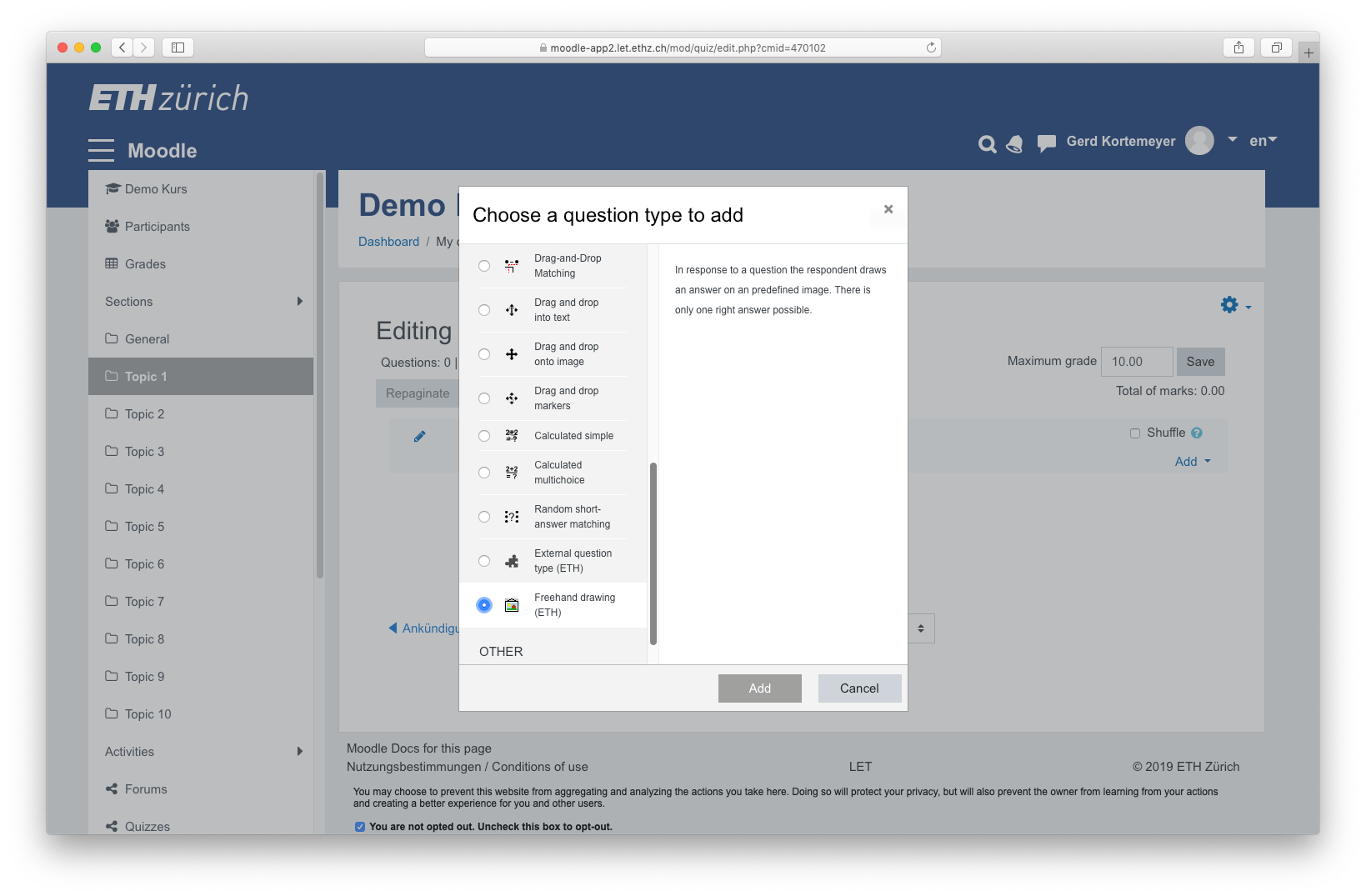 Insert a title and write a task or a question for the students to solve. This is the standard text editor used all over Moodle. In this example, we have asked a question about charging a capacitor where we want the students to sketch the electric current as a function of time.
Note that a lot of students do not own large-screen touch-devices, so we cannot expect detailed or precise drawings. Use of the question type thus should be limited to "sketching" or "drawing," not precise activities like "graphing."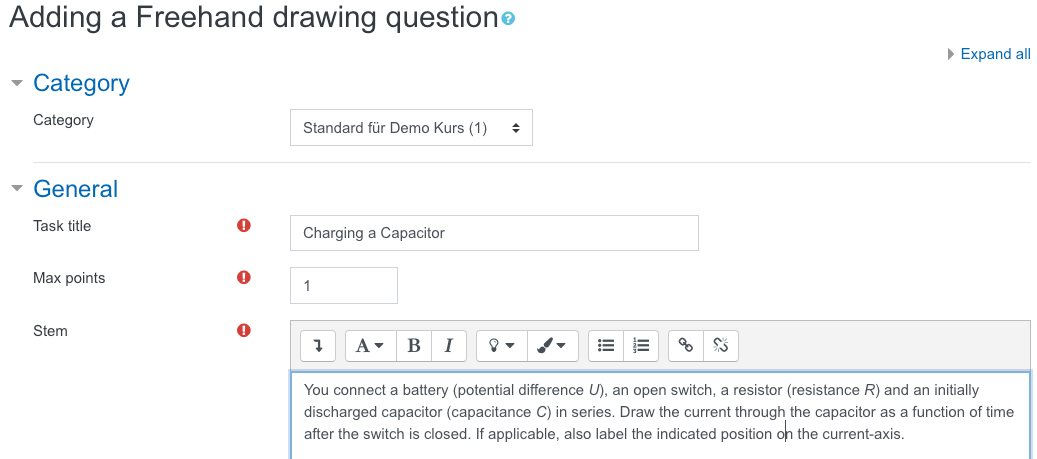 By default, students get a white background to draw on. You can also create and upload a background image using any drawing tool. In the following example, a coordinate system was created using PowerPoint. These drawings can help your students literally by framing their answers and in the end help you grading them by standardising aspects of the image.
Upload your background image to your question. You can simply drag and drop your file into the provided field.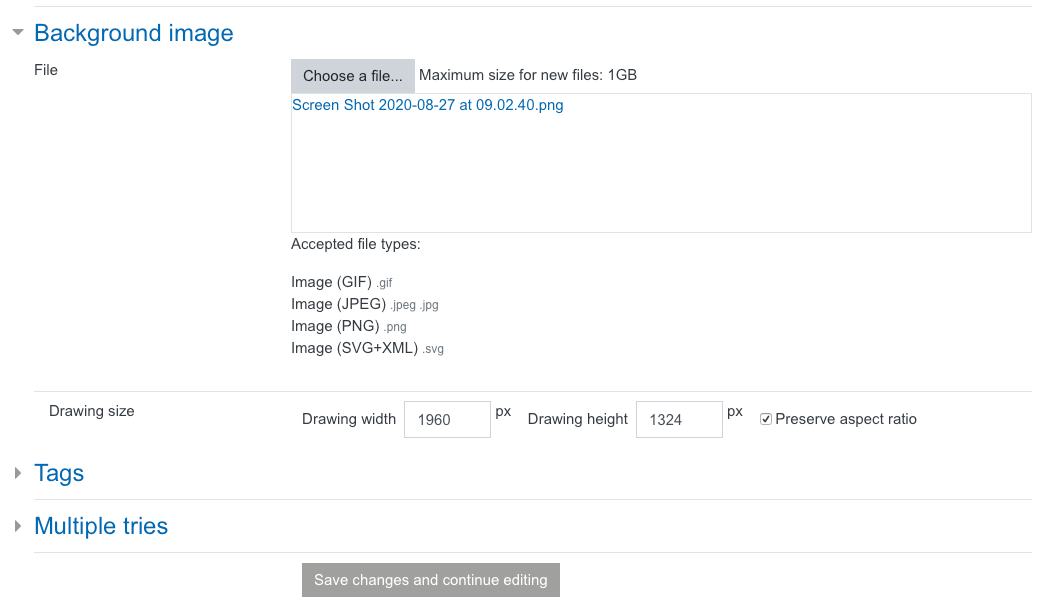 If it is a big image, make sure to reduce the size so it fits on the student's screen without scrolling. While the tool allows for horizontal or vertical scrolling, this can be awkward. Also, keep in mind that Moodle itself will take up some space for its navigational elements – a width of 500 pixels is reasonable.

Save and preview your question, using the "preview" button: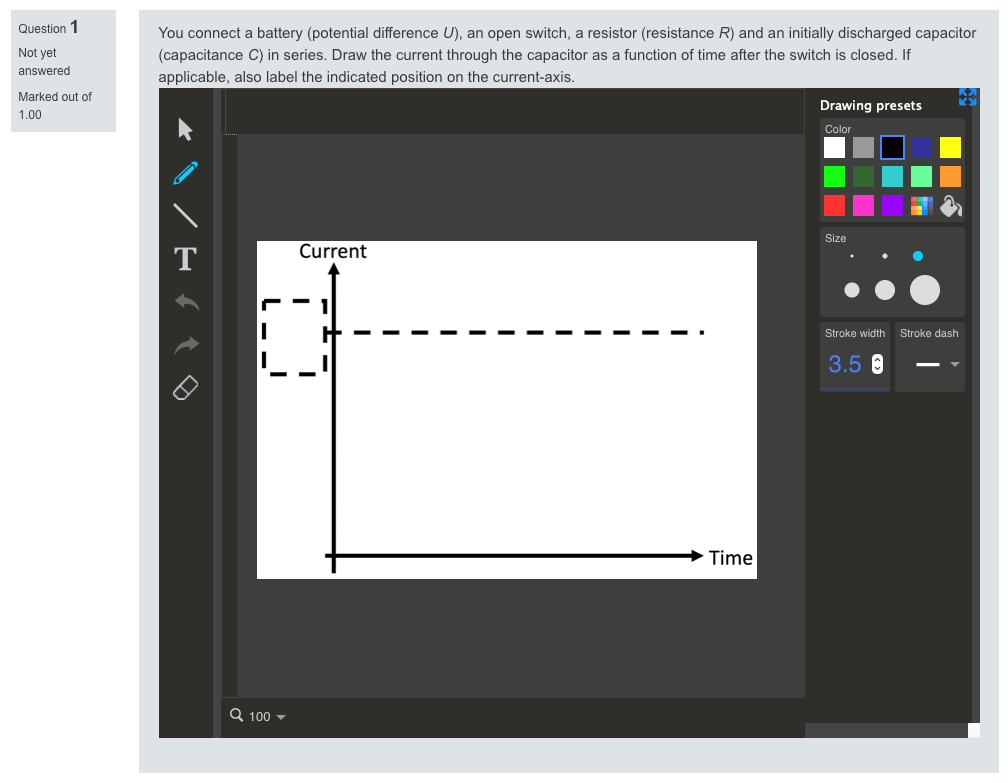 Answering a Freehand Drawing question
Students can then answer the question as shown in the example below: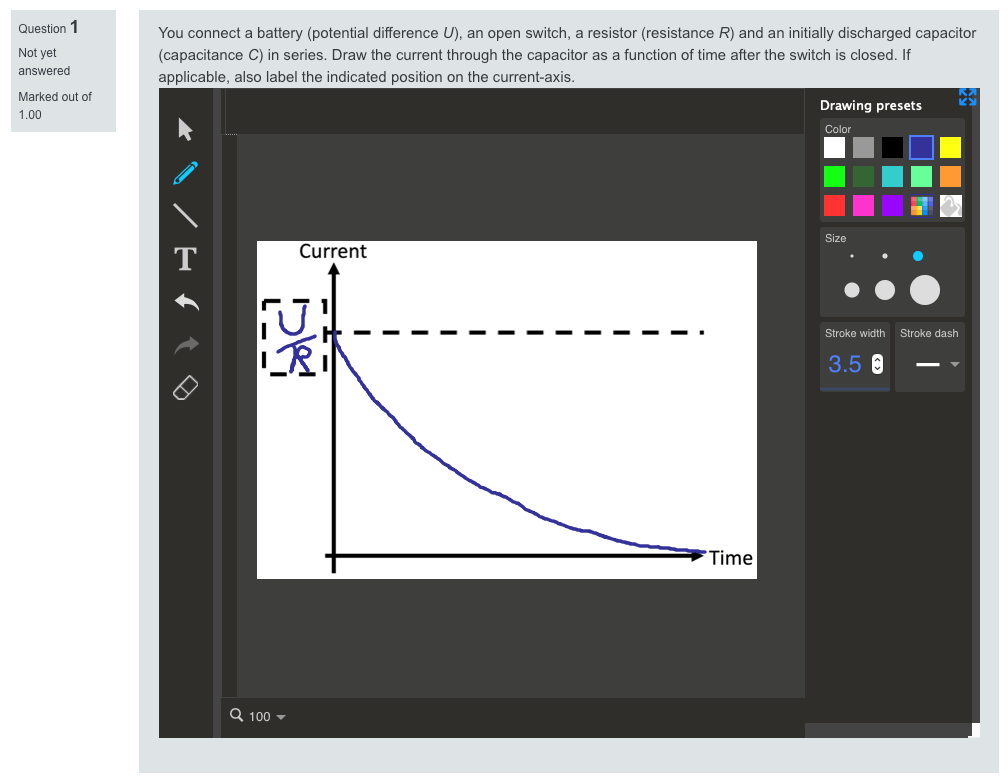 This answer drawing was made with a mouse. The precision of this drawing is at the limit of what should be expected, but one can clearly see what's going on: exponential drop-off, starting at U/R. For the axis label, students could also have used the typing tool. Other tools include a simple line tool and an eraser.
Students would then submit their drawings as their answer. Answers need to be graded manually, just like essays answers.
Practice makes perfect
Although more and more students possess convertible or tablet devices with touch screens and pens, drawings are still more often made using paper and pencil. If you intend to use Freehand Drawing on exams, it is important to give your students time and opportunity to practice using it. If you already use Freehand Drawing questions in your lecture during the semester, the students have had time to practice at their individual pace and can get acquainted with the question type.
This question type will be piloted for use in future examinations. The devices used for mobile exams at ETH have touch screens and hardware pens, which work well with this question type. If you are interested in using the Freehand Drawing question type in an online exam, please contact online-pruefungen@let.ethz.ch.
Posted on by Kristina Anna Linnea Isacson Wildi
in Projects Tags: ETH Moodle,Freehand drawing