Dashboard-Bilder in Moodle anpassen
(English below) Lehrende können die Dashboard-Bilder ihrer eigenen Kurse selber ändern. Dies lässt sich einfach umsetzen und hilft Studierenden und Lehrenden, ihre Kurse schneller zu finden. Darüber hinaus wird das Dashboard durch individuelle Bilder visuell ansprechender.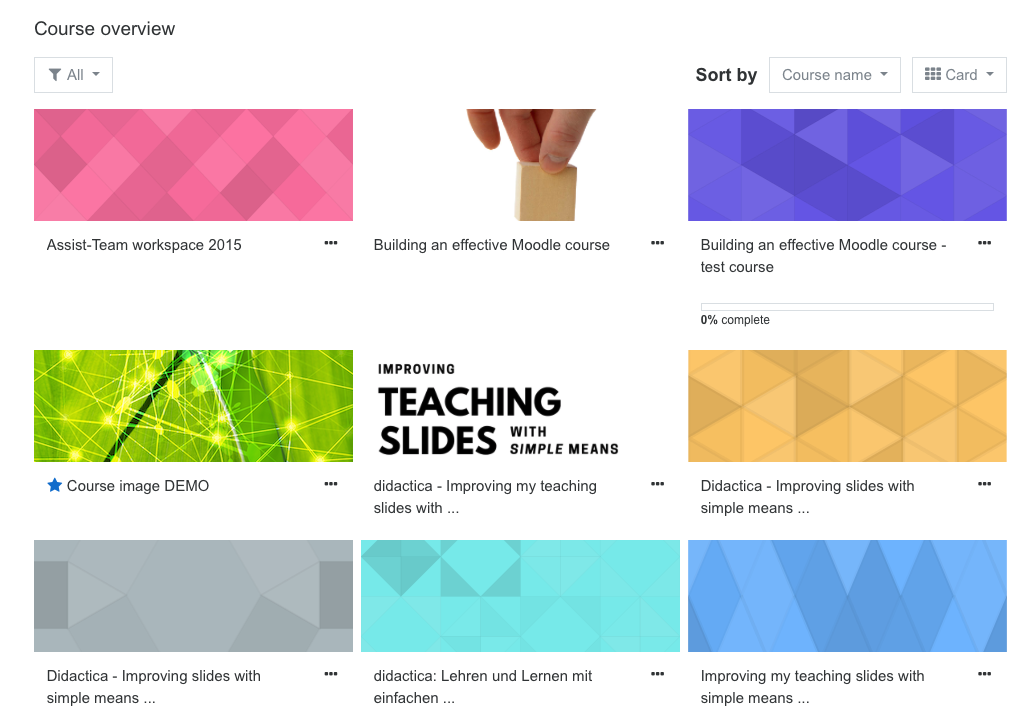 Vorgehen
Wählen Sie ein Bild, für welches Sie die Copyright-Rechte besitzen oder eines das frei verfügbar ist. Bitte beachten Sie ausserdem, dass die Bilder auf unterschiedlichen Geräten unterschiedlich dargestellt werden. Wählen Sie also ein passendes Motiv.
Ändern Sie die Dateigrösse des Bildes auf ca. 100 KB. Ideal ist das png-Format.
Stellen Sie sicher, dass die Höhe des Bildes 112 Pixel und die Breite nicht mehr als 350 Pixel betragen.
Laden Sie das Bild hoch, indem Sie beim Zahnradsymbol «Einstellungen» wählen, scrollen Sie runter bis zum Feld «Kursbild». Laden Sie die Bilddatei hoch und speichern Sie danach Ihre Änderungen.
Das Bild wird nun im Dashboard und in den Kursinfos angezeigt.
Customise dashboard images in Moodle
Teachers can change the dashboard pictures of their own Moodle courses. This is quick to do, helps students as well as teachers find their courses faster and brightens up the dashboards with individualised images.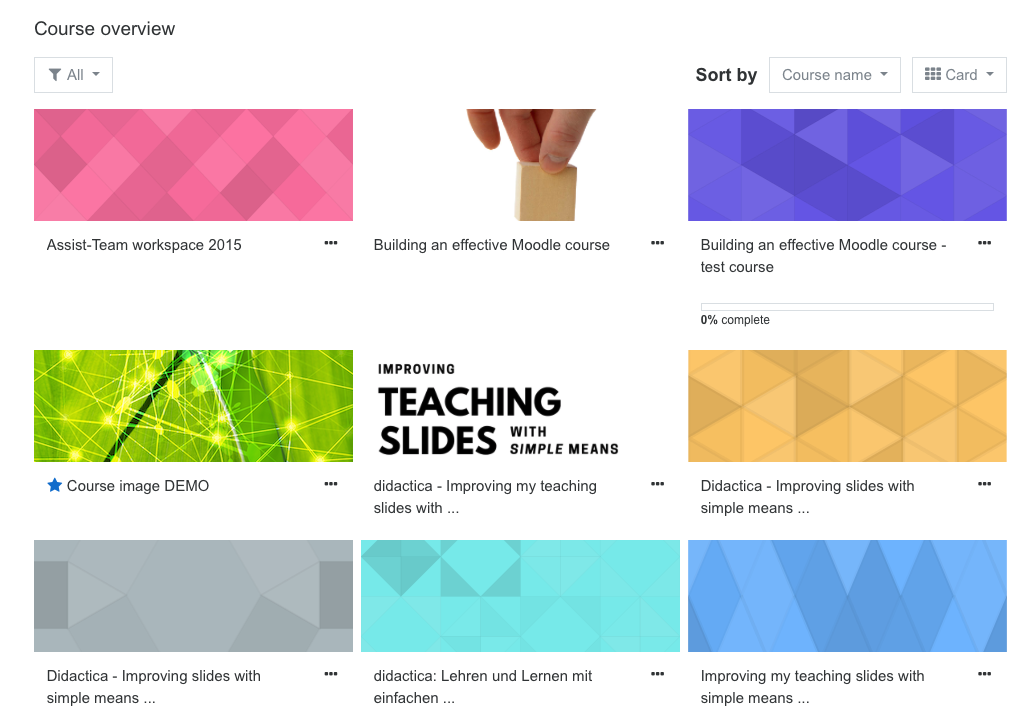 Steps
Select a picture for which you own the copyright, or which is publicly available. (Please keep in mind, pictures are displayed differently on every screen, therefore consider selecting an abstract picture).
Resize the image so that it is roughly 100 KB. Ideally use png format.
Ensure the dimensions of your picture are 112 px tall by no more than 350 pixels wide.
Upload the picture by selecting the cogwheel in your course, select "edit settings", then scroll down until you see the field for "course image". Upload your file and save.
It will now be displayed on the dashboard of everyone who is enrolled in this course.  
Posted on by Karin Brown, 3 Comments