Deeper integration. Moodle and Safe Exam Browser take their relationship to the next level
For many years, ETH has been using two open-source software projects: Safe Exam Browser (SEB) and Moodle are the foundation of online assessment at ETH Zürich. They work together seamlessly but the management of SEB configurations is somewhat complicated. With the brand-new release of Moodle 3.9 in early June 2020, the integration was improved significantly to support a number of different online exam scenarios. For example, in a bring your own device (BYOD) scenario admins now have the possibility of enabling teachers to configure SEB settings directly in a quiz. Admins can manage templates of SEB settings that are provided to teachers via the quiz settings in Moodle.
A development project between two open source communities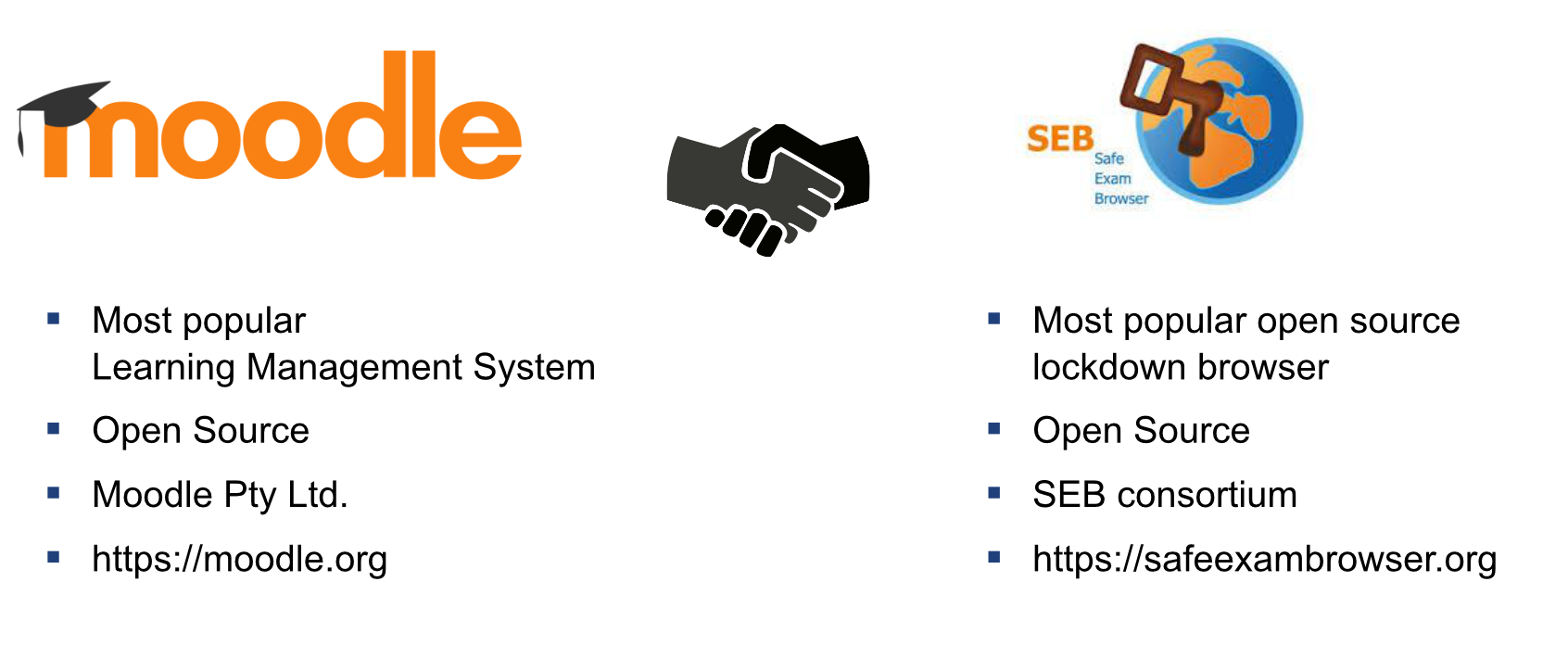 How did this come about?
In 2017, a member of LET was on sabbatical in Australia and visited Moodle's headquarters. During this visit, the idea arose that these two popular open-source solutions should work together on a deeper level. Together with the Moodle team at Bern University of Applied Science, the Moodle team at ETH Zürich planed a development project and wrote user stories. During this phase, it became clear, that the estimated amount of work could not be handled by these two institutions alone.
A crowdsourced project – eight universities and two companies acted in concert
With the user stories in our hands, we reached out to communities like SAMoo, MoodleDACH, SIG E-Assessment and Moodle-Forum. After dozens of calls, meetings and discussions, a further six universities (Zurich University of Applied Sciences, Ruhr-Universität Bochum, Berlin School of Economics and Law, University of Applied Sciences Neubrandenburg, University of Applied Sciences Upper Austria, University of Applied Sciences and Arts Hannover) agreed to contribute to the project. The code was developed by Catalyst IT, a Moodle Partner in Australia, with advice and support by Moodle HQ and the SEB development team. A diverse project team then worked together closely to find solutions for very different exam scenarios. Within only six months the integration was submitted for integration in the Moodle core version 3.9 and new SEB versions were published.
Configure Safe Exam Browser directly in Moodle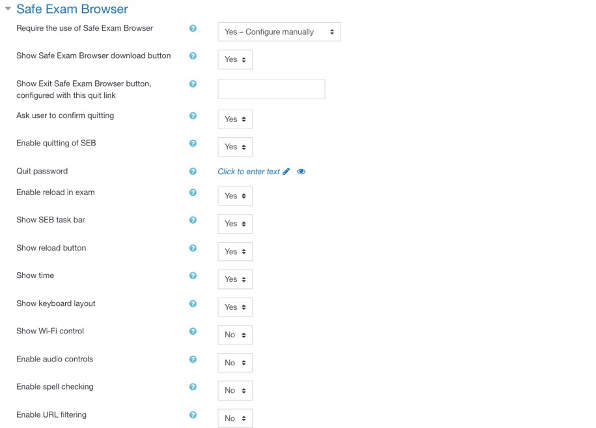 Usually Safe Exam Browser has to be configured via its Config Tool. In Moodle 3.9 teachers can do this directly in Moodle and for each separate Quiz activity. This is extremely helpful for e-assessments in a BYOD scenario. There is no need to provide a separate SEB settings file to students before the exam anymore. As students access the quiz, Moodle hands out the SEB configuration file and SEB is reconfigured as required by the student's device. This means teachers can set a different SEB quit password for every attempt, configure different additional software for different quizzes, and because it is that easy to configure you can consider using SEB in formative quizzes to help students to focus.
Project learnings
This project was challenging in many ways. There were many different stakeholders, tight deadlines, two big open source communities, and different locations and time zones. Here are the most important learnings.
Joint projects are possible but need an intense discussion in the community. Only about 30% of all interested institutions were able to invest in the project.
Scenarios and user stories are excellent methods for creating a shared understanding of the requirements and objectives between all project partners.
To prevent endless discussion, identify one or two strong partners, create provisional scenarios and user stories and then reach out to the wider community.
Communication over different time zones is challenging (especially if you have weekly sprints) but manageable. Be mindful to share recordings and keep an active chat channel alive.
When faced with obstacles (such as lack of funds) think out of the box and search for allies, that are willing to pursue the same goals as you. There is almost always a solution.
Conclusion
Despite the challenging nature of this project and the different needs of stakeholders, the objectives were met. It was a pleasure to have been part of this joint community project together with Moodle HQ and SEB core team. We are sure the outcome of this project will bring online assessment to a new level.
The new Moodle version can be downloaded here. The Safe Exam Browser is available here.
Posted on by Thomas Korner
in Projects Tags: ETH Moodle,Safe Exam Browser,SEB,Software development