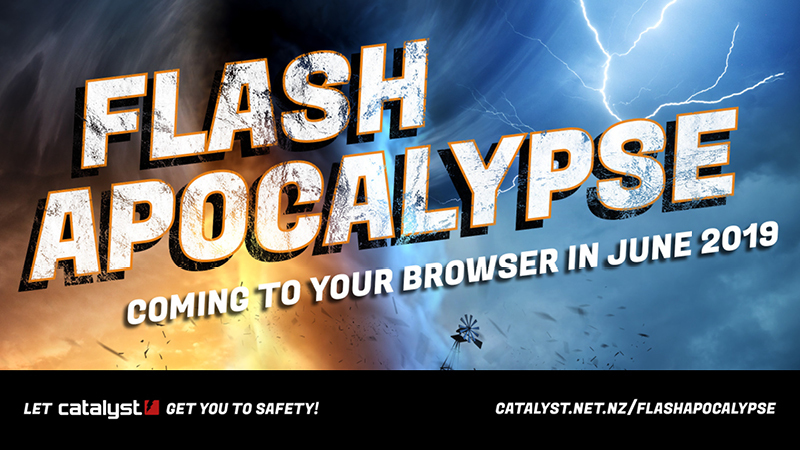 Flash
Flash in all its forms will no longer be supported by Adobe or any internet browsers by the end of 2020. This has prompted a clean-up of any Flash files on our own Moodle system. For years Adobe Flash was considered state-of-the-art for interactive web content. As time goes by new standards like html5 and webGL have been established and the Flash technology was shown to be vulnerable to attacks. Therefore it was not surprising that about two years ago Adobe announced the end of Flash by 2020.
Since this announcement, all the big and important webservices like YouTube and Facebook have updated their websites using html5 and other technologies. Therefore, it is likely that in the coming months the newest browser versions will prohibit using Flash by default and some of them will kick this functionality out completely. (Microsoft announcement, Google announcement, Mozilla announcement)
Apocalypse?
Just as most other universities did, we at ETH have seen a lot of project developed in recent years. Flash has been used to display movies, present animations or create interactive objects and simulations. Latest by the end of 2020, (but probably earlier) these will no longer work.
In the spring of 2019 we had a look at all ETH Moodle courses and contacted teachers who were still using Flash in its various forms. We have found individual solutions for each case and Flash will vanish on our Moodle server in the next weeks. ETH lecturers who use Moodle who have not been contacted by us, should not have any problem with the end of Flash in your Moodle courses. When in doubt please contact us.

If you are using flash in other websites, we recommend following the "three f"-model presented by Nikki Sinclair from Catalyst: https://catalyst.net.nz/blog/3fs-surviving-flash-apocalypse.
Posted on by Thomas Korner
in Projects Tags: ETH Moodle,Flash