The decreed transition from classroom to online teaching caught us off guard at the Department of Physics, as anywhere else. Within a few days, almost 25 central lectures together with five laboratory courses, covering over 3,500 students, had to be switched to online mode. It is due to the high engagement and cooperative commitment of all members from the department that this enormous challenge could be mastered without any transition. None of the courses had to be canceled and since last Monday, all teachers, lecturers as well as teaching assistants, are teaching online.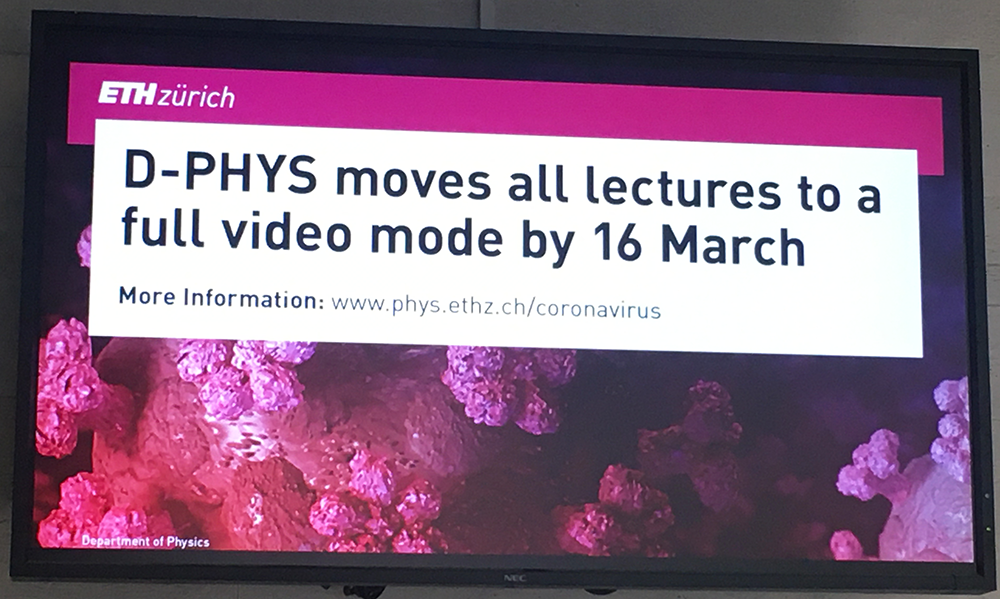 Now, after one week of online teaching, it is possible to review the impacts of this switch. In addition, a look into the near and even into the far future should be allowed. How will teaching develop in the coming weeks? What lasting impact will the online shift have on higher education?
In the first days following the shift, the focus was mainly linked to technical problems: What tools should I use to teach online? Here we benefited from the fact that ETH relied on the Zoom platform right from the start. Although other options for teaching, such as recording self-made videos or using Moodle were also recommended, we mainly advertised Zoom at our department and offered an appropriate support. With Zoom, all lectures can be streamed live and students can even ask questions during the event. For courses relying on blackboard writing and experiments, we have set up a special installation in our main lecture halls where lecturers can stream their lecture via Zoom (without students in the hall). Lecturers who do not rely on the large blackboards and on the experiments give their lectures from home by using Zoom as well.
With the setting offered by Zoom, it was possible to transfer the concept of the traditional classroom lecture more or less smoothly to online teaching. This was particularly important in the initial phase because the lecturers did not have to redesign their courses. The shift to technical new ground was already demanding enough.
Now, with the lecturers gaining more confidence in using Zoom, didactic reflections are emerging.
Does it really make sense to teach online the same way I have done it before?
Should I try to redesign my course in a more appropriate way for online teaching?
Scenarios such as flipped classroom, question and answer sessions or small project assignments are coming on the agenda. After the technical shift, we now experience a merging didactic shift. Of course, technology still plays an important role, but the focus lies on didactic implications. Lectures profit from their research experience in using communication and cooperation tools. Now they start to transfer those or similar tools to teaching and learning.
At least, the didactic phase is no longer under imminent time pressure. Lecturers have time to plan and to think about creative didactic experiments. Thus, in the near future supporting lecturers in new didactic implementation will become paramount, be it through didactic expertise or by disseminating tested scenarios.
It may seem premature at this point to look at the post Corona period. However, it is already clearly noticeable that traditional teaching is moving to new grounds. An increased number of online courses will continue to be part in higher education when we switch back to face-to-face instruction. Lecturers are now gaining insight in new didactic settings that they will be able to transfer to regular classes. Even brand new ideas might pop up and at the end, students will profit from an increased portfolio of many different teaching and learning opportunities.
With the next exam period ahead in May, the problem of assessments still remains unresolved. Even if oral exams offer a short-term alternative in a few cases, we still have to think about further online alternatives. The next coming months will keep us busy, anyway …