Being inspired by the "Critical Thinking" Initiative, the lecturers of Writing, Reporting & Communication (Prof. Dr. W. R. Taylor, Dr. E. de Bruin) used the moodle activity 'Workshop' in Spring Semester 2015 with 30 students. The students had to write a review of scientific papers, design a poster and give a presentation. Then they had to assess 10 of their peers' posters and 15 of their peers' presentations. One lecture was used for the poster review – students brought along physical posters – and one lecture was used for the presentations. The Workshop activity helped with the peer review process of the posters and the presentations. The peer review was done in class, which meant that the students brought along their laptops or tablets.
Description of the moodle activity:
The workshop activity module enables the collection, review and peer assessment of students' work.
Students can submit any digital content (files), such as word-processed documents or spreadsheets and can also type text directly into a field using the text editor.
Submissions are assessed using a multi-criteria assessment form defined by the teacher. […] Students are given the opportunity to assess one or more of their peers' submissions. Submissions and reviewers may be anonymous if required.
Students obtain two grades in a workshop activity – a grade for their submission and a grade for their assessment of their peers' submissions. Both grades are recorded in the gradebook.
This is a very powerful activity and it is not at all intuitive, especially for the lecturers! Setting up the activity, which is usually the lecturers' duty, is quite a challenge. In contrast to that, correctly set up, the students had no trouble whatsoever in using the activity, i.e. in reviewing their peers' work.
Phases to this activity
Setup phase
Submission phase
Assessment phase
Grading evaluation phase
Closed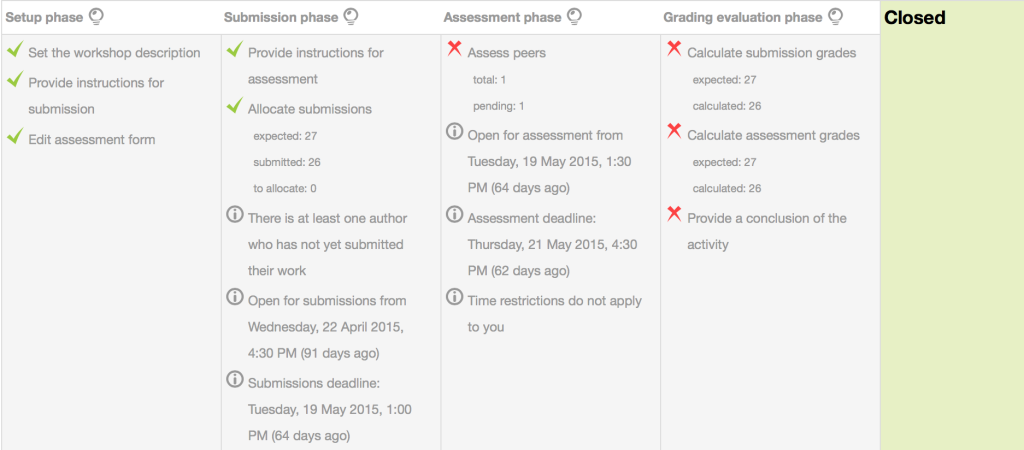 You need to do all the steps below each phase, and you need to manually change from one phase to the next using the 'lightbulb' next to the phases' titles. (I had to call Urs Brändle, to find out how to do this!) If you're that far and you read the instructions/messages shown to you when changing phase, you will be fine.
Random tips
You will find the 'Edit assessment form' and the 'Allocate submissions' in the Administration box of the Workshop activity ('Workshop Administration').
If the allocation has been done but you allow a student in the last minute to hand in their work (after the deadline), you will have to redo the allocation. (It had been a good idea to put it on 'random' and 'automatic' but…)
The grading is… Here's a picture of how we understood how it is done:

There is no way of exporting all the assessments (and comments).
And one last tip: Inform the students beforehand about the grading, especially about the grading of how they assessed their peers!
We didn't evaluate the use of the Workshop activity. It was a pilot and it worked, in the end, more or less, how we imagined it. If we had had to do it by hand, we would still be putting together the 2'250 data points (750 assessments * 3 criteria) and be entering them in Excel! 😉