Last year I helped with the redesign of the lecture Corporate Sustainability at D-MTEC. Several teaching innovations were implemented and I would like to share a few of our experiences. Prof. Volker Hoffmann and his team of the Chair of Sustainability and Technology implemented a skills-based approach and emphasized the development of critical thinking. The course unit explored current challenges of corporate sustainability in the business world. Climate change, innovations on renewable energy technologies, and new sustainable business strategies are topics that are related to corporate sustainability and controversially debated. Just think of Volkswagen's emissions scandal and the consequences it had for the company's management and you have a pretty good idea about the general theme of the course and its relevance.
The lecture's three learning objectives were:
Students understand the key concepts of corporate sustainability and form learned opinions about them;
Students develop a critical thinking disposition on corporate sustainability issues;
Students gain confidence to speak up for corporate sustainability in a professional setting.
The lecture aimed at enabling students to become champions for sustainable business practices in their professional careers.
A new course structure with flipped classrooms
The course originally had a classic lecture setting of teaching with PPTs from the front stage with PPTs. The redesign was a complete overhaul and implemented a new structure. The course now has two phases. First a lecture phase, in which key concepts are presented and students can work on e-modules to develop their critical thinking skills, and then a track phase in which flipped classrooms are used to develop group work projects (see figure below for the course structure).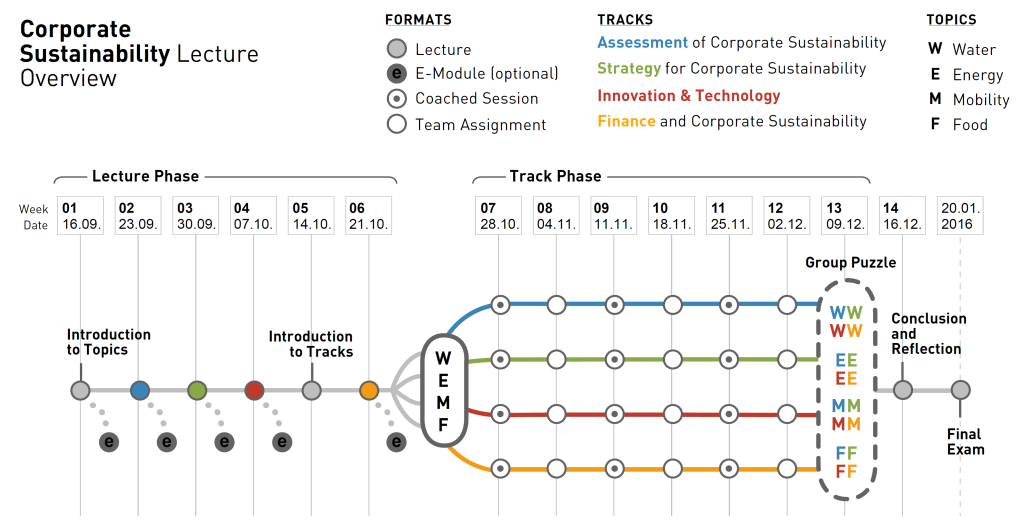 Figure 1 – Course structure
During last year's lecture phase, Prof. Volker Hoffmann gave an introduction to corporate sustainability through a series of lectures. These inputs addressed one theme each and built a foundation for the group work. In addition, each lecture was supported by an e-module that allowed students to apply the concepts, improve their analytical skills, formulate a purposefully structured and reasoned argument, and conduct anonymous peer reviews to analyze arguments of two fellow students. The e-modules trained students to find creative and innovative solutions and communicate their thoughts clearly through writing a logically structured arguments in six sentences. The new 6SA method was specifically designed for the course.
In the track phase, students participated in one of four tracks that specialized on the lecture's sessions on assessment, strategy, innovation and technology, and finance. Each track had up to 40 students and was coached by two to three Postdoc and PhD researchers. The teams of four to five students focused on one of the four topics water, energy, mobility, and food (WEMF). All assignments for the teams were designed in such a way that they built up towards the final product and warranted a feasible and fair work load across the tracks. The final products of the group work were presented in a puzzle session at the end of the semester. All students from the four tracks that had worked on the same topic came together to present their projects and thereby assemble four different perspectives on each topic. A final conclusion and reflection session with a guest speaker concluded the course.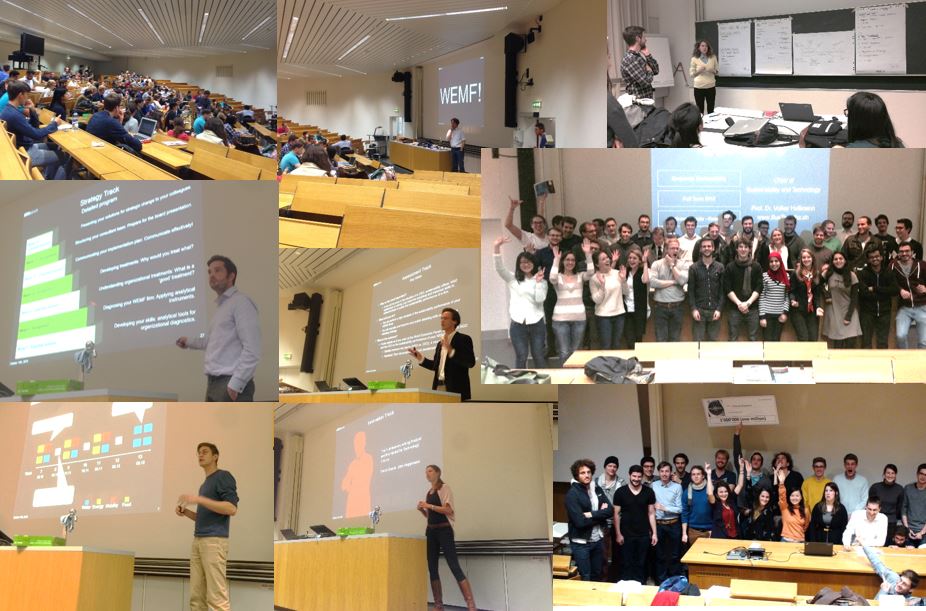 Image 1 – Impressions from the course
In the fall semester 2015/16, the lecture had about 160 students from more than a dozen disciplines, ranging from management and economics to engineering and environmental sciences. The diversity of the student body (BA, MA, MAS, and exchange students) was seized as a learning opportunity by ensuring that during the track phase each team represented different study backgrounds. The course's progress was monitored by a weekly online feedback survey with 10% of the students during the lecture phase and a semester-end evaluation after the track phase.
Overview on Teaching Innovations
The lecture Corporate Sustainability supported the ETH Critical Thinking initiative by implementing several teaching innovations in its new design. The approach focused on the development of students' critical thinking abilities and the hands-on application of theoretical concepts and analytical tools. The lecture integrated a new course structure and successfully implemented online learning modules with peer review during the lecture phase, group work in flipped classroom sessions during the newly devised track phase, and an innovative group puzzle session to ensure learning across tracks.
The lecture introduced new learning processes and new methods that had been specifically designed to realize the course's learning objectives on developing critical thinking skills.
In the lecture phase, the learning process was based on the combination from lecture inputs with the critical thinking elements in the e-modules. The key innovation was the 6SA method that Dr. Julian Kölbel and I developed (see also my input at the Refresh Teaching lecture series). 6SA stands for 6 sentence argument and allows students to structure their thinking in a writing exercise. The method channels interactions amongst students through a writing and anonymous peer review process and gives them a secure space to test their arguments and their critical thinking skills.
In a 6SA text, each sentence a specific function for the logic and coherence of the overall argument. The elements are adapted from classical dialectics and critical reasoning in philosophy: #1 introduction, #2 position, #3 supportive reasoning, #4 challenge, #5 rebuttal, #6 conclusion. For the writing and the peer review, seven criteria help students to formulate their argument in consistent structure. The exercise trains students to clarify their position in a short and concise form of 120 words (max. 20 words per sentence) and communicate it in a way that can convince a critical reader.
The learning process in the 6SA method builds on five distinct phases: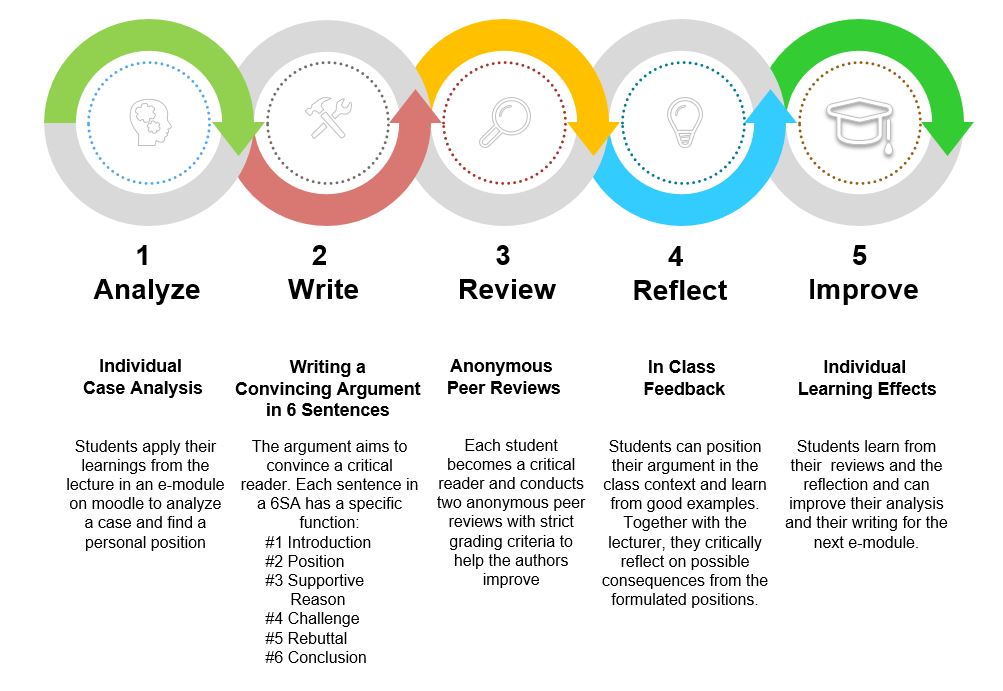 Figure 2 – The five phases of the 6SA method
The 6SA method allows students to cultivate their skill in formulating an argument with logical consistency and a high degree of critical reflection. As they become experienced in composing their own argument, they mature as critical reviewers for their peers. After being shown general class performance, creative solutions, and best-in-class examples, they then read the reviews to their own texts. In the last step, students encounter their peer's reading experience. While students expect appreciation for their thoughts, they are also open for criticism and eager to improve. The last step increases the students' cognitive maturity and critical thinking disposition. As an incentive to work with the e-modules, students could earn a bonus and replace 10% of their final exam score with their grades from the e-modules. The application, learning progress, and effects of the 6SA method were closely monitored throughout the semester, and our first analysis indicated positive results.
In the track phase, innovation in teaching and learning was integrated in the flipped classrooms and the group puzzle.
In the flipped classrooms, learning took place in the intensively coached sessions and within the teams for the group work. Students were allocated to teams that were formed according to their preferences for a track and a topic (thanks to Urs Braendle LSP/D-USYS for the help!). Each team represented diversity with regard to study backgrounds, gender, age, language competences and cultural backgrounds. Increased diversity created opportunities for interdisciplinary, intercultural, and intergenerational learning processes. A 'meet & greet' activity was offered in the first track session to facilitate the teamwork. To create a common understanding on how students wanted to work together, they signed a team commitment that clarified that they shared responsibility for their learning success. It also formed a basis for a high degree of involvement, engagement, motivation, and fun.
The tracks culminated in a group puzzle in which the teams presented their work in different formats. In the assessment track, students prepared a debate in which they questioned and defended a firm's sustainability performance. They refined first their analytic and then their debating skills. In the strategy track, students applied numerous concepts and tools to prepare a pitch presentation to convince a firm's management to implement more sustainable business practices to solve specific problems. In the innovation and technology track, students analyzed different models for technology choices that are relevant for companies and presented them in a quiz format. In the finance track, sustainable investment decisions were prepared in 5 minute videos that were of immediate use for investment committees, for example of a pension fund. Each team received one-page assignments that guided students towards their final product and motivated them to be creative and learn with and from each other. The teams continuously integrated advice and feedback from the track coaches.
Lasting and positive impacts of the corporate sustainability lecture at ETH were that students, especially from management and engineering backgrounds, received training in articulating a well-refined position, a skill that is broadly applicable in academic and professional life. They experienced efficient group work and were exposed to presenting their output in different formats. In addition, close interactions in the track phase between students and coaches led to high levels of motivation. The lecture benefited the cooperative atmosphere amongst all involved researchers (professor, postdocs, PhD candidates and educational developer) and has a potential to become an important element to define and strengthen the profile of the SusTec group.
In my conclusion, the lecture on Corporate Sustainability can have a sustainable influence on teaching at ETH and beyond. With regard to training critical thinking, the 6SA method is broadly applicable in various lecture and seminar settings in higher education and makes an innovative use of online learning platforms, in particular the moodle workshop module. Each of the tracks in the flipped classroom phase can be a basis for independent course units. The modular architecture of the course allows adapting the lecture for PhD summer schools and executive classes in continuing education. The redesign of the course was supported by Innovedum (link to the project report here).