IT Find series 3/2021: What do you associate with it?
Join us on a journey back in time: Do you know what this object is and what do you personally associate with it?
Do you perhaps know how the IT Find arrived at IT Services and where it was previously in use at ETH Zurich? We look forward to your stories and comments on this post. And if you have an IT Find for our inside|out section, please contact us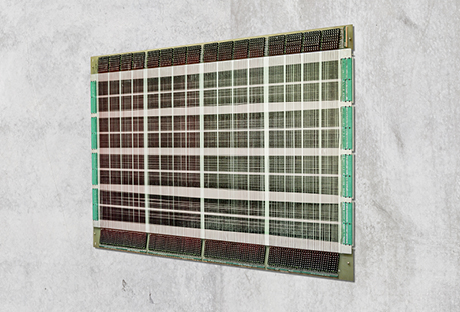 No non-destructive reading possible
When reading information from the core memory, it is destroyed after it is read.
Reading requires re-magnetization of the core (= 1 bit). If a "1" is stored, a pulse is generated on the reading wire. The information is read out / detected. However, the original information is now gone. If it is still needed and it was a "1" before, the core must be re-magnetized. Reading therefore destroys the information contained therein. The process requires comparatively complex controls. On the other hand, core memories can be built to any size, and the information remains stored indefinitely by IT standards.
Our history
The IT Find of this memory board hung for a long time in the ETH building STB, on floor F near the office of the ITS Director Dr Rui Brandao. The board had the dimensions (W x H) of 72 x 53 cm. It was not possible so far to find out how this memory board actually arrived at IT Services. A message we received stating that it could be a "CDC external core memory ECS".
An "Extended Core Storage (ECS) System" is a core memory component that stands alone, i.e. has its place in a separate cabinet.
Control Data Corporation (CDC) was a U.S. manufacturer of computers founded in 1957 by William C. Norris, which existed until 1992 (Wikipedia)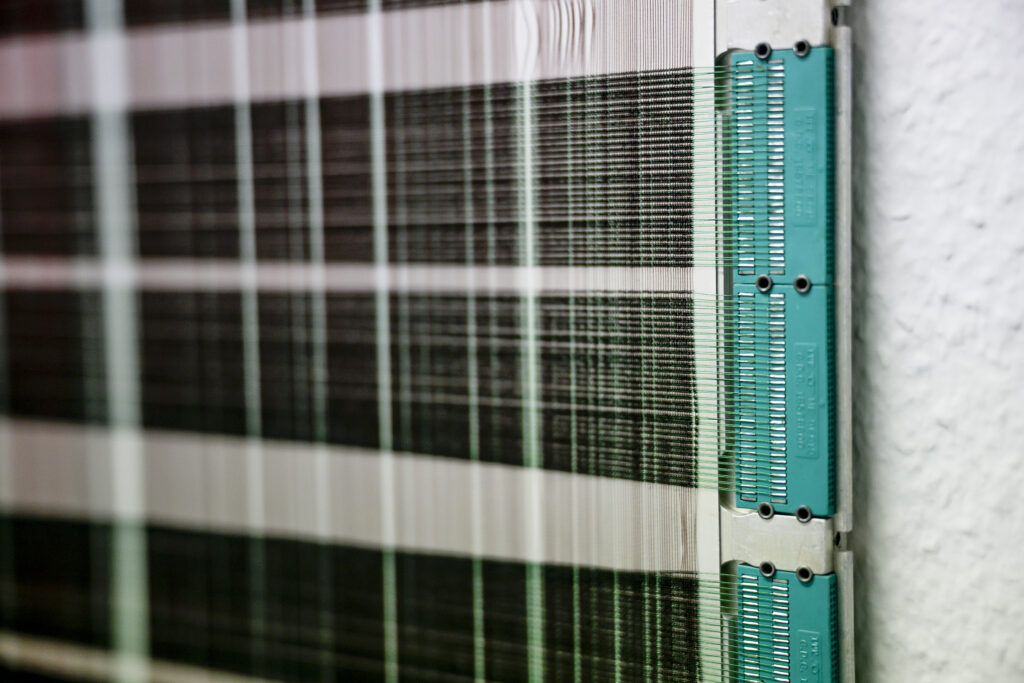 When looking for information and stories about the graphics card, we almost always got the same information:
"I only know it as an exhibit." (Sigut)
"It must be an ECS, yes. That thing was already hanging around here when I started back then. No idea what it could have been part of, sorry." (Loepfe)
"No, I don't know what this IT Find is either. I would think this thing belongs in the CDC-NOS/VE area, though I have a feeling this board was sitting around for a long time in an office of what was then the Data Centre Section." (Borer)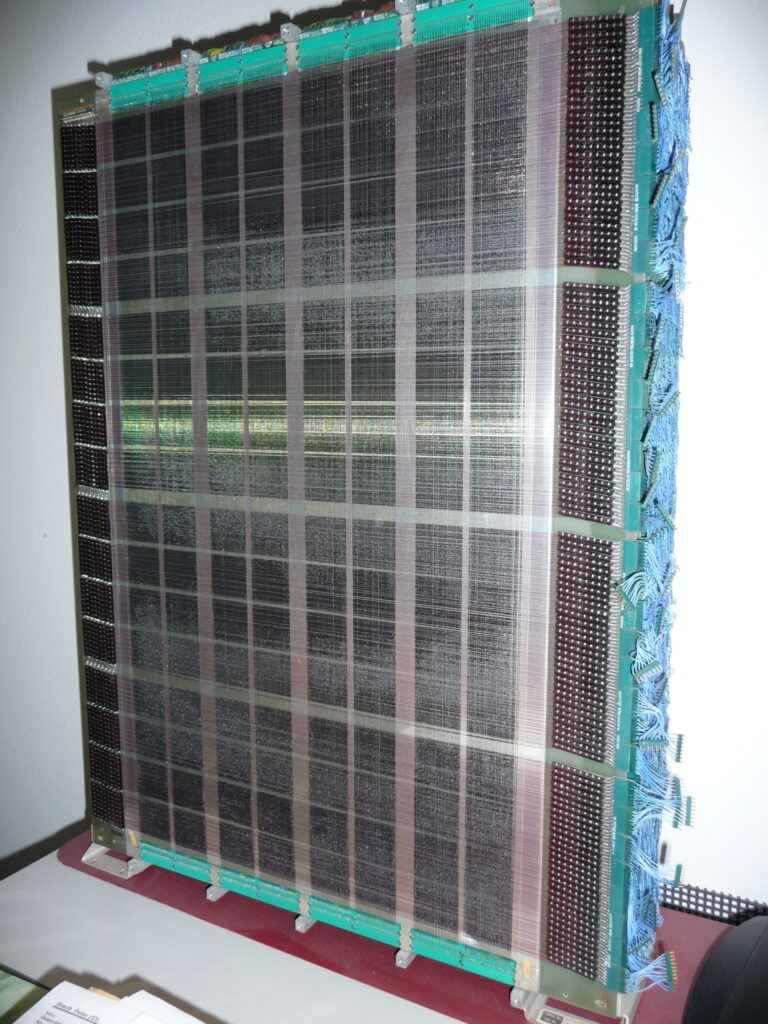 A picture, which looks similar to our board, could provide more help here:
"A picture of a part of the core memory component can be seen here. This is presumably a single memory board for the ECS. Some of these boards have been framed and presented as gifts." (Peter Staub)
Rui Brandaos research and response from Peter Staub
"I can also assure you that this memory board did not belong to the CDC 1604 or CDC 160A. It didn't belong to the CDC 6400 or 6500 either. It's a board from the ECS, Extended Core Storage, which was the shared storage system that supported communication between the two systems CDC 6400 and 6500. This was the external core memory, of which you have one board. There's some more interesting information on this here.
http://www.bitsavers.org/pdf/cdc/cyber/cyber_70/60225100_Extended_Core_Storage_System_Ref_Feb68.pdf
IT Find series 3/2020: What do you associate with it?
For more on our initial research on the magnetic disk and the CDC system, see the post
https://blogs.ethz.ch/its/2020/11/26/it-find-series-3-2020-what-do-you-associate-with-it/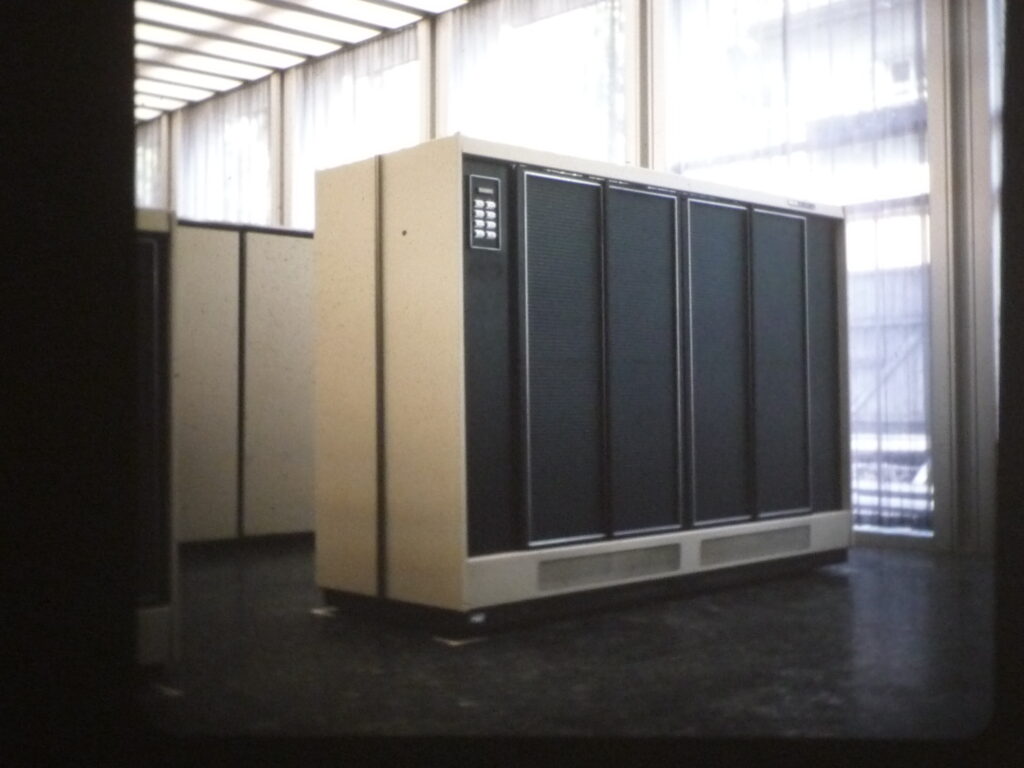 More in ITS & ETH history and other IT puzzles
Contact
Your inside|out editorial team, Sabine Hoffmann Head of PR & Communications
erstellt am von Sabine Hoffmann
in News Schlagwörter: CDC,ETH IT history,external core memory ECS,history,IT Find,IT puzzles,journey back in time,memory,Memory board: