Project Management – Handbook of the ETH IT Services
The PM Handbook defines the uniform, binding terminology for conducting projects within IT Services.
In general, projects are handled at IT Services according to a uniform, simplified methodology based on Hermes. The PM Handbook of IT Services defines this uniform, binding terminology by describing the phases, milestones, goals and results per phase.
Project management – overview of the phase model

Since last year, the project handbook has been published on Confluence (German only – ETH login) and as a result can be regularly updated and attractively presented with new findings, tips and specific questions. Apart from general overviews of the phases and their technical delivery objects (see illustration above), detailed descriptions and best practices for each phase are explained (see following illustration).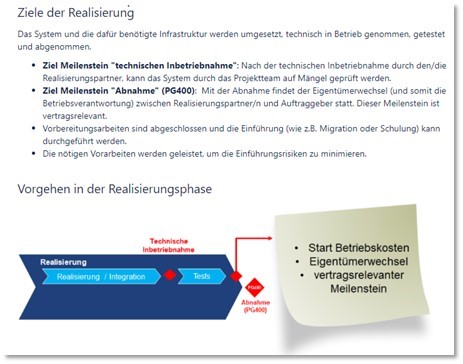 In addition, context-specific aspects of the project conduct are prepared and supplemented with ITS-specific information. For example, one is shown how subjects such as "IT security", "procurement" or "service management" have to be tackled across all project phases.

In addition, there is an explanation of how the phase model has to be adjusted if "agile" develops, if an entire programme with several projects is handled, or how realisation units are mapped, to mention just a few examples.
You can find the complete information at Confluence (ETH login):
For additional questions or suggestions
erstellt am von Sabine Hoffmann
in IT-SEC,News Schlagwörter: Handbook of the ETH IT Services,IT Services,PM Handbook,Project Management