Welcome, Dimitrios Fazzone!
Dimitrios Fazzone started at ETH Zurich on Tuesday the 1st of June 2021 and will succeed Dr Giorgio Broggi, Head of ITS Software Services.
Dimitrios Fazzone started in ITS SWS at ETH Zurich on Tuesday the 1st of June 2021. He will take over responsibility and management of ITS Software Services at the start of 2022 as the successor to Dr Giorgio Broggi in ITS. We would like to welcome him to ETH Zurich and to IT Services.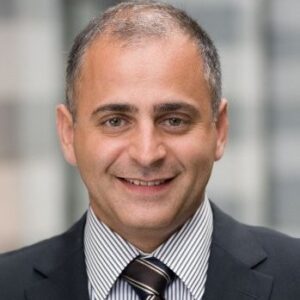 Induction period and return
Over the next few months, Dimitrios Fazzone will get to know ETH Zurich and induct himself into day-to-day business as planned. During his first few weeks at ETH Zurich he has mainly experienced the OCTAVO building in Oerlikon. He once worked in this building in former years. What a small world it is!
Dimitrios Fazzone has around 35 years of experience working in Industrial Operations and Banking at Credit Suisse. He has been involved in various areas of IT, focusing primarly on Application Development and IT Project Management. He also has several years experience of IT Support and Infrastructure Estate Management. Throughout his career, he has successfully managed teams of up to 200 employees across multiple geographical locations & continents and been part of senior leadership teams & committees.
Dimitrios has a diploma in electrical engineering from a Higher Technical College and studied post-graduate level Software Engineering at the University of Applied Sciences Rapperswil. He has also broadened his education throughout his professional career, such as attending Stanford University, IMD Lausanne and in project management (IPMA Level B and PMP from the Project Management Institute). For the last 20 years, his daily work has consisted to deal with high and, in some cases, contradictory requirements, as well as fast implementation targets for innovations, while simultaneously retaining and improving stability. There has also been a persistent demand and expectation for automation and optimisation in IT environment, as well as in the process and organisation area of IT generally, as a value enabler to simplify, and deliver, quickly & efficiently.
His initial experiences
Alongside the bright and stimulating working environment, I have been surprised by the large number of IT solutions being used at ETH. I was impressed to be fully on-board on the very first day, with access to all necessary environments – this exceeded my expectations!
The relevant ETH websites and Colleagues were extremely helpful in this.
I am very pleased with the welcoming atmosphere of the group and the pleasant nature of introductions. I am very confident that, despite the ongoing COVID-19 restrictions and cautious visits to office premises, I will be able to make contact with all colleagues quickly and build up a network and rapport with you. I very much look forward to getting to know everyone as quickly as possible and a good collaborative start.
Contact
ITS Software Services, IT Services at ETH Zurich
erstellt am von Sabine Hoffmann
in News Schlagwörter: IT Services,ITS Software Services,management