IT Women at ETH join forces
The IT Services women staff have established a network aimed at all women* working in IT Services and IT at ETH Zurich and in ETH-related areas.
Women in IT or technology: Alone among men
ETH Zurich's IT Services are subdivided into 9 departments, spread over about 16 locations. Various internal ITS events such as the "lunchtime meeting", excursions or employee information events have enabled all ITS employees to get to know each other better. However, the women had little contact with each other (39 women compared to 260 men at the time) and many of the ITS women only knew each other by email or name but not personally.
Idea for the foundation
In 2018, Sabine Hoffmann, ITS PR & Communication, came up with the idea that ITS women could meet in order to network. No sooner said than done; the two events were a success. A founding committee quickly teamed up.
Sabine Hoffmann (ITS PR & Communication)
Diana Coman Schmid (ITS SIS)
Martina Bösch (ITS PPF)
Carmen Alonso (ITS BD)
Jarunan Panyasantisuk (ITS SIS)
At the first kick-off meeting on 21 February 2018, we asked ourselves what we wanted to achieve with this network and defined the goals and prioritised them.
Gerhild Müller designed our IT-Women@ETH logo and the organising committee rapidly expanded to include
Caterina Barillari (ITS SIS)
Gabriela D'Hondt (ITS MMS)
Gerhild Müller (ITS)
Franziska Oschmann (ITS SIS)
Later, other ETH domains joined
Gordana Tunic (Services)
Kristina Isacson (LET)
Promoting the growth of this community and strengthening team spirit
The initiative was initially launched for women in IT Services and is meanwhile aimed at all women involved in IT at ETH and the ETH departments. The following are now represented in the network: Academic Services, CSCS, various ETH departments, Empa, ETH Library, LET, NEXUS, PSI, Services, Rector's staff, Office of Equal Opportunities, WSL, Wyss and many more.
For the first time ever, the focus will be more on career prospects in IT services, as opposed to research and teaching. The IT-Women@ETH network is intended to help us connect, to be visible and to motivate more women to choose a career in IT Services and IT. We want to be a role model for others, encourage other women to pursue a career in IT and want to learn and benefit from each other.
The women in the network have already communicated many of their dearest wishes to the network, which we will address together. We are open for further input, exchange and activities. Exchanges have already taken place with the other Female Associations, EQUAL, the Staff Commission, HR and the Executive Board. We aim to maintain this contact in future.
More about IT-Women@ETH
Support
We would like to say a big thank you to the Director of IT Services, Rui Brandao, who we were able to inspire with our idea and who supported us in bringing IT women to ETH. Together strong: Support from our male colleagues is very welcome in this network.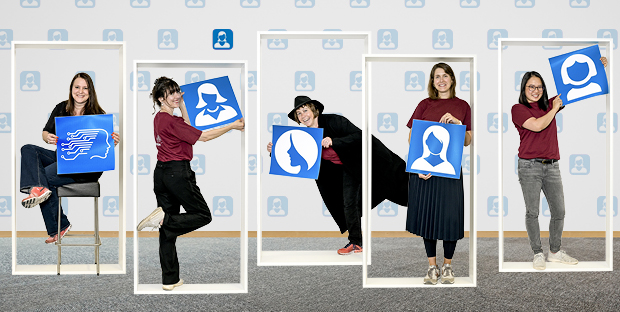 Office of Equal Opportunities and Diversity at ETH Zurich
EQUAL is delighted that, in addition to the ETH women's networks, which focus on research and teaching, the IT-Women@ETH is the first network to been founded at ETH, which is aimed at women* working in administration.
The targeted promotion of equal opportunities has long been a concern of ETH Zurich. In 1992, the Office of Equal Opportunities for Women and Men was founded and assigned to the then Human Resources Department (HR). To ensure better coordination of the equal opportunities measures throughout the university and to include students and professors*, the position was "promoted" to the level of the President of ETH Zurich in 2007, where it has been permanently installed ever since. In 2008, Professor Renate Schubert was then appointed delegate of the Executive Board of ETH Zurich. Since then, she has been head of the Office of Equal Opportunities (EQUAL) and is in constant contact with the Executive Board. In 2019, the advisory service on sexual harassment and discrimination was transferred to the advice and conciliation service Respect. In return, the EQUAL office's portfolio of tasks has expanded to include the topic of "diversity". EQUAL became the Office of Equal Opportunities & Diversity.
More about EQUAL
Posted on by Sabine Hoffmann
in News Tags: IT Services,IT Women at ETH,IT-Women@ETH,Network,Women in IT or technology