New: Chatbot at ITS Service Desk
Test our new chatbot and train him.
Customers often confront the ITS Service Desk with the same requests or problems. Many of the questions can be answered with specific text modules or instructions. These instructions are available on the web, but are rarely found. The chatbot of the Service Desk should provide an interface to deliver only that part of a manual which is relevant for the customer.

Test our new chatbot
Click on the blue symbol with the speech bubble at the bottom right of the chatbot website.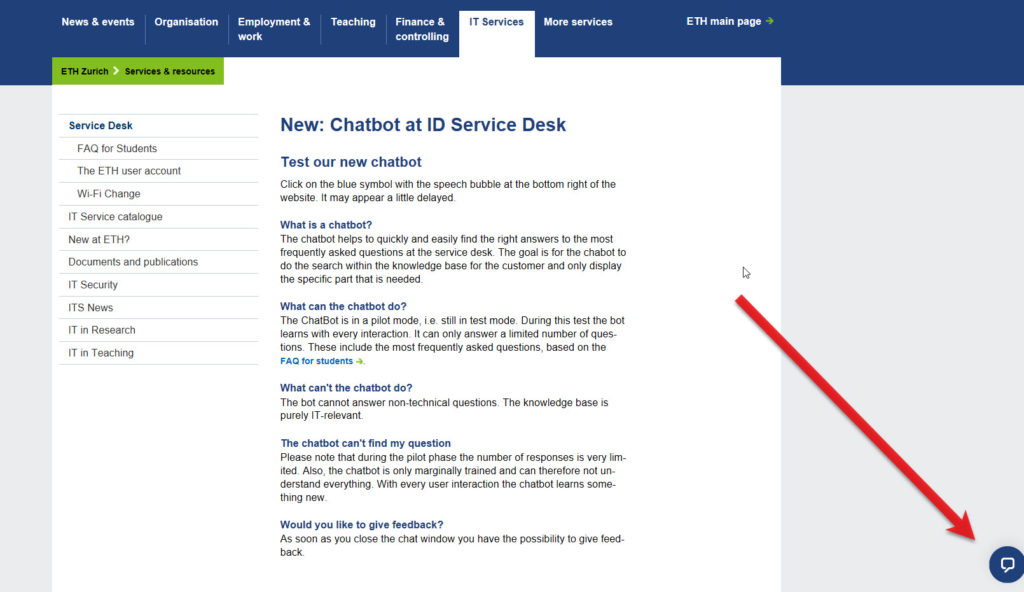 What is a chatbot?
The chatbot helps to quickly and easily find the right answers to the most frequently asked questions at the Service Desk. The goal is for the chabot to do the search within the knowledge base for the customer and only display the specific part that is needed.
What can the chatbot do?
The ChatBot is in a pilot mode, i.e. still in test mode. During this test the bot learns with every interaction. It can only answer a limited number of questions. These include the most frequently asked questions, based on the FAQ for students.
Contact
ITS Service Desk www.its.ethz.ch/servicedesk
erstellt am von Sabine Hoffmann
in News Schlagwörter: Chatbot,ITS Service desk,pilot mode chatbot