Educational spaces: Learning at and from the TU Delft
Learning or Educational spaces are spaces in the academic context that are specially equipped for teaching and learning.
At the ETH Zurich there are currently 71 lecture halls and 121 seminar rooms, which are technically equipped by Multimedia Services. A visit by colleagues from TU Delft revealed that conceptual and organisational improvements are needed in this area in order to meet the changing demands of teachers and students.
Innovative teaching requires new spaces
Teaching and learning are changing at the ETH Zurich on the basis of didactic impulses on one hand and technical innovations on the other: The replacement of analogue devices by digital ones is a part of the latter just like the availability of mobile devices on the part of students. However, discussions in small groups, the "flipped classroom" or collaborative work are didactic concepts designed to improve learning quality and results. The implementation of such concepts usually requires an infrastructure that goes beyond the installation or use of (new) equipment and requires suitable furnishings, spatial equipment and structural measures: if, for example, the "flipped classroom" in the lecture hall requires discussions and group work, this is made more difficult by the design of the lecture hall, in which the students cannot form groups with available seating because there is no suitable chairs, seating / work space and space for standing in groups.
Best practice: TU Delft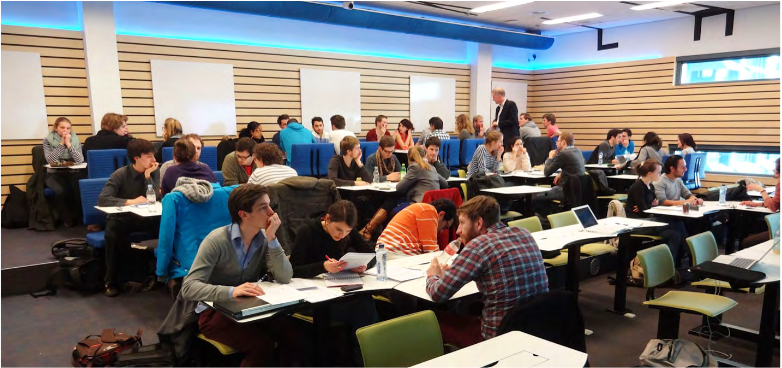 Recently, our colleagues at TU Delft showed us that it could be done differently. With their "Cookbook Education Spaces" (http://homepage.tudelft.nl/9c41c/Cookbook_Education_Spaces_v2_0.pdf), they had already aroused our interest some time ago: Their book contains a list of defined lecture hall types, which are planned and implemented for defined or flexible teaching and learning scenarios. The key to success is not so much the cookbook itself as the cooperation it expresses: The group responsible for the teaching and learning rooms bundles know-how and competences from the fields of A/V, IT and real estate and coordinates closely with the departments responsible for didactic development. In this process, they all see themselves as service providers to teachers – and students (!). It is therefore a matter of course for them to consult lecturers on the (re)construction and equipment of the lecture halls and to have students vote on the appropriate seating for the lecture hall. Altogether a very impressive setup, which ETH Zurich should look into emulating since Educational Spaces are also a topic at our "Peer Universities" (https://www.educationspace.cam.ac.uk/, http://web.mit.edu/edtech/themes/learningspaces.html,
https://www.learningenvironments.unsw.edu.au/ ) and may be expected by lecturers and students at a leading university.
Contact
Armin Brunner, Head of Section, ID Multimedia Services (ID MMS)
Posted on by Kaja Walter
in News Tags: Educational spaces,TU Delft