Cooperation between ITS Multimedia Services and the ETH-Bibliothek
Multimedia Services is supporting the ETH-Bibliothek with the implementation of its video strategy and helping it to sharpen its profile in social media.
Around one and a half years ago, the ETH-Bibliothek launched a video strategy in order to increase its visibility in social media (http://www.library.ethz.ch/en/Ueber-uns/Oeffentlichkeitsarbeit-Publikationen/Soziale-Medien). This strategy focuses primarily on the production and publication of video material for various channels. Multimedia Services (MMS PD) was involved during the creation of this strategy, and it is now responsible for producing the film material.
Last year we supported the crowdsourcing initiative of the ETH-Bibliothek with documentary material. During this, volunteers added keywords to selected images from the ETH-Bibliothek image archive and we provided the moving images for this project.
Multimedia world of experience
Work was then carried out on the new platform Explora, a multimedia "world of experience" that features stories and topics regarding the content of the ETH-Bibliothek – including videos produced by MMS PD (https://www.explora.ethz.ch/s/malve-iris-orchidee/ / https://www.youtube.com/watch?v=Qv92FYEwgPI). New stories with video interviews are being produced on an ongoing basis.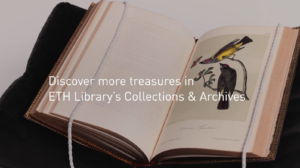 Video presentation of selected exhibits
Last but not least came the "Treasure Troves", high-quality video presentations of selected exhibits from the collections and archives of the ETH-Bibliothek: here we were able to make use of the opportunities provided by the new video studio and find an appropriate way to display the various objects, in line with the idea behind the video strategy of the ETH-Bibliothek.
Planning
Explanatory videos are also to be produced in order to explain what the ETH-Bibliothek has on offer for its users. MMS PD will provide expertise, equipment and, if required, premises for this purpose, which will then be used by the responsible staff at the ETH-Bibliothek to produce the material.
Based on previous experiences and the excellent collaboration, we are convinced that the partnership between the ETH-Bibliothek and ITS Multimedia Services will continue to produce original, appealing and diverse video material in future. We are looking forward to this.
Contact
ITS Multimedia Services, Production and Distribution, Olaf A. Schulte
erstellt am von Sabine Hoffmann
in News Schlagwörter: ETH-Bibliothek,Multimedia Services