Intelligent Systems for Molecular Biology 2017 conference in Prague
The conference Intelligent Systems for Molecular Biology (ISMB) is the biggest annual forum for bioinformatics and IT related to life sciences. Every second year the conference is held in Europe and combined with European Conference on Computational Biology (ECCB). This year ISMB/ECCB location was Prague. Over 2000 participants flocked the Prague Conference Centre near the Vysehrad castle between the 21-25 of July.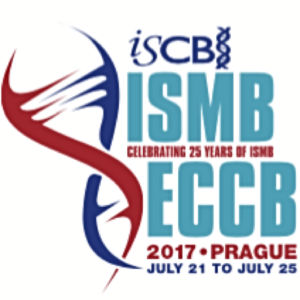 In particular since the next-generation sequencing (NGS) has become a well-established technology, around 2010, the life science community feels the extensive need for novel IT solutions. Similarly, in the area of proteomics, since mass spectrometry started to produce large datasets of protein quantification. ISMB plays an important role in presenting novel algorithmic and infrastructural support ideas for molecular biology and medicine. The area has grown so much, that the presentations have been run typically in 8 thematic sessions in parallel. Participants have also presented their scientific and technological work with over 500 posters.  In addition, there has been also a number of "satellite workshops" and more or less-formalised meetings.
Although the NGS and quantitative proteomics are the strongest drivers of the computational side of life sciences, there are typically many rapidly developing aspects of it, related most often to the emerging technologies and areas of application. The hot topics of this year's ISMB/ECCB have been definitely single-cell sequencing and personalized medicine applications. Still, in many more classic areas of bioinformatics there were many highly interesting talks, just to mention few topics such as metagenomics (sequencing of many microorganisms at the same time), alternative splicing analysis, regulation of RNA expression, bioinformatic databases or scalable processing of big genomic data.
There was a strong presence of ETH researchers at the ISMB conference, in particular from the groups closely collaborating with the Scientific IT Services of ID. To mention a few: Zahra Karimaddini from Iber lab in D-BSSE had a presentation on the results of NeuroStemX project, members of Rätsch lab from D-INFK had two longer talks at the HitSeq track on NGS algorithms and applications and Jelena Čuklina from Aebersold lab won the Research Poster Award. The work of Scientific IT Services in the area of personalised medicine has been presented by Michal Okoniewski at two of the satellite workshops after the main conference, one organized by MSD in Prague and at the "Computational Approaches in Personalized Medicine" at the University of Vienna. The feedback and interest after those presentations have proven that our initiatives such as setting up the Leonhard cluster and preparatory work for Swiss Personalized Health Network are really advanced and exemplary in the global research community.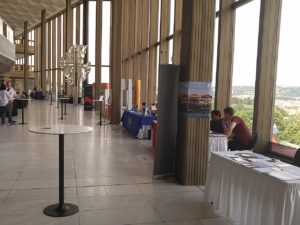 erstellt am von Michal Okoniewski
in News Schlagwörter: bioinformatics,ECCB,European Conference on Computational Biology,Intelligent Systems for Molecular Biology,ISMB,ITS SIS,personalized medicine,Scientific IT Services