Science in Perspective D-GESS
The new image film by D-GESS premiered at the end of August in the presence of the rector and several representatives of the department.
In the festive, but unfortunately also hot, HG G60 auditorium, the film produced by Multimedia Services was presented publicly for the first time. It was a dignified conclusion to a demanding project that stages the new orientation of the former elective subject of ETH as "Science in Perspective" – and puts an end to the unwieldy term "elective subject". The rather typical statements made by the participants regarding the focal points of their research were enriched using a modern collage technique so that they stylistically correspond to the music chosen by D-GESS, an interpretation by Philip Glass. The climax and conclusion of the film, both in terms of content and the film itself, is the statement from the rector. We worked with a drone for the first time for this part.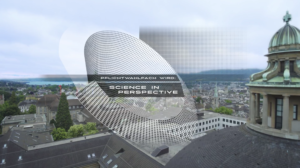 Contact and Text
Olaf A. Schulte, ITS Multimedia Production and Distribution, ITS MMS
(external translation)
erstellt am von Sabine Hoffmann
in News Schlagwörter: D-GESS,image film,Multimedia Services