The IT Services warmly welcomes all first semester students and re-entrants! On Monday the fall semester at ETH Zurich begins with more than 2800 incoming freshmen students. Almost 20,000 students and doctoral students are enrolled for the new semester.
IT Services
The IT Services offers all enrolled students, auditors and graduate students basic ICT services free of charge. More about our services, suggestions and links can be found in our "ITS Brochure for Students" and on the ETH Student portal.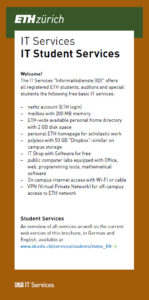 Need Help?
The ITS Service Desk is the gateway to the ETH IT Services. We're here to help you! You can reach us by phone, email, web-form or walk-in counter HG E11.
Phone: +41 44 632 77 77
Mon. – Thurs. 8 am–6 pm, Fri. 8 am-5 pm
Website Service Desk
IT services – Overview (Web)
IT Department Contacts
Find your Informatic Support Group on page"Department Contacts" (nethz-Login).
ETH News
erstellt am von Sabine Hoffmann
in News Schlagwörter: Help,IT Services,ITS Service desk,Service Desk,students,Welcome