Welcome to ETH Zurich / First steps
School is over, and the start of your studies is approaching. Congratulations! You have made your decision and are starting at ETH Zurich. I'm sure it's with anticipation, respect and a little bit of fear. Keep in mind that everyone is as clueless as you are. The IT Services (ITS) will support you in IT matters, just like all those who started before you. And we understand that many question marks are buzzing in your heads.
ETH user account, ETH username, forgotten password, IT Shop, VPN, polybox, Compicampus….. Still big question marks, but soon in your language use. We will help you with what you need to know about a successful start in the IT world at ETH.
In the "Erstibag" from VSETH you will receive two brochures about IT and security.
IT Services
IT Services (ITS) provides basic IT services free of charge to all registered ETH students, ETH auditors & ETH special students. The first steps at a glance: https://unlimited.ethz.ch/display/itkb/First+Steps
All services, tips and links can also be found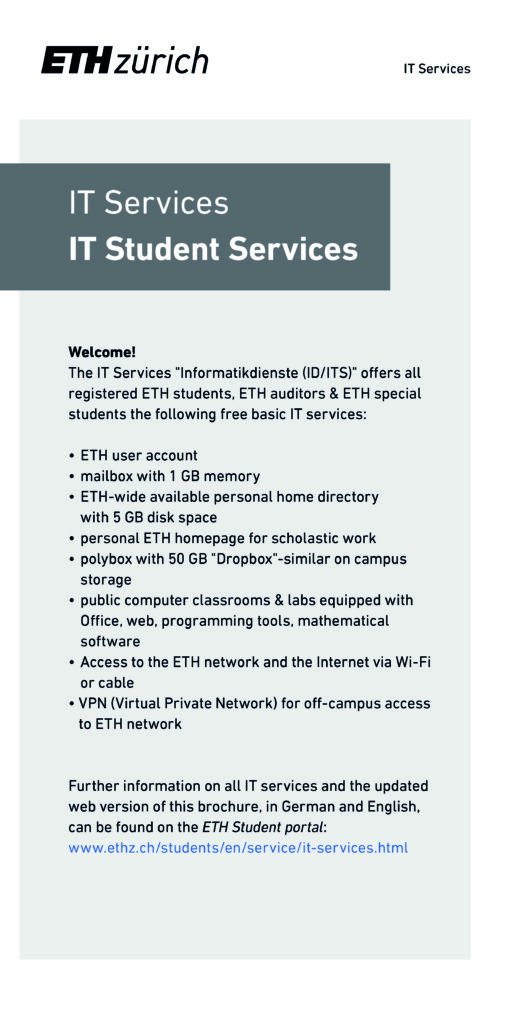 ITS Brochure for Students "IT Student Services"
The most frequently asked questions and their answers are listed in the Support & FAQ. Enter search term and get answers.
ITS Service Desk
We will be happy to help you! If you have any questions about IT, please contact the ITS Service Desk or your IT contact in your department (Contacts Departments), with login.
The ITS Service Desk can be reached by telephone, e-mail, chatbot, web form or at the Service Desk counter (HG E 11).
Phone: +41 44 632 77 77
Monday – Thursday 7.30 –5.30, Friday 7.30 –4.30
www.its.ethz.ch/servicedesk
erstellt am von Sabine Hoffmann
in News Schlagwörter: First IT steps,IT Services,IT Support & FAQ.,ITS Brochure for Students,ITS Service desk,New at ETH?,Welcome to ETH Zurich