Workshop on Cloud Services for Synchronisation and Sharing
The next CS3 event will take place from 24 to 28 January 2022. The registration page is open and we welcome registrations for the free and educational conference.
The CS3 2022 – Cloud Storage Synchronisation and Sharing conference has been held annually since 2014. It gathers representatives from large public computer sites, universities, research institutions and some companies (*). Originally, it was to take place once again at ETH Zurich in person. Due to the pandemic, this year the online format has to be used again, which has proven itself in January 2021 thanks to the "gather.town" social networking platform.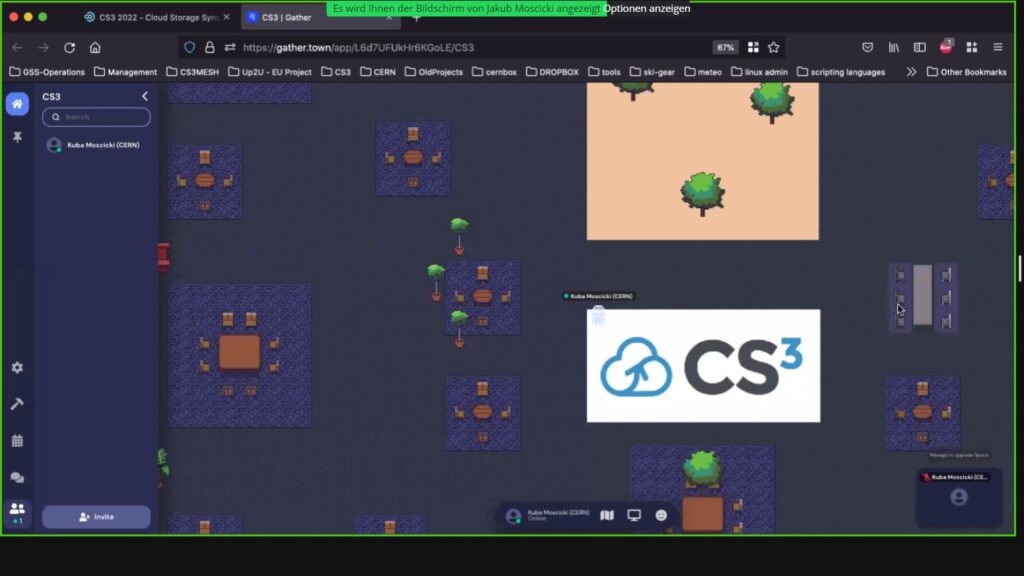 Keynotes
The lecture by Prof. Adrian Perrig, Institute for Information Security at ETH Zurich, will be exciting. Prof. Perrig will report on SCION in the keynote session on 25.01.2022. See also the just published ETH News article "SCION secure internet enters everyday service" https://ethz.ch/services/en/news-and-events/internal-news/archive/2022/01/scion-secure-internet-enters-everyday-service.html.
Dr Yiannis Psaras. Psaras is a research associate at Protocol Labs and a member of the Resilient Networks Lab, where he works on identifying and addressing future challenges that the IPFS, libp2p and Filecoin protocols will face.
Frank Karlitschek is a free software developer, entrepreneur and privacy activist. He founded the Nextcloud and ownCloud projects and has been involved in several other free software projects. This keynote will explain the details of the antitrust complaint to the European Commission about OneDrive.
Main sessions
https://indico.cern.ch/event/1075584/program
Decentralised Web and Storage
Our new reality: "tele-everything" in post-COVID-19 era… and what it means for CS3 community?
Future research with European Open Science Cloud
CS3 Community Site Reports
User Voice: Novel Applications, Data Science Environments & Open Data
Collaborative Platforms
File Sync&Share Products
Scalable Storage Backends for Cloud, HPC and Global Science
Technology & Research
Workshops
Following the CS3 main session, two further thematic workshops will take place:
OCM-Workshop (Interoperability protocols and APIs: thematic workshop)
ScienceMesh-Workshop
Organising Committee
The CS3 conference is jointly organised by:
AARNet: Guido Aben (aarnet.edu.au)
CERN: Anna Manou, Pedro Ferreira, Dr Jakub Moscicki (cern.ch)
ETH Zurich: Dr Tilo Steiger
SURF: Ron Trompert (surf.nl)
TRUST-IT: Rita Menes (trust-itservice.com)
Participants and representatives of the event
(*): Ascensio System SIA; CERIC-ERIC; CERN; CERN & EOSC Association; CESNET; City of Rotterdam; Collabora; Comrade 360; Dartmouth College; Data Storage Specialist; datamate GmbH & Co. KG; DESY; DKFZ; DSI CNRS; DTU; Earlham Institute; EGI Foundation; Elettra Sincrotrone Trieste; ELIXIR Hub; EMBL-EBI; ETH Zurich; European Commission; Forschungszentrum Jülich; German Cancer Research Center (DKFZ); Ghent University; Ghent University Library; HAVELSAN; Helmholtz-Zentrum Berlin für Materialien und Energie GmbH; Hermann von Helmholtz-Zentrum für Kulturtechnik – Humboldt-Universität zu Berlin; HIFIS Cloud/HZB; INFN; Institut Pasteur; iRODS Consortium / RENCI; Istituto Italiano di Tecnologia; ITER Organization; ITU; KIT; Ludwig Maximilians Universität Fakultät für Physik; Lund University MAX IV; Max Planck Digital Library; Nextcloud; Onedata; OpSci; ownCloud; Pasteur; Philipps Universität Marburg; PIC; polcom; Ponder Source; Poznan Supercomputing and Networking Center (PSNC); REDE NACIONAL DE ENSINO E PESQUISA (RNP); Research Center Jülich; sciebo; Science and Technology Facilities Council STFC (GB); Seafile Ltd.; SkyBridge; SpeicherBox.ch; Sunet; SURF; SWITCH; The University of Manchester; ULB Münster; Univ. of Valencia and CSIC (ES); Université de Genève; Université libre de Bruxelles; University of Münster; University of Rome "Tor Vergata"; University of Vienna; VIB; Zendesk
Contact
Dr Tilo Steiger (steiger@id.ethz.ch), ETH Zurich IT Services Organising Committee, will be pleased to receive your questions and inputs.
Posted on by Sabine Hoffmann
in IT-SEC,News Tags: Cloud Services,CS3 conference,CS3 event,SCION,Workshop on Cloud Services for Synchronisation and Sharing