Let's go! Welcome to ETH Zurich
An entry-level IT greeting from ETH Zurich's IT Services!
The IT Services warmly welcome all first-semester students as well as those returning to ETH Zurich! Around 4,300 Bachelor's and Master's students (forecast) started at ETH Zurich today, Monday 20 September 2021. The autumn semester HS 2021 runs from Monday, 20.9.2021 to Friday, 24.12.2021.
IT Services
The IT Services (ITS / ID) provide basic IT services free of charge to all enrolled ETH students, auditors and special students. All services, tips and links can be found in our "IT brochure for students", on the page "IT student services" and in the Service Desk quick start "New at ETH? / First IT steps for students".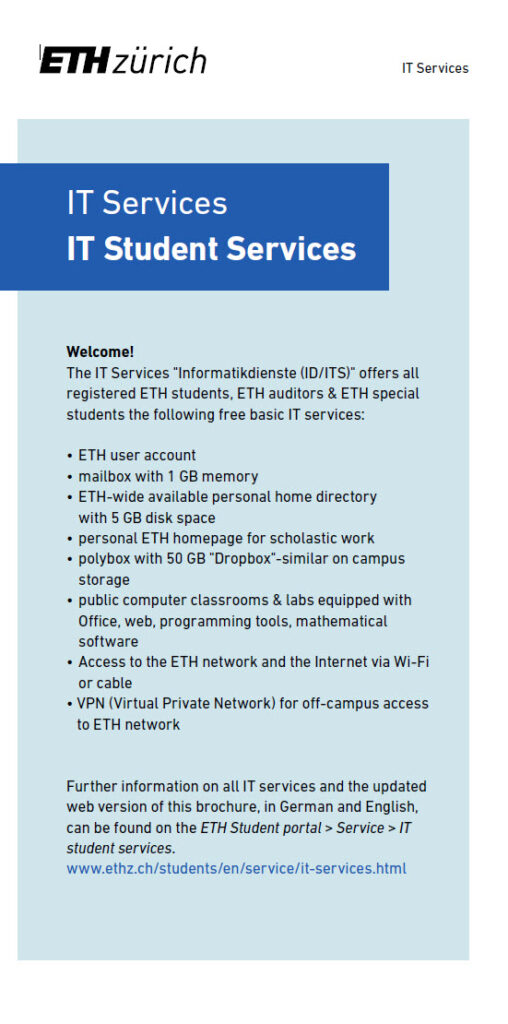 Support?
The ITS Service Desk is the gateway to IT services. We are happy to help! Questions and problems can be submitted by phone, email, web form, chatbot or at the Service Desk counter.
Phone: +41 44 632 77 77
Mon – Thurs 7.30 am – 5.30 pm, Fri 7.30 am – 4.30 pm
Counter in HG E 11 (please ask for exact times during Corona)
Mon – Fri 9.30 – 11 a.m. and 1.30 – 4 p.m.
IT Contact Persons in the Departments
You can find the IT support group responsible for you on the web (Login).
Which IT device for an ETH study?
The IT Services regularly receive these requests: Our tips in the ITS Blog. The current "Project Neptune Autumn Window 2021" runs from 6 September to 4 October 2021. It has two Neptune windows a year. In between, there is a reduced offer with smaller discounts.
ETH News
erstellt am von Sabine Hoffmann
in News Schlagwörter: auditors,ETH students,ETH Zurich,First IT steps for students,first-semester students,IT,IT device,IT Services,IT support,IT support group,New at ETH,Project Neptune,Service Desk quick start,special students