New Forms of ETH Collaboration
The newly concluded Microsoft contract for ETH Zurich includes additional cloud-based products and thus also technical innovations. New features in the area of collaboration complement the already familiar product range and support the ETH on its way to digitalisation.
Office 365 is now Microsoft 365
Many things are new at Microsoft and when working with it at ETH and privately. With the newly licensed cloud-based tools from Microsoft, ETH enables its employees to collaborate from anywhere and with any device. The new Microsoft licensed is increasingly based on effective use and less on the number of installations.
Lengthy negotiations are over
Thanks to the smart negotiating with Microsoft, ETH was granted a transitional period, during which ETH will be able to continue using the existing "on premise products" while simultaneously using them with the new cloud products However, such hybrid situations generally increase complexity and in individual cases lead to complex support problems. For those responsible for support, this basically means that the previous software distribution strategy must be adapted to the new situation as quickly as possible. For end customers, this means that the responsibility for purchasing and handling is increasing in the case of certain new products.
The good news
There is no need to dispense with previous programs for work at ETH. On the contrary. The product portfolio negotiated by the ETH IT Services has been adapted to the needs of the end users and significantly expanded. In addition to numerous security and productivity tools, the expansions include, for example, important collaboration tools, which have become increasingly important, especially in today's world.
But the work is not over yet
The integration of cloud products into ETH's existing "on premise IT architecture" is complex and the establishment of a correspondingly controllable administrative structure is costly. This requires patience on all sides, a certain amount of fault tolerance, a great deal of commitment and, above all, great love of experimentation. These are all things, which are fortunately in ample supply at ETH. We are looking forward to supporting research and teaching at ETH Zurich even better in future with the new possibilities!
Microsoft Account
As part of the Microsoft Cloud Rollout, ETH Zurich is heading towards a unified environment for all ETH staff and students: Your access to the Microsoft Cloud subscription is: ETH user name@ethz.ch. This change will make access to Microsoft cloud applications such as Office 365 and Teams even more secure.
What will change?
If you were a Microsoft Cloud User in the past, you previously logged on to the Microsoft login page with a separate password. In future, you will be redirected to the AD User Authentication Service of ETH Zurich to login. Please use your ETH user name and ETH password for email (Active Directory). This will allow you to access the activated Microsoft cloud applications as usual. With this change, we will switch to the so-called Exchange Hybrid Mode, which will also solve the search problems. In future, it will be possible to find all users in MS Teams with the normal search commands. Contacts can be saved. Teams will also feature a calendar icon in the left navigation in future. If you click on it, the appointments of your "real" Outlook calendar will be displayed.
Contact
Fabio Consani, Group Manager Portfolio Management, ITS PPF
Dordaneh Arangeh, Head of IT Procurement and Portfolio, ITS PPF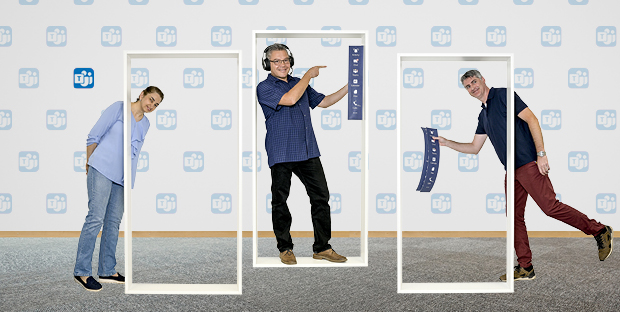 Posted on by Sabine Hoffmann
in News Tags: cloud products,cloud-based products,ETH collaboration,Microsoft,Microsoft 365,Office 365,on-premise IT architecture