Data security for confidential research data
Leonhard Med is a secure, powerful and versatile data and computing platform for research on confidential data.
Are you sure if all your research data is public or if some data is confidential?
Pre-research evaluation
When should secure data and IT infrastructures be used?
Whenever the research data is confidential.
How do you know if data is confidential?
Please read the guidelines in this post.
Confidentiality checks
Research data may be classified as confidential if:
It concerns sensitive personal data (FADP Art. 3c), e.g. health-related or medical data.
It is either an identification (direct or indirect) or a pseudonymisation (i.e. a real name replaced by a code).
More generally, it is information specific to a limited, explicitly defined group of recipients (RSETHZ 203.25).
Disclaimer of liability
The classification of research data as confidential is based on the SPHN IT Security Policy and the Leonhard Med Acceptable Use Policy.
Leonhard Med: a secure scientific platform for confidential data
A secure, powerful and versatile IT infrastructure for research on confidential data at ETH Zurich.
The provision of IT solutions for scientific research involving confidential data (e.g. medical data) is a major challenge. It requires the fulfilment of three main criteria. These cover a broad field of responsibilities and are at the same time difficult to achieve:
Security and compliance
Flexibility and ease of use
Scalability and performance
Leonhard Med, operated by ETH Zurich Scientific IT Services (ITS SIS), is a new data and computing environment that harmonises these criteria. To achieve this, we have combined established and innovative technical building blocks in novel ways and at the same time developed a suitable regulatory framework. Although it has been used in production since early 2018, it has had to be continuously developed to keep pace with new and changing requirements in a rapidly changing scientific environment. While there are other comparable initiatives outside Switzerland, each with different objectives and limitations, nothing similar has been developed in Switzerland to date.
Leonhard Med for data-driven precision medicine and personalised health research
Leonhard Med enables collaborative, large-scale and very diverse biomedical research (including academies and hospitals) at ETH Zurich. In addition, Leonhard Med is part of an emerging national network of secure data centres (SPHN/BioMedIT). This puts ETH Zurich in a leading position to be the top-choice computer centre, both for large-scale projects with confidential research data at national and international levels and to teach students in such projects.
First SPHN data protection and IT security training session
Data-driven personalised medical treatment and prevention requires special IT and data infrastructures that combine several key concepts: security, privacy and user-friendliness for the individual on one hand, and promotion of research on the other. Leonhard Med is one of the first such infrastructures to be developed in Switzerland. The use of secure IT infrastructures when working with confidential data requires an awareness of data protection, the relevant laws and information security. For this reason, and in collaboration with colleagues from the Swiss Institute of Bioinformatics (SIB), we have developed a novel training course for researchers and IT personnel. This work was commissioned and supported by the Swiss Personalised Health Network (SPHN, see https://www.sphn.ch/en.html).
On 20 November 2018, the first SPHN data protection and IT security training session took place at ETH Zurich: Heinz Stockinger (SIB) and Diana Coman Schmid (ITS SIS) presented guidelines on what needs to be done in practice to protect patient privacy in biomedical research. Participants learned about their privacy responsibilities, current regulations, anonymisation and confidentiality of data, and IT security best practices to be aware of as a user.
Further information can be found at https://dcc.sib.swiss/news/
Contact
Dr Bernd Rinn, Head of Scientific IT Services (ITS SIS)
Dr Diana Coman Schmid, Personalised Health Data Services Manager (ITS SIS)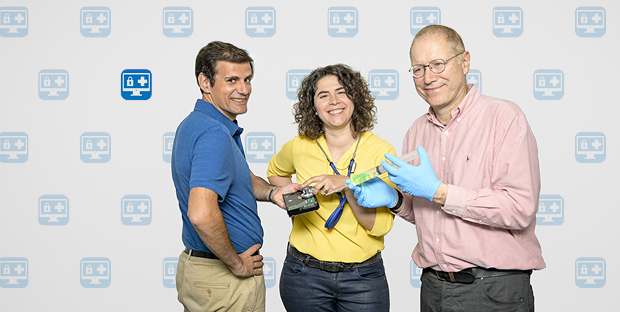 Posted on by Sabine Hoffmann
in IT-SEC,News Tags: BioMedIT,confidential research data,Confidentiality,Data security,ETH,IT Services (ITS),Leonhard Med,medical data,Personalised Health research,Scientific IT Services,sensitive personal data,SPHN,Swiss Personalised Health Network