Wi-Fi Change: a field report
Several hundred blue flyers and printed apples and bananas were distributed at ETH Zurich between March and the end of November 2018.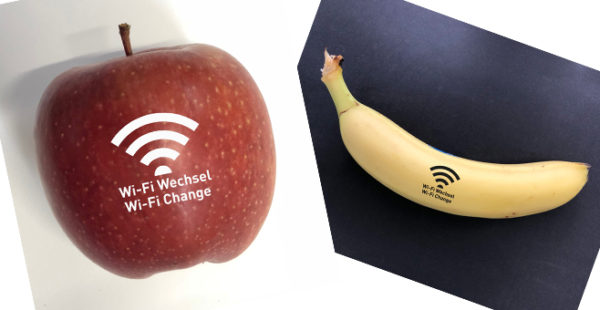 So who was behind it all? IT Services.
Wi-Fi and VPN change
Roughly 35,000 users at ETH had to re-authenticate their devices in the network due to a Wi-Fi and VPN change. The new Wi-Fi and VPN is more secure and allows ETH Zurich to connect to other universities around the globe.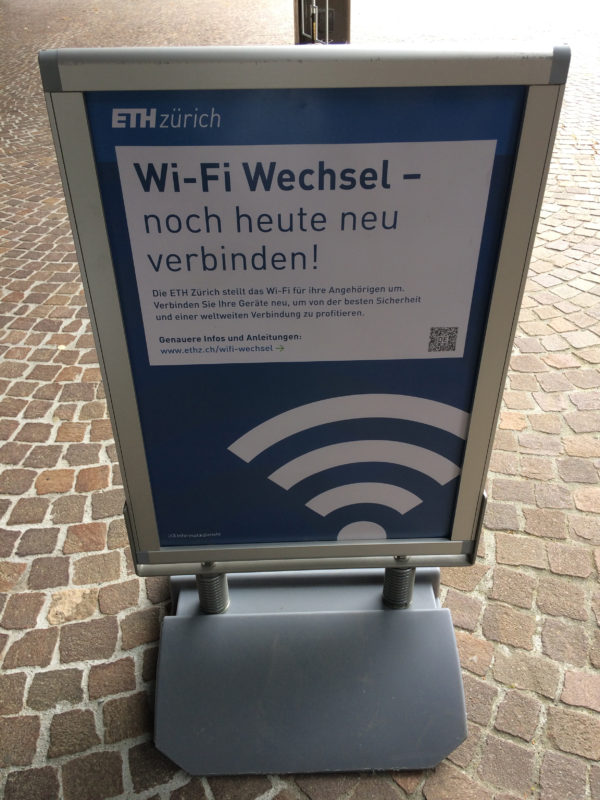 The networks used by students, faculty members and guests are now separated from one another. In addition, Wi-Fi access for ETH guests will change completely starting in the summer of 2019. Watch this space for details.
Pop-up booths with support
By the time the change took place in the early morning of 21 November 2018, roughly 75% of the users had reconnected and started their days at work or studying with a seamless connection.
On-site technical support was provided via booths at the Hönggerberg site and in the main building, where tech-savvy students spent several days answering users' questions. These students were recruited via ETH's "Helferpool" (pool for helpers) and did an excellent job with only a short briefing. Fortunately, the Wi-Fi Change team headed by Armin Wittmann, ITS NET, was spared the headache of major complications.
Thank you
We want to thank the Services department of University Communication, the pool of helpers, the ITS Service Desk, all the helpers and everyone else for everything they have done to make the transition such a success. A big thank you also goes to Francesca Müller for her communication support and arrangement of on-campus events.
Information about the change
Missed the Wi-Fi Change? Go to www.ethz.ch/wifi-change for user-specific instructions on how to complete the change:

I am a student at ETH Zurich
I am an employee of ETH Zurich
I am an employee of an organisation related to ETH Zurich
I am a guest at ETH Zurich
I use the VPN service of ETH Zurich
For more details, especially of a technical nature, visit the wiki of ITS ICT Networks at www.ncwiki.ethz.ch.
Contact
Armin Wittmann, Head of ICT Networks IT Services
erstellt am von Gerhild Müller
in IT-SEC,News Schlagwörter: Reconnect Wi-Fi,VPN,Wi-Fi,Wi-FI Change