IT Finds: What do you associate this with?
Join us on a journey into the past: When was this object built and what do you personally associate with it? Do you want to tell us your story?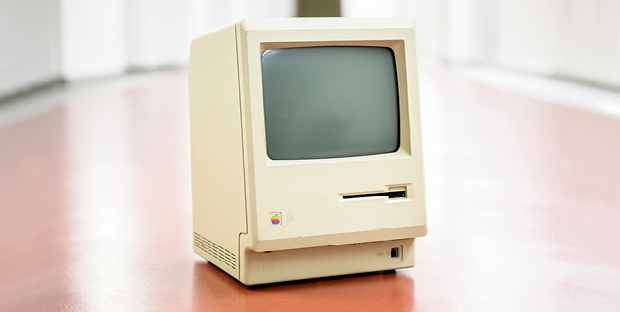 This computer is a Macintosh 512k from 1984.
Macintosh 512K
The Macintosh 512K was a personal computer designed, manufactured, and sold by Apple Computer, Inc. from September 1984 to April 1986. It was the first update to the original Macintosh 128K. It was virtually identical to the previous Macintosh and mainly differed in the amount of built-in direct access memory. The increased storage space made the Macintosh a more capable computer and allowed more software to run. All support for the Mac 512K was discontinued on September 1 1998. Source Wikipedia https://en.wikipedia.org/wiki/Macintosh_512K
Our history
This Macintosh was rescued from the dump years ago by Mark Buschor, Group Manager of the ITS Service Desk. It was in a store room in the STB building on Stampfenbachstrasse. After being rescued from fading into oblivion, it now decorates the Service Desk in the ETH main building.
These Macs also bring back a lot of memories for Rui Brandao, Director of IT Services. As a young student, he got wide-eyed when he first walked into a computer room and saw rows of Macintoshes with their graphical user interfaces. At that time, these kinds of interfaces were still a privilege of using an Apple computer.
Your story
What memories does this Mac evoke in you? Did you have one, or did you always want one? Or do you only know it from a museum or from the film "Back to the Future"? We look forward to your stories and comments on this post. And if you have an IT Find for our inside|out section, please contact us.
Contact
Your inside|out editorial team
erstellt am von Sabine Hoffmann
in News Schlagwörter: history,IT finds,IT Puzzle,journey into the past,your story,•