Online exams at ETH / ONA
Online exams at ETH: The new examination room ONA E7 in Oerlikon.
The use of mobile exams alone is not enough to meet the demands of professors for additional online exam capacity. The newest and also largest room (with 240 examination places) is now ONA E7 in Oerlikon, which has been in operation since the winter session 2017/18. As the rooms are used during the semester for the practical work of D-ARCH students, conversions are needed at the end of each semester, as with HG G1, for the next exam sessions.
In close and good collaboration with the Academic Services, LET, Facility Management and Real Estate Management, as well as external service providers, the new exam room was designed and realised by the Managed Services group (ITS SDL) and the colleagues from ICT Networks (ITS NET).
Impressions at ONA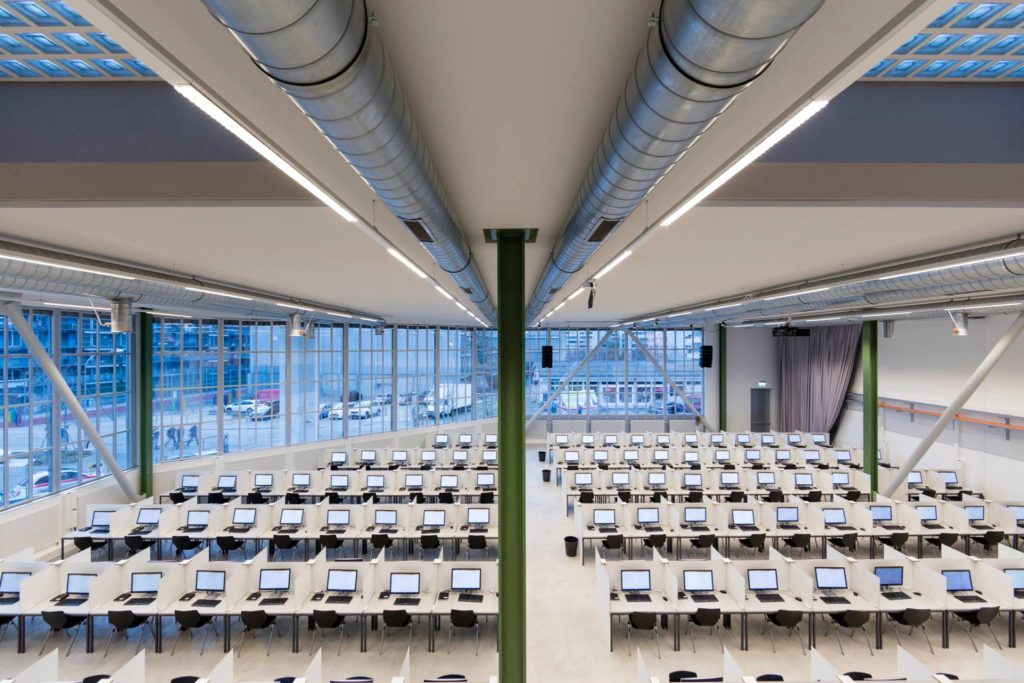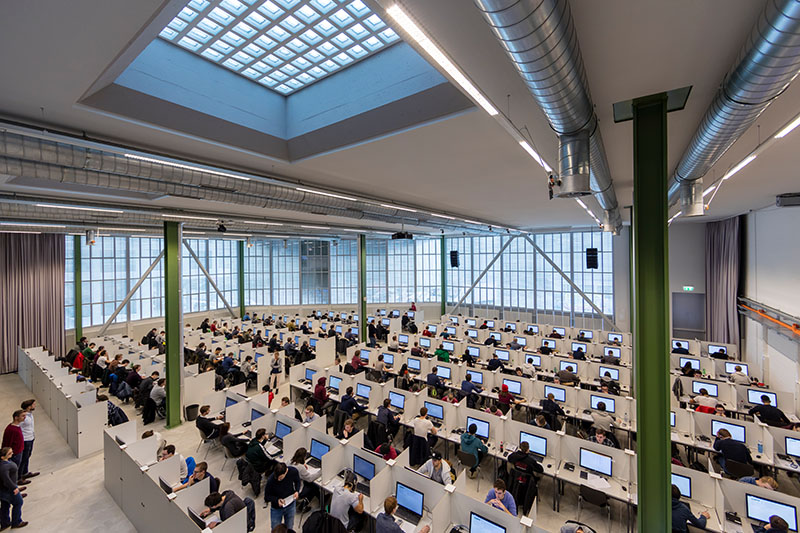 Parallel examinations possible
After the starting gun sounded in summer 2017, the teams did not have to wait long for the first practical test – in January 2018 all of the planned examinations in ONA E7 were completed to the complete satisfaction of all participants. Above all those examinees that have never completed an online exam before praised the room concept and the professional during the exams by LET and ITS.
Due to the partitioning of E7 into multiple sectors, it is now also possible to hold larger examinations from different degree courses or combinations thereof at the same time, without disturbing other students.
Increased amount of free space thanks to new hardware
In addition to additional network cabling within and outside of the buildings, the employees from LET and Managed Services performed intensive tests with various hardware combinations and carried out test exams with student pilot users in relation to ergonomics. Suitable hardware has now been chosen and procured via ITS PPF, which provides the students with a lot more space for writing materials, exam aids and of course snacks for calming the nerves. Following the positive experience made in ONA E7, the hardware is now also to be replaced in the examination rooms in HG.
Together with the planned change to exams with mobile devices in productive areas, significant effects of scale will also be achieved with ONA E7 in the area of online examinations. The processes must be continually adjusted between the participants in line with their requirements – and ITS is much appreciated here for its reliable and competent support.
Links to further information
Contact
IT Services, ITS Managed Services (ITS SDL)
Reinhard Hess, Group Manager Managed Services (ITS SDL)
Stefan Geissler, Team Lead Online Examinations and Computer Rooms (ITS SDL)
Text
Stefan Geissler (ITS SDL)
Posted on by Sabine Hoffmann
in News Tags: examination room ETH Zurich,ONA,online exams