Informatiktage 2017, an annual event where tech companies and IT departments in Zurich open their doors to the public, will take place on Friday 16 and Saturday 17 June, 2017. We look forward to your visit!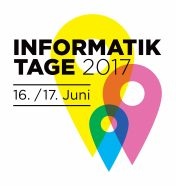 ETH Zurich is taking part in the Informatiktage 2017 with its IT department (D-INFK) and IT Service partners (ITS).
Friday 16 and Saturday 17 June, 2017
https://informatiktage.ch/profile/eth-zurich/
Programme
The programme of the Informatiktage is available online and you can now register for guided tours or workshops. Many events require no registration.
The ETH programme will primarily take place in the CAB building, which is close to the main building in the city centre.
The IT Services programme includes the following:
Tour through the data centre (requires registration)
Tour through the new video studio (requires registration)
Research IT: Where data is turned into pictures (visualisation of flow fields)
Awaken the robot: Programming a Thymio robot in pairs (requires registration)
HR and professional training stand: Dream jobs and training in the area of IT
Programme of the ETH (D-INFK department)
Cray: what used to be the fastest super computer in the world, is now the playroom of tomorrow: Creative toy apps, Game Lab Lounge: this is how computer games are created, a visit to the IT library, how turtles learn to walk with programming, programming with colourful bee robots, presentation on security-critical software, reality or fantasy? Animation in Disney films, take a look inside the study of computer science, 3D selfies: Face scanning with the smartphone and much more.
The Informatiktage are both an exhibition and IT festival at the same time
The goal of the Informatiktage is to enable the fascinating subject of computer science to be experienced while highlighting the diversity of IT. The event organisers want to arouse the general public's (and above all the younger generation's) interest in IT and computer science. The target group includes everyone who wants to find out more about IT: adults, children, teenagers, trainees, students, graduates, people looking for jobs, employees, parents, schools, teachers, grandparents and specialists.
We look forward to seeing you and your family and friends.
Posted on by Sabine Hoffmann
in News Tags: Informatiktage 2017