ITS and ISO Certification
ETH was the first Swiss university (2009) to have its IT Services recertified according to ISO/IEC 9001 and newly certified according to ISO/IEC 20000-1.
History
The ITS management system first achieved ISO/IEC 9001 certification in 2006, following several years of intense development in this area. While working on renewal requirements, it became apparent that ISO / IEC 20000-1, an IT service-oriented standard, was pretty much in line with our ITS service tasks. Consequently in 2008, the management decided to have the ITS also ISO 20000 certified. In the record time of just one year, in 2009, ETH became the first Swiss university to have its IT Services ISO/IEC 20000-1 certified and its management system recertified according to ISO/IEC 9001.
Certification of Network Security Group
By 2011, emergent IT developments and global exposure convinced the ITS management to support ISO/IEC 27001 certification, an information security standard, of the Network Security Group (NSG). In 2012 this very ambitious goal has been reached on the occasion of re-certification of the entire ITS according to ISO/IEC 9001 and ISO/IEC 20000-1. This success is due in large part to the intensive preparatory work done by Beat Müller, working under the Rector of ETH Zurich and in charge of Quality Assurance at Executive Board level and Stephen Sheridan, group manager ITS Network Security. With the next recertification due in 2015, renewal audits have been taking place in 2013 and 2014.
More…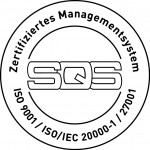 erstellt am von Minda Rubinfeld
in News Schlagwörter: ISO,ISo certification,ISO-27001,ISO/IEC 20000-1,ISO/IEC 9001