Welcome, new ETH students
ETH user account, ETH username, forgotten password, IT Shop, VPN, polybox, Compicampus….. We will help you with everything you need to know about a successful start in the IT world at ETH.
IT Services
ITS provide basic IT services free of charge to all enrolled students, listeners and subject students. The first steps at a glance: https://unlimited.ethz.ch/x/_15CAQ
All services, tips and links can also be found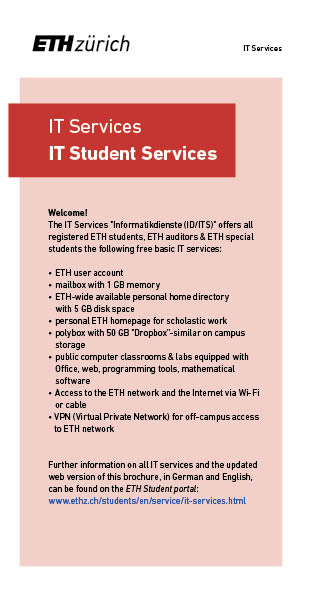 The most frequently asked questions and the answers to them are listed in the Support & FAQ. Enter a search term and get answers.
ITS Service Desk
We will be happy to help you! If you have any questions about IT, please contact the ITS Service Desk or your IT contact in your department (Contacts Departments), with login.
You can reach the ITS Service Desk by phone, email, chatbot, web form or at the Service Desk counter (HG E 11).
Mon-Thu 7.30-17.30, Fri 7.30-16.30
Phone: +41 44 632 77 77
www.its.ethz.ch/servicedesk
IT News
Stay up to date: The newsletter inside|out or the ITS Blog provide you with ongoing IT information at ETH.
erstellt am von Sabine Hoffmann
in News Schlagwörter: Compicampus,ETH user account,ETH username,forgotten password,ITS Service desk,New at ETH?,polybox,VPN