IT find series 1/2022: What do you think it could be?
Join us on a journey into the past: What is this device and what do you personally associate with it? Tell us your story!Kommen Sie mit auf eine Zeitreise in die Vergangenheit: Worum handelt es sich bei diesem Gegenstand, und was verbinden Sie persönlich damit? Erzählen Sie uns Ihre Geschichte!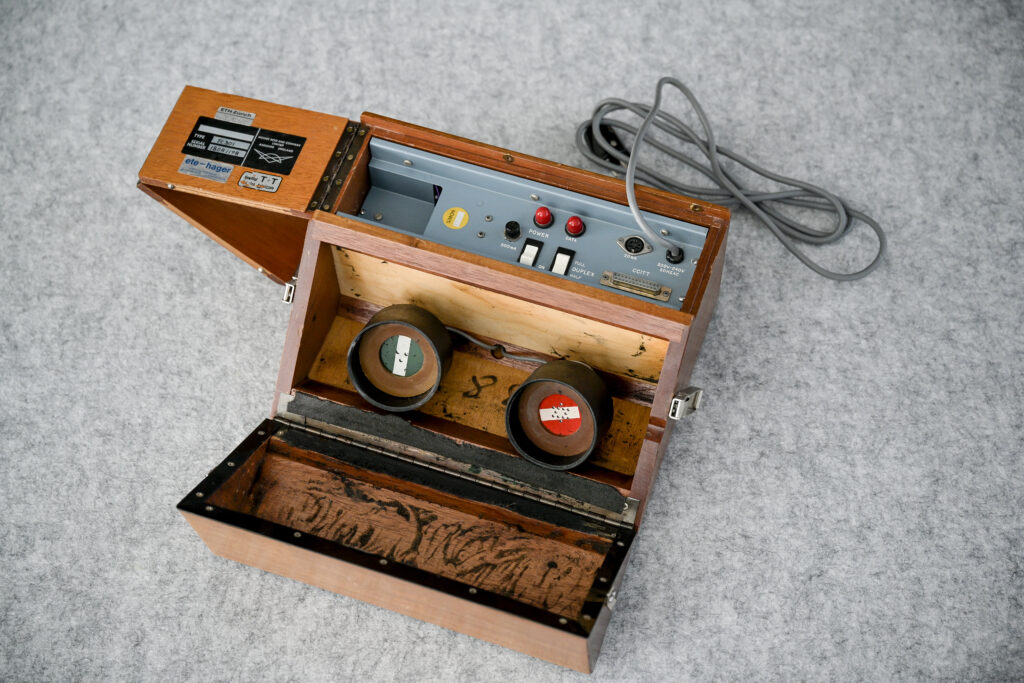 This item is an acoustic coupler type TC301.
What were acoustic couplers used for?
Acoustic couplers were used to convert electrical signals (i.e. mainly digital data) to audio signals (and vice versa) and then transmit them over a telephone network, which was largely analogue at the time.
The outgoing signal, a series of consecutive tones, was coupled into the microphone capsule of the telephone handset and, in turn, fed from the handset's loudspeaker to a microphone in the coupler.
Because the acoustic couplers had to work with as many handsets of different sizes as possible and were quite sensitive to ambient noise, the loudspeaker and microphone were mounted on springs to give them more flexibility. In addition, the foam-lined housing together with the attached telephone receiver could be closed. Incidentally, the foam is the component that has aged the worst over the 40 years. This is clearly reiterated in the video about the restoration of one of these devices. Moore Reed TC 301 Acoustic Coupler Restoration & Test
After the direct connection of modems to the public telephone network was allowed, acoustic couplers quickly fell out of fashion again. Acoustic couplers continued to be used for some time by people travelling to countries with restrictive telecommunications laws. For younger readers, it is probably hard to imagine that a few decades ago there was just one provider of telephone connections. The state monopolist PTT (predecessor of the now partially privatised Swisscom) imposed strict rules on the equipment customers were allowed to connect to its network.
This acoustic coupler is a model TC301, and the maximum data rate was 300 bps (bits/second).
The manufacturer is Moore Reed and Company Limited located in Andover, UK. This is what the data plate says. Stephan Walder, ITS INFRA, could not find out much about this company. In addition to the data plate with the serial number 180A1198, there is a sticker from the supplier, ete-hager, as well as the licence from the "Eidgenössische Telegrafen- und Telefonverwaltung" (written back then as T+T). These devices date from around 1980.
Our history / thank you
Many thanks to Karl "Kari" Sidler (ITS Net, NIP), who kept this find until his retirement at the end of 2020 and then handed it over to the safe hands of Stephan Walder.
Sources
Your story
What is the connection between you and the acoustic coupler? Did you have any experience with it? We also look forward to receiving your stories and comments on this post. And, if you have an IT find for our inside|out section, please contact us.
Contact
The inside|out editorial team
Previous IT finds to guess
https://ethz.ch/services/en/organisation/departments/it-services/history/it-puzzle.html
erstellt am von Sabine Hoffmann
in News Schlagwörter: acoustic coupler,inside|out,IT Find series,IT Puzzle,journey back in time