Swiss Research Data Day 2020 with ITS SIS
The 3rd edition of the Swiss Research Data Day (#SRDD2020) will be held online and on site at the Geneva School of Business Administration (HEG/HES-SO) on October 22nd, 2020.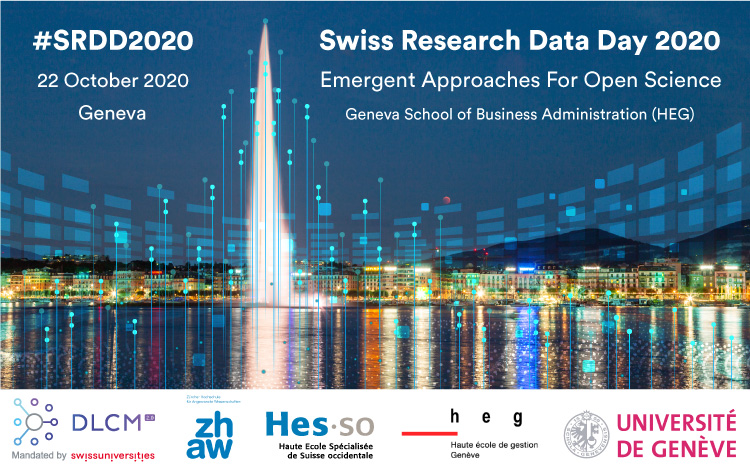 Speakers
The event covers all aspects of Research Data Management (RDM). In particular, this year's special focus is the double perspective of Open Science and emerging approaches. The event brings together an interdisciplinary community of researchers, librarians, funders, publishers and policy-makers, providing a critical look at the new developments in RDM practices, standards and technologies. The agenda will feature keynote presentations, workshops and panel discussions.
ITS SIS ETH Zurich will offer two sessions (panel 1 and panel 6) at the upcoming #SRDD2020: spotlight on confidential research data and on national service for research data management.
Panel 1
Open Research Data: How to manage them properly
Dr. Diana Coman Schmid #ConfidentialResearchData
Secure Handling of Confidential Research Data
The talk will focus on handling sensitive personal data (e.g. biomedical research data) in secure computing environments. The special context is posed by data sensitivity (e.g. patient data), which has high legal and ethical requirements but also challenging computing demands. Leonhard Med, a new and powerful research IT platform developed at ETH Zurich and part of the national BioMedIT network, will be presented as solution for secure computing environments. When handling sensitive personal data, particular attention must be given to research data management. The Swiss national regulation will be put in the concrete context of data-driven personalized health research, guidelines on data classification will be introduced and best practices for secure handling of sensitive data along the entire data life-cycle, from data collection, data management and computational analysis to publication in repositories and long-term preservation will be shared.
Panel 6
FAIR Research Data for Open Science: Practices & experiences
Dr. Caterina Barillari #openRDMswiss
openRDM.swiss: a national research data management service for the Swiss scientific community
Funding agencies, journals, and academic institutions often require research data to be published according to the FAIR (Findable, Accessible, Interoperable, Reusable) data principles (Wilkinson et al., Scientific Data, 2016). To achieve this, every step of the research process needs to be accurately documented. Furthermore, data need to be securely stored, backed-up and annotated with sufficient metadata to allow publication and reusability of data, and to ensure reproducibility of results. The use of an integrated Electronic Lab Notebook (ELN) and Laboratory Information Management System (LIMS), with data management capabilities, can help researchers towards this goal. For over 10 years, Scientific IT Services (ITS SIS) of ETH Zürich and its forerunner unit have actively developed such a platform, openBIS, in close collaboration with scientists. openBIS (https://openbis.ch/) is an open source software that can be used free of charge by any organization. However, implementation of a collaborative research data management platform requires dedicated IT resources and skills that some research groups and institutes do not have. With openRDM.swiss, ETH ITS SIS addresses this concern and offers research data management as a service to the Swiss research community, based on the openBIS software platform.
In this demonstration we will provide an overview of the capabilities of openBIS. In particular, we will present the following features: inventory for materials and protocols, lab notebook, data management capabilities, support for analysis tools (e.g. Jupyter notebooks) and integration with research data repositories. Furthermore, a summary of the support categories offered as part of the openRDM.swiss service will be given.
Register at https://dlcm.ch/swiss-research
Contact
Dr. Diana Coman Schmid & Dr. Caterina Barillari, ITS Research IT Platforms, Scientific IT Services, IT Services
erstellt am von Sabine Hoffmann
in Support Schlagwörter: #ConfidentialResearchData,#openRDMswiss,ITS SIS,openBIS,Scientific IT Services,SRDD2020,Swiss Research Data Day 2020