The interactive CS3 World Map of Young'n'Rising
The sixth CS3 conference took place in January 2020, this year at DeiC (Danish e-infrastructure Cooperation) in Copenhagen. System Services (ITS SD) of IT Services at ETH Zurich are part of this community. For this occasion, Tilo Steiger of System Services has commissioned the IT learning company "Young'n'Rising" to provide the conference an interactive world map on which site reports about cloud storage can be entered.
CS3 Community
Cloud Storage Services for Synchronization and Sharing (CS3) is a community of providers, developers and users of innovative storage and Sync&Share systems. CS3 reports on the progress in data science at all levels: Local laboratories, regional collaboration and global science. CS3's applications range from innovative analysis of large amounts of data to scientific distribution and education.
Young'n'Rising's Product
Three apprentices of the IT learning company Young'n'Rising have realized a project for the CS3 community. It is an interactive world map on which so-called site reports are entered. The site reports each describe a cloud storage of an institute or a university.
In a site report about a cloud you can find out the following:
Storage space in TB
Number of users
Since when the memory is active
The Sync&Share software used
The average quota of a user in GB
Integrated software
The goal of CS3 Map users is to exchange knowledge with other institutes and universities. Users can get more information about other storage systems, know where the respective institutes are located and contact other institutes if they need or are interested. In this way the storage systems can be optimized. The reports are continuously updated and continued by the CS3 community.
Click here for the CS3 Map.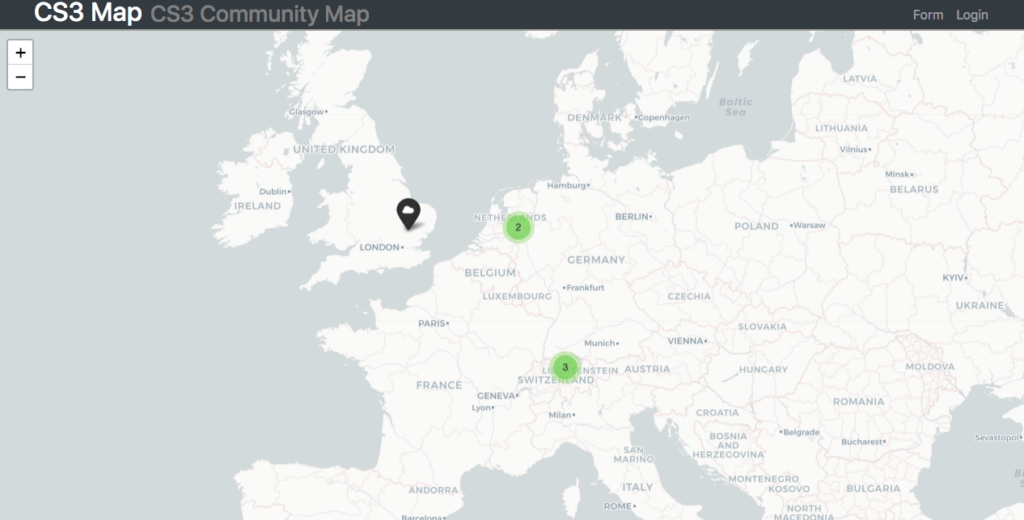 The project is characterised by the promotion of OpenCloudMesh, an international initiative for data access beyond the boundaries of individual clouds into a globally interconnected network of research clouds. However, the advantages in terms of data protection, control and security offered by an in-house cloud should not be sacrificed.
Potential
Since the application runs in a docker container, it can also be easily converted into an interactive world map with other purposes. Docker is a software that allows applications to run in isolation. Containers containing all the required packages can be easily transported as files.
A use for a similar world map is the CYBATHLON 2020, where teams from all over the world come to Zurich. The site reports describe the respective teams. Spectators have an overview and the individual teams can compare themselves with each other and get in contact. An interactive world map for the CYBATHLON is in progress.
Who or what is Young'n'Rising?
Young 'n' Rising is an apprentice-led team that offers services to all members of ETH Zurich in the form of interdisciplinary projects. In addition to the goal of providing these services reliably and in appropriate quality, the main focus for the students is on gaining practical experience and expanding and deepening their professional skills. The company consists of learners from the following professions:
Informatiker/in EFZ // IT-​Specialist System Technology & Application Development VET
Mediamatiker/in EFZ // Mediamatics Technician VET
Kauffrau/Kaufmann EFZ // Diploma in Commerce VET
Interactive Media Desiger/in EFZ
Young'n'Rising has been in existence since August 2019 and it is already a fixed rotation in the apprenticeship of learners from multiple professions.
Contact
Text and research: Francine Tobler
Contact: Sabine Hoffmann, Dr. Tilo Steiger, Marc Winkler
erstellt am von Francine Tobler
in News Schlagwörter: CS3 Map