Good news for all polybox users: From now on, documents in polybox can be shared directly with everyone, regardless of whether they are ETH members or external parties.
Public links
Although it was possible to send public links externally, their use was restricted for external recipients. If the recipient wanted to make a modification to a document, they had to download, edit and upload it again. In addition, one could never be sure who was downloading and modifying all these files, since recipients could forward the public link to anyone without notifying the ETH member. 
The guest user
This problem has now been solved with a new function: The guest user. Using their email addresses, internal ETH polybox users can now declare external parties as guest users. This allows documents to be shared with people who do not have an ETH account without having to create a public link. Guest users can work directly on documents that have been shared with them, but do not have their own storage space in polybox.
This is how it works
Select the share icon for the folder you want to share.
Enter a valid external email address in the field. The email address should now be selectable with the note "(guest)" at the end.
Select this address and set the options to control what the guest user may do with document. The guest user is notified by email.
The guest user creates an account with their password. This allows them to access the documents via the Desktop Sync Client, and also via the iPhone and Android App.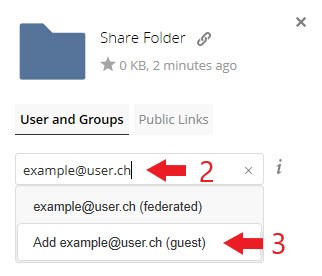 This function guarantees ETH users more security and control over shared data. At the same time, recipients have more room for manoeuvre and can work more efficiently on the same document.
polybox
More info about polybox is available on the web at https://ethz.ch/services/en/it-services/catalogue/storage/polybox.html
erstellt am von Francine Tobler
in News,Support Schlagwörter: guest user,instructions,new feature,polybox