Spring Semester 2019: Good start at ETH Zurich
The IT Services warmly welcomes all students! The most common questions are briefly explained in the "FAQ for Students".
IT Services
The IT Services offers all enrolled students, auditors and graduate students basic ICT services free of charge. More about our services, suggestions and links can be found in our "ITS Brochure for Students" and on the ETH Student portal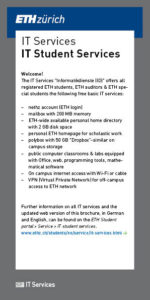 Should you have questions about IT-related topics, please contact the ITS Service Desk or the IT contact in your department (Department contacts).
New telephone availability
You can reach the ITS Service Desk by phone, email, online form or at the Service Desk counter (HG E11).
Mon-Thurs 7.30 a.m.-5.30 p.m., Fri 7.30 a.m.-4.30 p.m.
Phone: +41 44 632 77 77
www.its.ethz.ch/servicedesk
Pop-up Desk Hönggerberg
From the start of the semester on 18 February 2019, there will be a pop-up desk at Campus Info (HIL D 26.5) on the Hönggerberg for two weeks. See the post "ITS Service Desk News" https://blogs.ethz.ch/its/2019/02/14/its-service-desk-news/.
You can also find all important information on our page "New at ETH".
erstellt am von Sabine Hoffmann
in News Schlagwörter: FAQ for Students,ITS Service desk,Spring Semester 2019