Leonhard Med: Secure Scientific Platform for Confidential Data
A secure, powerful and versatile IT infrastructure for research on confidential data at ETH Zurich
Providing IT solutions for scientific research on confidential data (e.g. human biomedical data) is a considerable challenge. This is because it requires fulfilling three main criteria that span a wide area of expertise, and that are difficult to achieve simultaneously:
security and compliance
flexibility and ease of use and
scalability and performance
Leonhard Med, operated by ETH Zurich Scientific IT Services (ITS SIS), is a new data and computing environment that reconciles these criteria. To achieve this, we have combined established and innovative technical building blocks in a novel way, whilst developing a suitable regulatory framework at the same time. Although it has been used in production since the beginning of 2018, it must be continually developed to keep up with new and changing requirements within a rapidly evolving scientific environment. Whilst there are other comparable initiatives outside of Switzerland, each with different goals and constraints, nothing similar has previously been developed within Switzerland.
Leonhard Med for data driven Precision Medicine and Personalised Health research
Leonhard Med enables collaborative, large-scale and highly diverse biomedical research (including academia and hospitals) at ETH Zurich. In addition, Leonhard Med is part of the emerging national network of secure data centres (SPHN/BioMedIT). These put ETH in pole position to be the data centre of choice for large projects involving confidential research data on a national and international level, and to teach students working in such projects.
Winner of the 2019 ETH Zurich "ID-Innovationspreis" / ITS Innovation Award Ceremony
Starting in 2018, ETH Zurich IT Services launched the 'Innovationspreis' to highlight the most innovative ideas within the organisation. Twice a year, individual IT Services employees and IT Services teams can formally submit a nomination describing their innovative idea, with the applications then carefully evaluated by a select committee. Congratulations to the team of Leonhard Med – Secure Scientific Platform for Confidential Data – winner of the 2019 edition of the ID-Innovationspreis.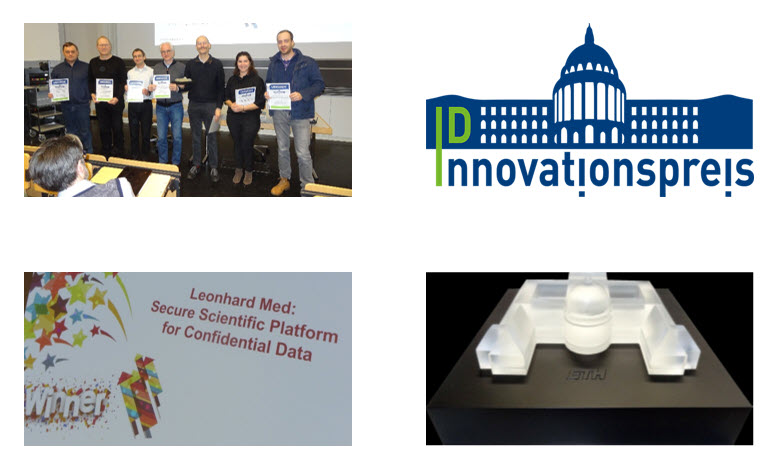 Acknowledgements
We are grateful to G. Rätsch (Biomedical Informatics, ETH Zurich) for his valuable contribution in shaping the conceptual design and continuous development of Leonhard Med. We thank M. Zimmermann and A. Kahles (G. Rätsch group, ETH Zurich) for constructive interaction on the usability of the system. In particular, we acknowledge and appreciate the efforts of E. Müller (HPC SIS, ETH Zurich) in the implementation and operation of Leonhard Med. We thank N. Schottelius (ungleich glarus ag) for the contribution on the technical implementation of Leonhard Med. We thank A. Harder (ID, ETH Zurich) and M. Hausherr (TEMET AG) for their support and advising regarding the IT security of Leonhard Med. This work is supported by grants from the ETH Zurich Executive Board and the national programs SPHN and BioMedIT.
Contact
The Leonhard Med team (ITS SIS): Christian Bolliger, Olivier Byrde, Steven Armstrong, Diego Moreno, Allen Neeser, Urban Borštnik, Samuel Fux, Ronald Jerger, Cristian Scurtescu, Michal Okoniewski, Thomas Wüst, Diana Coman Schmid and Bernd Rinn.
Posted on by Sabine Hoffmann
in IT-SEC,News Tags: Confidential Data,IT Services,ITS Innovation Award,Leonhard Med,Personalised Health research,Scientific IT Services,Secure Scientific Platform