More of everything – the new video studio of the ETH
The first visit to HG D13 is impressive: a (virtually) completely black, very dark room, which at the same time is filled with glistening light – numerous bright lights and illuminated panels hang from the ceiling, which can be moved on a scissor-like steel construction. Microphones are situated all over the room. Cameras the height of a man, which carry the weight of the control monitors, teleprompters and connection boxes on very thin tripod legs, are waiting to be used. In the background, a half-round, gleaming horizon, which can be shown in black, white or the corporate design of the ETH: welcome to the new video studio of the ETH Zurich.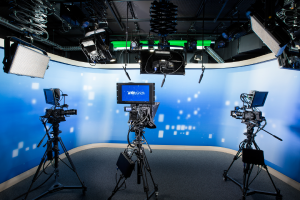 HG D13 is much more than just a replacement for the previous interim solution, HG D23. This was only suitable for the creation of simple education and learning films, principally in connection with a tablet (for annotated or hand-written screencasts) and one camera (for recording the persons involved). The studio supplements this basic offering with numerous other options, such as multi-camera recordings to multimedia productions (in combination with moving images and text, for example) and green screen productions.
Something that is just as important as the great range of settings is the fact that studio also improves the production options for ITS MMS in other dimensions: standard settings (interviews, statements) can be produced more quickly and professionally and with a consistent level of quality, whereas in the past, suitable rooms had to be searched for, and the daylight made it difficult to achieve any level of continuity. In specific terms, an interview can now be produced in two hours instead of half a day, which was generally needed in the past.
What's more, the video technology in the new studio expands our post production possibilities significantly. This means recordings in 4K (four times better resolution than Full HD) not only represent a significant leap when it comes to the number of pixels, which would actually hardly be consumable nowadays: by making a recording in 4K and replaying it in Full HD, one recording can be used to make two (e.g. knee shots and mid shots), in order to increase the diversity of the video statement with the same amount of resources (one camera). Other technical parameters of the studio and equipment provide us with other, similar levels of variability.
We also have a modular facility, which allows us to use the studio for exotic recordings, such as a ceiling camera for shooting comic-like animation, the detailed filming of an object – or even a photo shoot without moving images.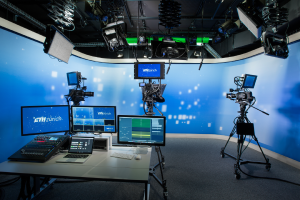 The studio has been in operation since mid-April 2016, the official opening will take place in autumn. Due to the technical requirements, and also to ensure efficient production and post-production activities, it can only be booked with a technical assistant. The studio can be booked for an hourly rate of CHF 75 during the hours 8 am – 6pm, recordings outside of these hours or at weekends are possible and cost CHF 125/ hour. Any questions or enquiries should be forwarded to the Studio Manager Martin Wieser at ITS MMS.
erstellt am von Sabine Hoffmann
in News Schlagwörter: HG D13,ITS MMS,video studio of the ETH