The third IT Security Initiative Campaign "Protect your brainwork"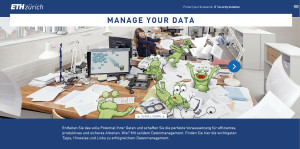 Professional data management begins where the data is obtained. In other words: At the very beginning. Think about the very beginning, about the structure the data is stored in and will be reused later. Document the data define clear rules within each research group. Document everything in a data management plan and determine how the future data should be handled.
Robust Data Management
Unleash the full potential of your data and create the perfect conditions for efficient, productive and safe work. How? Like with data management we can give you important tips, hints and links.
More
For more on the subjects Data loss, Theft and manipulation please visit our website where you can find preventative measures and an IT security checklist on how to proceed in case of a disaster.
Preview
In the fall of 2016, we started a new campaign with topics related to "Passwords". Please stay tuned for more information!!
erstellt am von Sabine Hoffmann
in IT-SEC,News Schlagwörter: Data,Data Management,ETH Campaign,IT Security Initiative,Manage your data,Protect your brainwork