What is the "IT Security Initiative" about?
Following "Prevent Data Loss" & "Prevent Data Theft", the next topic is forthcoming on Monday, 4 April.
Every year the ETH IT Security Initiative selects a primary theme with two or three associated sub-topics. The IT security issues addressed are relevant to everyday ETH operations. The goal of the campaign is to provide you with simple little tips, tricks and instructions that are effective for ensuring the secure handling of our – and your – computer resources. Above all, our aim is to help you protect your most valuable resource. Your intellectual work.
Objectives of the IT Security Initiative
The IT Security Initiative is aimed at raising awareness of IT security matters and providing practical knowledge to students, professors and employees. A secure IT environment is more important now than ever before. We believe that prevention is key for security, which is why we want to keep you well informed and up to date on the latest developments. Visit www.itsecurity.ethz.ch for additional information.
Prevent Data Loss
ETH Zurich's IT Security Initiative was launched with the initial topic of "Prevent Data Loss".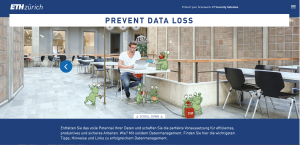 Data loss is an issue of perennial relevance. Human error, computer viruses, software and hardware errors … there are many factors that can result in data loss. Data loss poses a huge risk for private individuals and businesses alike. Nevertheless, it does not take a lot of time to back up properly, nor is it complicated. The ETH IT Security Initiative explains how it all works.
https://itsecurity.ethz.ch/en/#/prevent_data_loss
Prevent Data Theft
Protect your most valuable asset – your intellectual work – against unauthorised accessing and possible data manipulation.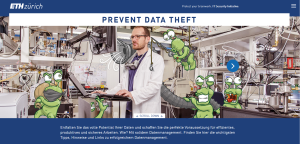 The second issue looked at by ETH Zurich IT Security Initiative was "Prevent Data Theft", including the problem of manipulation.
When you think about data theft, viruses and password stealing come to mind. However, dangers lurk at the workplace as well, including theft of PCs and hard drives and access by unknown individuals. Your own data are highly sensitive (user information, passwords, research data, etc.) as well as data of third parties (exam documents and solutions, confidential documents, personal data, student data, etc.). Therefore you should protect your most valuable asset – your intellectual work – against unauthorised access and data manipulation possible. And we will help you in your efforts.
https://itsecurity.ethz.ch/en/#/prevent_data_theft
Stay tuned…
The next issue is coming out on Monday, 4 April. Visit the website https://itsecurity.ethz.ch.
More
Further information regarding the topics of data loss, data theft and manipulation and prevention measures is provided on our website, along with an IT security checklist and procedures for what to do in case of disaster.
(External translation service)
erstellt am von Sabine Hoffmann
in IT-SEC,News Schlagwörter: data manipulation,ETH,IT security,IT security checklist,IT Security Initiative,manipulation,Prevent Data Loss,Prevent Data Theft,prevention measures,protect,stealing