Note: Doodle regularly changes its functions. This post was published on 2015. Login or descriptions have changed since then. https://unlimited.ethz.ch/display/itkb/Doodle+at+ETH

Need to schedule an event or make a choice? ETH members can simply use ETH Doodle, an ad-free Doodle with ETH logo.
Important
There are two things that are important to note: ETH network and URL.
Creating an ETH Doodle and subsequent administration are possible only within the ETH network. Outside the ETH Zurich network, you need the VPN client to create a new Doodle or edit an already existing one.
Remember: Logon with an ETH email address is not enough.
ETH URL
The ETH Doodle has its own URL.
Make a choice
Recently, the 'Make a choice' function is hidden on page two. (Doodle FAQ: "Where has the 'Make a choice' button gone?")
Click the 'Schedule an event' button.
Complete the first page '1. General' and create Doodle, then press >next
On page two '2. time proposals'on the upper right side you can find the link 'Free text'  next to the link 'Calendar view'.
Click the link 'Free text' and fill the appointment proposal or the Make a choice as free text.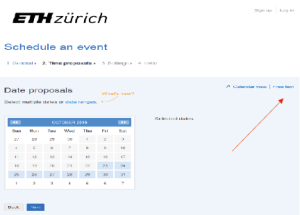 Doodle
Doodle is a free online tool for easy scheduling or simple online surveys. The tool can be used anonymously with or without registration. The Swiss developing company under the same name provides online tools for efficient scheduling (Wikipedia "Doodle (Dienst)" in German).
Posted on by Minda Rubinfeld
in News Tags: Doodle,Doodle (Dienst),ETH Doodle,Make a choice