ISC 15: Will HPC merge with cloud and big data?
The annual ISC (International Supercomputing Conference)  was held in Frankfurt a. M. this year. ISC is the most important conference on HPC and supercomputing in Europe. This year there was the celebration for its 30th anniversary, which marks ISC as the oldest conference on supercomputing bringing together scientists, system specialists and vendors. It started with a seminary on supercomputing at the University of Mannheim at a time when the first Cray computers made its way to Europe and also to ETH.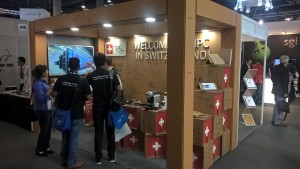 The semiannually published Top500 list (June 2015 | TOP500 Supercomputer Sites), ranking the worlds fastest computer, is an offspring of ISC. Therefore it is published during the opening session. For the 4th time in row CSCS's Piz Daint has been ranked as the fastest computer in Europe, it also remains number 6 on the list. Euler 2, which is part of the overall Euler system reached rank 308 on the list of the world's fastest computers. Together with Euler 1 it forms one of the bigger CPU only systems owned by a single university.
As in the previous years hpc-ch had a booth on the exhibition, which is an integral part of the conference. As the booth at the SC 14 in New Orleans it has been crafted entirely of recycled card board.
From a hardware perspective there were not many new topics brought up. The biggest improvement, which will be available in short term are non-volatile RAM elements (NVRAM) for ordinary motherboards. Those DIMMs will be as close to the processor as the usual RAM DIMMs but keep their information like SSD drives. This will make new usage patterns possible for a wide variety of applications.
An important topic of the conference was the merging of HPC, cloud and big data. At ETH Scientific IT Services (ITS SIS) has started to actively examine the possibilities of this kind of merge. On the other hand there was a keynote from Juergen Kohler who spoke about CAE (computeraided engineering) at Mercedes-Benz. Mercedes-Benz is using HPC in their whole engineering process, most visible in what they call 'digital prototyping'. HPC has become a crucial development tool for the car engineers. Albeit of this, Kohler sees no use case for big data in their engineering process.
Thus HPC matters in engineering and science for more than 30 years now. The open question which remains is how HPC can be made directly usable for a bigger audience.
Posted on by Christian Bolliger
in News Tags: #hpcmatters,HPC,ISC,supercomputer,supercomputing