Staff leasing versus IT services
Assume responsibility –  IT-procurement: Staff leasing or IT services? What are the alternatives? What must I clarify in advance?
Basically, the primary question which must be clarified in advance is "make or buy". Can we cover our needs by drawing on resources from our own ranks plus using additional student help if required? We must also clarify if departments and divisions may be able to contribute suitable staff with the necessary know-how. If long-term auxiliary staff is needed, line personnel together with Human Resources can be consulted to see whether new positions (even temporary) or increase of part-time positions would be possible. After all internal options have been examined, the next step would be to see whether a precise definition of procurement requirements (scope, result, training, payment plan…) can be formulated to enable service procurement. The checklist in the presentation may provide some guidelines. Basically our goal is to avoid staff leasing.
Awareness Program
As part of an awareness program, the IT Services have organized a series of information events in which ETH members were informed about the various options and concerns regarding this topic.
Using numerous examples, the above concepts were clarified. ETH members that need help with procurement should contact the ITS PPF Order and Contract Management team early on in the process.
Waiting-list Courses
Presentations will be repeated regularly (waiting list).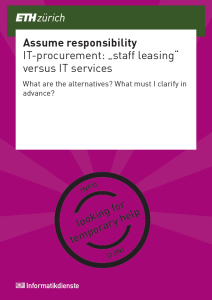 Posted on by Minda Rubinfeld
in News