EULER Inauguration Reception
Last Monday, the IT Services introduced the new Euler high-performance computer at the ETH "Dozentenfoyer". In the course of two scientific discussions, Prof. Dr. Nicola Spaldin, Department of Materials, and Prof. Dr. Tapio Schneider, Department of Earth Sciences, demonstrated the various usages of EULER.
Scientific computing requirements for top research are constantly increasing. The new Euler high-performance computer at the CSCS data center in Lugano, offers researchers extra processing power and flexibility to evaluate data and run complex simulations. This has sparked great interest in the ETH community, for EULER sets new standards in terms of performance and energy efficiency for scientific computing clusters.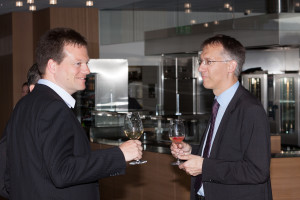 More Information on the Event
"Euler: more power to drive research"
Posted on by Minda Rubinfeld
in News English