Stephen Sheridan celebrates his 20th anniversary at the IT Services
Ask Stephen Sheridan if he could tell us something about himself and he'll start with something altogether different:
"So, after the shipwreck, my family was devoured by lions while I survived and was reared by apes. Oops, that's a different jungle…."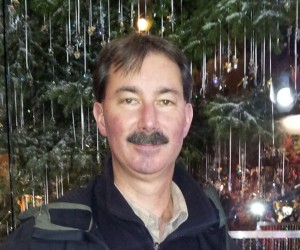 Now to the real story
Stephen Sheridan began studying architecture in the US, but quickly switched to computer science at the University of California in Santa Cruz. After graduation in 1989, he worked for Borland doing quality assurance of programming languages.
During the course of his studies he met his future wife from Switzerland and in 1985 married in California. The hectic lifestyle in Silicon Valley led to their decision in 1991 to "try" to live in Switzerland. As luck would have it, after a few short months Stephen got to know an American ITS employee in Zurich Niederdorf.
That's how he started with ITS-Communication.
His former boss happened to be on vacation at the time he started at ETH and none of his colleagues knew who he was or what he should be doing. But Stephen just took those things with a sense of humor.
In the beginning his job included software distribution (à la IDES, but more primitive) and centralized UNIX support. After various reorganizations, he and his group were finally established in 2003 as the Network Security Group (NSG). Today he is manager of the NSG Group within the Communication division. The group monitors service quality of the ETH data network and implements necessary measures to ensure the security, integrity and availability of our information and information technology. NSG monitors data traffic at strategic spots and is thus able to identify security problems and initiate appropriate counter measures as quickly as possible. Additionally, NSG employs preventive measures such as information processing and consulting. It coordinates collaboration with internal and external IT security facilities and organizes security awareness campaigns (safeIT).
Stephen's hobbies include mountain biking, painting and music.
Posted on by Sabine Hoffmann
in News English